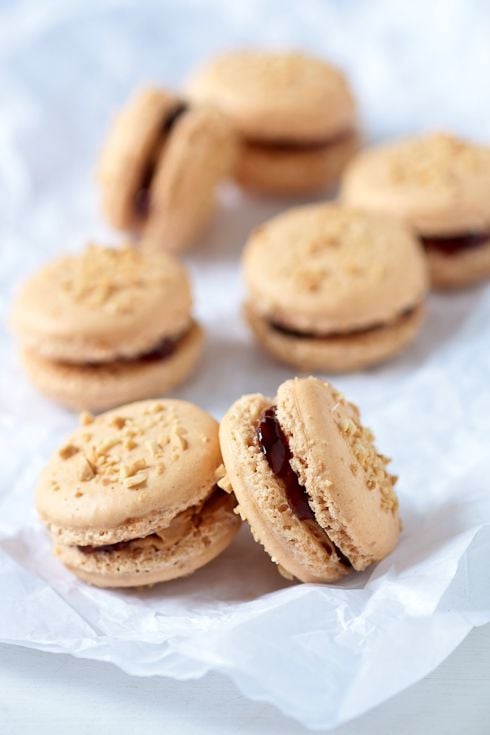 I love, like, enjoy, many people and many things in this life but if there is one thing that I live for on the weekends is when B. comes home from playing music and we sit on the bed and geek out for hours about all sorts of topics. Photography, films, history, and often times, food. Before we know, it's three o'clock in the morning (not his bedtime at all) and we go to sleep with growling stomachs and visions of sugar plums. Especially when we geek out about macarons. Especially when they are Peanut Butter and Jelly, Lemon Meringue Pie and Banana Caramel Macarons.
We were recently putting together a care package for a friend in town and we started brainstorming about what to include. Macarons, are always first on the list for some reason, eheh! I was looking for flavors I had not done before and he was looking to recreate some of his favorites. In the end, our friend S. received 2/3 of the Daring Bakers challenge delivered right to her front steps. From the look on her face, I knew I'd be repeating these flavors over again.
Bill's go-to breakfast is a bagel with peanut butter and jelly and turning this into a macaron was very easy. I used half almond and half peanuts for the shells and filled those with a teaspoon each of peanut butter and homemade raspberry jelly.

One of my favorite desserts is lemon meringue pie and after coniving on the best way to make this into a macaron, I finally settled on keeping the shells all almonds and adding the zest of one lemon to the batter. I filled the insides with homemade lemon curd and a teaspoon of freshly made Swiss meringue.
One of my husband'd favorite snacks when he comes home from playing music is to cut up a banana and drizzle it with Salidou, the homemade salted butter caramel sauce that I always keep handy in the fridge. For the macarons I simply mashed a whole banana and mixed it with the leftover from the Taffy Apples I posted yesterday. Once cooled and naturally thickened a bit, it was easy to pipe on the macarons shells and sandwich them.
I've known about this month challenge since this summer when Amy emailed with concerns about doing macarons for the Daring Bakers. We covered all types of questions from aging the egg whites, drying the macs before baking to food coloring and how to best incorporate flavors. I volunteered a phone macaron making session and guided her over the phone while she baked my tried and true recipe. In the end she felt most comfortable with the version she knew best, Claudia Flemming's, which brought on my most common comment about macarons: if you find a recipe that works for you, stick to it, no matter whose it is, especially if you are new to macarons and don't make them that often.

Amy, thank you for the fun phone macaron making session and it was a pleasure helping out with some of your questions!
I'm glad I tried a new recipe for macarons and did not have any problems with it, probably because I've been making them for 15 years so I know what to expect. I will however stick to the recipe I use all the time, for no other reason that it is engrained in my DNA right now!
The 2009 October Daring Bakers' challenge was brought to us by Ami S. She chose macarons from Claudia Fleming's The Last Course: The Desserts of Gramercy Tavern as the challenge recipe.


Macarons, from Claudia Flemming' The Last Course: The Desserts Of Gramercy Tavern.
Confectioners' (Icing) sugar: 2 ¼ cups (225 g, 8 oz.)
Almond flour: 2 cups (190 g, 6.7 oz.)
Granulated sugar: 2 tablespoons (25 g , .88 oz.)
Egg whites: 5 (Have at room temperature)
Preheat the oven to 200°F (93°C). Combine the confectioners' sugar and almond flour in a medium bowl. If grinding your own nuts, combine nuts and a cup of confectioners' sugar in the bowl of a food processor and grind until nuts are very fine and powdery.
Beat the egg whites in the clean dry bowl of a stand mixer until they hold soft peaks. Slowly add the granulated sugar and beat until the mixture holds stiff peaks.
Sift a third of the almond flour mixture into the meringue and fold gently to combine. If you are planning on adding zest or other flavorings to the batter, now is the time. Sift in the remaining almond flour in two batches. Be gentle! Don't overfold, but fully incorporate your ingredients.
Spoon the mixture into a pastry bag fitted with a plain half-inch tip (Ateco #806). You can also use a Ziploc bag with a corner cut off. It's easiest to fill your bag if you stand it up in a tall glass and fold the top down before spooning in the batter.
Pipe one-inch-sized (2.5 cm) mounds of batter onto baking sheets lined with nonstick liners (or parchment paper).
Bake the macaroon for 5 minutes. Remove the pan from the oven and raise the temperature to 375°F (190°C). Once the oven is up to temperature, put the pans back in the oven and bake for an additional 7 to 8 minutes, or lightly colored.
Cool on a rack before filling.
For the PB&J Macarons:– Replace half the amount of almonds with finely ground unsalted roasted peanuts.
– Once cooled, fill the shells with a dollop of peanut butter (either smooth or crunchy) and jam.
For the Lemon Meringue Macarons:
– Fill the shells with a teaspoon or so of freshly made lemon curd
– Add a teaspoon or so of Swiss meringue. (I made half the recipe)
For the Caramel Banana Macarons:
– Mixed one smashed banana with half the quantity of toffee sauce I made for the dipped crabapples.