It's full on Spring here in the South and I am absolutely smitten with it. Unlike in Charleston where we seem to get barely 10 days of this wonderful season, Alabama is downright gorgeous this time of year. Lush landscapes, fields upon fields of dogwoods and wild flowers. And lots and lots of herbs…
And the produce… As soon as the farmers market started again, there has been a fridge full of gorgeous and tasty tomatoes, herbs, micro greens, salads, radishes, tender peas, wild garlic, chive flowers and more tomatoes. Be prepared for an onslaught of tomato recipes.
We simply can't get enough. There has been much cooking and little blogging. Thing is, we have been puppy training… After a few weeks without another pup in the house, another companion to our other dog, we drove to the shelter and rescued a little pup in need of a home. What we were told was a labrador and German shepherd mix turned out to be a German Shepherd and Great Dane mix. Please meet Tiggy. She is now 4 months old and we love her to pieces. And yes, we might need a bigger house! No shoes have been chewed up yet. She's after tags and pretending her water bowl is a kiddie pool (she goes to doggie daycare twice a week and they have one there…which explains it all!). She and Bailey get along famously.
And she loves going to the market with us, getting lots of petting and meeting up the other dogs in the neighborhood. We've been busy playing, cooking and enjoying this new energy in the house.
The days have progressively getting longer and warmer. Days at work have become fuller and busier with lots of great new shoots and projects. Our evenings of slow cooking, braising have been replace with lots of grilling and tons of cold soups and salads. We are in full "Operation Tomatoes". Lots of tomato salads, grilled tomatoes, gazpachos, etc…
Here are two of the salads I made recently and are now in rotation on the weekends when we can have more time to share them with friends with a cold glass of Prosecco and lots of puppies running in the back yard.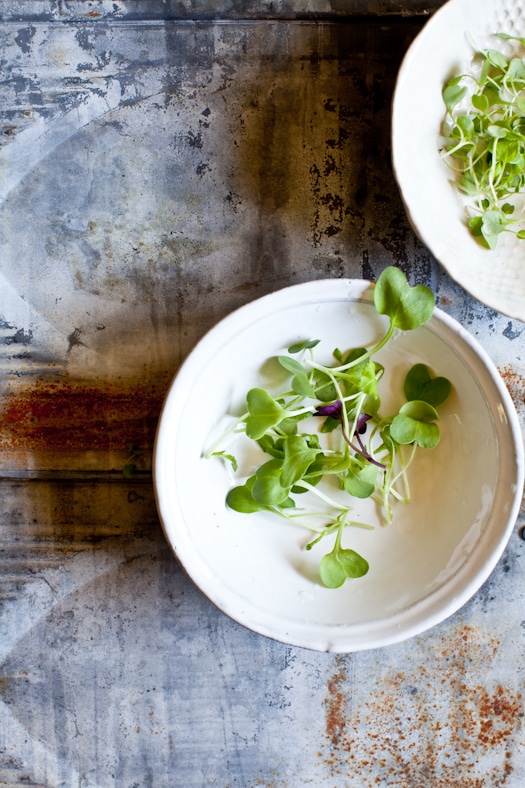 The first one was a chimichurri marinated salad with panko crusted haloumi. Lots and lots of parsley, extra virgin olive oil, chive flowers and robust heirloom tomatoes. The other one a simple salad of fresh tomato with a kicking smoked paprika vinaigrette. Add a bit of grilled protein (shrimp, chicken, red meat) and you have a complete dinner bursting with the flavors of spring.