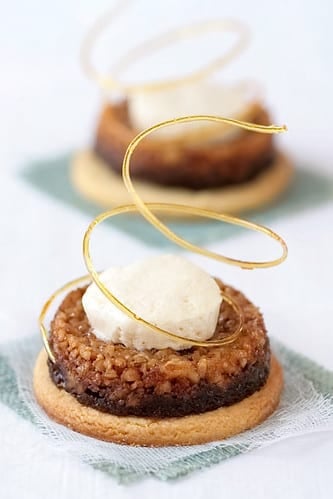 We all procrastinate at one point or another, and we all have different ways to go about that. B. for example will spend an hour doing dishes and cleaning up the kitchen (which I will mess up in 2 seconds flat) before grading papers. The other day he suggested we put down the Christmas tree and decorations. Like a kid who does not want to go back to school, it makes me sad to take the decorations down and to realize it will be "one whole year" before Christmas. As soon as his back was turned I started cleaning and reorganizing the pantry instead. It needed it after the holidays when a bunch of things started to get shoved in there due to lack of time, focus and general "I'll deal with it after the holidays"…so you see I was actually working my end of the deal.
In that little pantry winter cleaning, I reorganized the nuts and spices and set a bunch aside feeling inspired by some hazelnuts, cardamom, nutmeg, star anise, cloves…the scent was intoxicating. The perfect post holiday antidote: more seasonal winter spices. I made a pomander with some of the cloves, mixed some cardamon with Meyer lemon zest and sugar and that's when it hit me… hard… I just wanted to eat it… the bowl… of spiced lemon sugar.

So I procrastinated some more and made some sable breton dough with lemon zest in it and baked large cookie to use as bases for tartelettes. I shelled enough hazelnuts to make a variation on my beloved's beloved pecan tart, with honey and cloves. I still had other spices dancing in my head and in front of my nose that I made a quick spiced creme fraiche frozen parfait to top the tarts with. Let's face it, pies, tarts, tartelettes, are good..even "naked" but a little ice cream does not really hurt either.
After lunch, B. started again with his desire to put away the decorations, push the furniture back where it was before we moved everything for Christmas dinner. My philosophy is furniture belongs where it feels good, where you are comfortable…and right then, right there in a quiet afternoon with a bright sunbeam coming through the window…it felt good. So I got up. And I went to the kitchen. Again. I put some sugar and water in a pan and I make caramel, and I played with sugar, making caramel twirls to decorate the tarts with, procrastinating a little longer. I made four tarts and we have been sharing one every night for dessert, so yes…"we" have been staring at the Christmas decorations for four days…Bliss…I could not make up my mind for the pictures I like best, so you get them all…oops!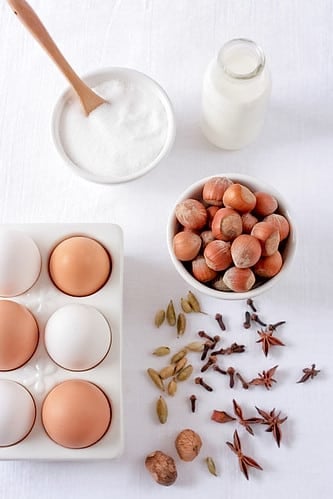 Hazelnut Tartelettes With Spice Creme Fraiche Parfait:
Serves 4
Sable base:
1/2 stick (65 gr) butter, at room temperature
2 tablespoons (25gr) sugar
2 tablespoons Meyer lemon zest (or regular lemon)
1 egg yolk
1 teaspoon vanilla extract or vanilla bean paste
3/4 cup (105gr) all purpose flour
pinch of salt
Preheat oven to 350F. In a mixer, cream the butter, sugar and lemon zest together until light and fluffy. Add the egg and vanilla and mix until combined. Add the flour and salt and mix briefly to incorporate. Dump the mixture onto a lightly floured board and gather the dough into a smooth ball. Do not work the dough while in the mixer or it will toughen up. Flatten the dough into a disk, wrap it in plastic wrap and refrigerate for an hour. When the dough is nice and cold, roll it out to 1/8 inch thick on a lightly floured board or in between the sheets of plastic. You will have extra dough that you can save for another use in the fridge for up to 5 days or frozen, well wrapped for up to 3 months.
Cut out four 4-inch disks into the dough and place them on a parchment lined baking sheet. Refrigerate for 30 minutes. Bake for 10-12 minutes until golden brown. Let cool.
Hazelnut Tartelettes Recipe:
1 egg
1/2 cup (110gr)dark brown sugar, packed
1/4 cup (85gr) honey
pinch of salt
1 tablespoon (15gr) unsalted butter, melted
3/4 cup (86gr) chopped hazelnuts
Preheat the oven to 275F.
In a mixing bowl, whisk together the egg, dark brown sugar and honey until fully combined. Add the salt and butter and fold in the nuts with a spatula.
Grease four 3 inch tartlet shells and fill with the batter. Or, place four 3 inch tart rings on a parchment paper line baking sheet (I wrap the rings with foil to make sure the batter does not sneak out) and divide the batter evenly among them.
Bake for 30 minutes or until set and firm. Let cool. Run a knife along the edges of the tartlet shells and unmold carefully. Refrigerate until ready to use.
Spiced Creme Fraiche Parfait:
1/8 grated nutmeg
1/8 teaspoon ground green cardamom
1/8 teaspoon ground star anise
1/8 teaspoon ground cloves
2 eggs, separated
6 tablespoons (75gr) sugar, divided
3/4 cup (175gr) creme fraiche (or sour cream)
1/4 cup (60gr) heavy cream
In a stand mixer or handheld mixer, combine the spices, egg yolks and 3 tablespoons of the sugar and whisk until pale and thick, about 3 minutes. In a separate bowl, whisk the egg whites until they have firm peaks, add the remaining 3 tablespoons of sugar, one at a time, until the egg whites are glossy. With a spatula, hold the egg whites into the egg yolk mixture, working carefully not to deflate the batter. Wipe the bowl where the whites were with a paper towel and whip the creme fraiche and heavy cream together until thick, about 2 minutes. Fold this into the egg batter.
Line a 8×11 inch baking pan with plastic wrap and pour in the parfait batter. Smooth the top with a spatula. Freeze until firm, about 1 hour.
To serve the tartelettes: place a nut tart on the cookie base and top with the spiced creme fraiche parfait. Serve at once.