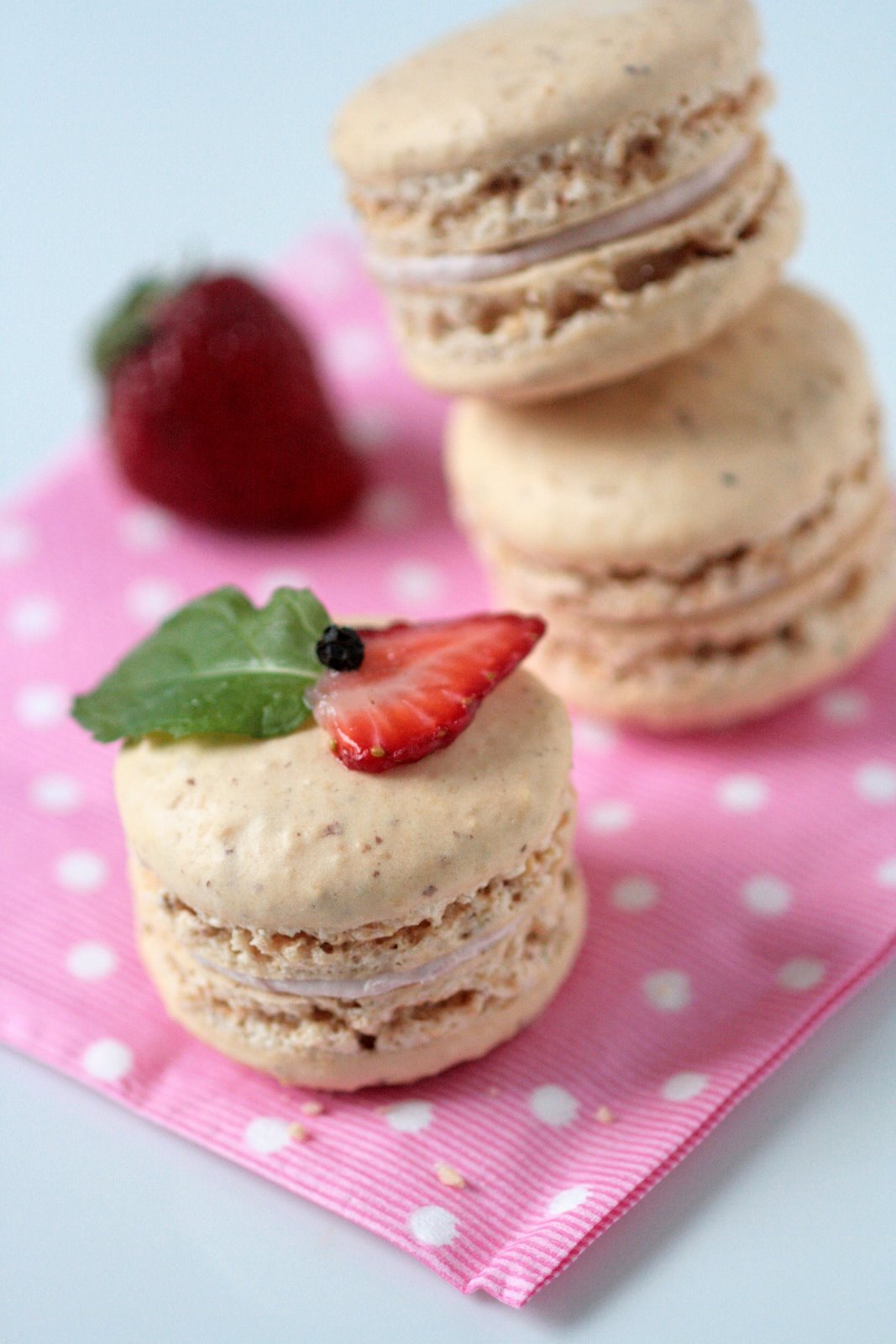 Update: I am not going to Japan…I just went there virtually through a magazine article. Sorry for the confusion.
Long title I know….for the macaron story stay right here and scroll down to see how I got to Japan without leaving my couch!
When Chris was preparing her weekend trip here she mentioned that she wanted me to teach her how to make macarons. You know me and the little sweet suckers, I already have the spatula in my hand before you can twist my arm. I also had about 2 cups worth of already separated egg whites (long story, does not involve the puppy), so I decided to get a head start and try to re-create one of my favorite restaurant desserts in a macaron form.
I have always been surprised that the small town my parents live in is surrounded by a handful of amazing small restaurants. Great creativity, impeccable service, freshest of freshest ingredients. There was one in particular that was highly recommended for special occasions because of its amazing location and "nouvelle cuisine" menu (mind you that was 20 years ago). My father decided to take us there one special day in the summer and I can't begin to describe how we were all looking forward to it after all the hype we had heard from friends and family. The setting was indeed gorgeous, and very "sunday best" but also very inviting. It's funny the details I remember about that meal, even today.
The menu was creative and all the dishes described perfectly so that all our senses awaken…ah the wait was going to be tough. In my selective memory bank I can't recall the appetizer part, surely because there was nothing that surprised us there. The waiter arrived with our silver dome covered plates..oh the anticipation was killing me …or was it my stomach growling? One after the other he lifted the domes to reveal the chef's creations. All 6 hungry jaws fell to the table…all at once. Think about a big painting canvas with 3 little dots and a smudge…for 6 supposedly different paintings. We all tried hard but there were no more than 3 bites to each plate. I think it is a family trait but rather than being upset and uptight about it, we started cracking jokes about it until my grandfather started making up what our desserts could turn out to be.
Oh no! If there is one thing I will get upset about it is dessert, (surprise, surprise), and the thought of my promised Strawberry parfait on a cracked pepper and mint meringue disk also turning into 3 bites, 3 dots and a smudge, was making me a little fidgety on my seat. Desserts finally arrived and to our surprise we were served full portions no "nouveau-schmoozeau" version of sweet endings. Ah! Why didn't they say the chef really had a sweet tooth?! Knowing my family we would have started there!!
And there it was, all for me…a subtle and light pink frozen strawberry parfait, set on a fragile and crackly disk of meringue spiced up with fresh chopped mint had freshly cracked black pepper. We still got home hungry but I have been recreating those flavors under various forms and techniques and in different plated desserts and pastry ever since that day. Obsessed? Yes, maybe, but only if it's good…and the combination is just outstanding! I am a big fan of cracked pepper with fruit and sweets, after all it's not as crazier as balsamic vinegar with strawberries and it really enliven traditional flavors and scents.
For the macarons I simply added some freshly chopped mint and freshly cracked pepper to the shell, and added freshly pureed strawberries to buttercream, as well as a touch of mint extract. The result? Just like I remembered! The mint and strawberry are definitely the first flavors to hit your tongue and then the cracked pepper comes and tickle it at the least expected moment! Happy, happy! Thank you Chris for playing my assistant while shooting these, and adding that one little pepper ball to the mac set up.
Cracked Pepper, Mint And Strawberry Macarons:

Macarons Help available here (click)
For the Shells: (makes about 20-30 depending on size)
3 egg whites (I like to use 1-2 day old egg whites)
50 gr. granulated sugar
200 gr. powdered sugar
110 gr. almonds
2 tsp. chopped mint
3/4 tsp freshly cracked pepper
For the whites: the day before (24hrs), separate your eggs and store the whites at room temperature in a covered container. If you want to use 48hrs (or more) egg whites, you can store them in the fridge. In a stand mixer fitted with the whisk attachment, whip the egg whites to a foam, gradually add the sugar until you obtain a glossy meringue. Do not overbeat your meringue or it will be too dry and your macarons won't work. Combine the almonds and powdered sugar in a food processor and give them a good pulse until the nuts are finely ground. Pass through a sieve. Add them to the meringue, give it a quick fold to break some of the air and then fold the mass carefully until you obtain a batter that flows like magma or a thick ribbon. Give quick strokes at first to break the mass and slow down. The whole process should not take more than 50 strokes. Test a small amount on a plate: if the tops flattens on its own you are good to go. If there is a small beak, give the batter a couple of turns. Fill a pastry bag fitted with a plain tip (Ateco #807 or #809) with the batter and pipe small rounds (1.5 inches in diameter) onto parchment paper baking sheets. Preheat the oven to 300F. Let the macarons sit out for an hour to harden their shells a bit and bake for 12-15 minutes, depending on their size. Let cool. If you have trouble removing the shells, pour a couple of drops of water under the parchment paper while the sheet is still a bit warm and the macarons will lift up more easily do to the moisture. Don't let them sit there in it too long or they will become soggy. Pipe or spoon some buttercream on one shell and sandwich with another one. One tip I read is that if you use fresh whites, zap them up in the microwave on medium high for 20 seconds to mimic the aging process.
Strawberry Mousseline Buttercream:
Half a recipe of vanilla mousseline buttercream to which you add 1/2 cup pureed strawberries and 1/2 tsp mint extract.
Allright…so what was that about my trip to Japan? Well, a couple of months ago, one of the editors' of the Japanese magazine Joshi Camera contacted me to see if I was interested in being interviewed and featured in their July issue. I think I about snorted my coffee, checked under the computer and decided that well since it was Christmas in my brain already, "Yes! Of course!"
You would have asked me last year if I knew Joshi Camera, a magazine dedicated to women digital photographers, I would have said no, but the fact that they featured talents like Beatrice or Sabra in previous editions made me all the more appreciative and thrilled. I hope I answered their questions without making a "derriere" out of myself! The magazine is filled with gorgeous photographs (not all food related), positive energy, and quality. And yes Mom, I did ask for another copy for you…
They did go for 2 of my favorites: the Swirly Macarons and the Frozen Rhubarb And Banana Charlottes.Thank you Naomi and dang! why didn't I take Japanese in school to be able to read the entire issue which you can order here. I hope you don't think I am being pedantic by telling you about it but as I said, it is Christmas in my brain lately and I also know I am here and there because of your support.