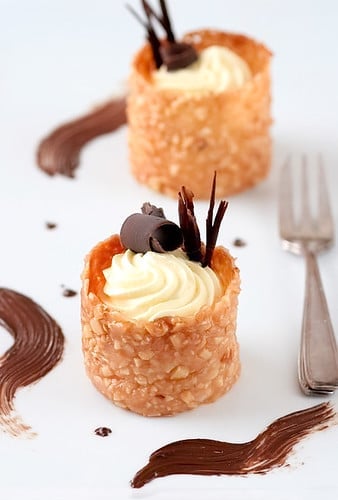 Sometimes I feel B. thinks I am crazy. Often, I know B. thinks I am crazy. Prime example this month was when he walked in the kitchen one day and saw all countertops covered with all sorts of tuile (twea-l) cookies. Traditional dough tuiles, nougatine tuiles, chocolate tuiles, mousses and sorbets of all sorts, tuile cones, tuiles cups, tuiles cannoli… He looked at me puzzled and said "I thought you said you did not know what you wanted to do with the Daring Bakers' challenge". I looked up and exclaimed "well, I could not decide which one to do so I made them all. Hungry?!"

This month's challenge is brought to us by Karen of Bake My Day and Zorra of 1x umruehren bitte aka Kochtopf. They have chosen Tuiles from The Chocolate Book by Angélique Schmeink and Nougatine and Chocolate Tuiles from Michel Roux.

Yes, this month we could chose from 3 different recipes to make the tuile cookies and we had complete freedom for the choices of filling. I like tuiles. A lot. I like making them. A lot. After the initial "which one to do"…I ended up making them all. It started with the simple tuile cones and throughout the day I found myself coming up with more combinations, shapes for the tuiles to accommodate all the sorbets and mousses I had in the freezer. Talk about one good January freezer cleaning!! You know, like when you need more bread for your cheese, then more cheese for your bread, and so forth and so on….

Let's see…. I started with the nougatine recipe as my own little wink at a New Year's Eve dessert at the restaurant years ago where I had decided to serve nougatine cornucopias filled with different sorbets. It was pouring rain and a 100% humidity and as the day was unfolding so where my cornucopias. I was checking on them as if they were my first born. This time, I waited for a dry day and made nougatine cups that I filled with a vanilla and star anise mousse (first picture).

I made another sugar tuile recipe to make poppy seed cones for raspberry-strawberry sorbet, and swirled cocoa and vanilla cones dipped in chocolate and filled with a vanilla bean mousse ( same recipe as the one with the star anise but without the spice this time). Then I made a leaf stencil and layered the leaves wiht a grapefruit sorbet and topped with a piece of candied grapefruit. I had extras so I filled shot glasses with the the berry sorbet and topped them with a poppy seed cone.

I had some nougatine dough left in the fridge so I went ahead and made nougatine cannoli that I filled with the remaining vanilla bean mousse. These were so thin they almost shattered in between your fingertips…but absolutely delicious!

Finally I tempered some dark chocolate and made the chocolate tuiles to go alongside a simple Bailey's cream.
Now you understand why I sometimes get "the look" but I also get another one from the neighbors when I tell them to come over for desserts!!
Recipe for Nougatine Tuiles, adapted from Michel Roux's Finest Desserts
125 grams sliced almonds
165 grams sugar
15 grams butter (optional)
1/2 tablespoon oil (vegetable, sunflower, peanut)
Preheat oven to 350F.
Spread the almonds on a baking sheet and toast in the oven until lightly browned. Cook the sugar in a heavy based saucepan over low heat, stirring gently and continuously with a spatula, until it melts to a light golden caramel. Add the almonds and stir over low heat for 1 minute, then stir in the butter until completely absorbed. (This is not essential, but will give the nougat an added sheen) Pour the nougatine onto an oiled baking sheet
Place a baking sheet toward the front of the warm oven, leaving the door half open. The warmth will keep the cookies malleable. Work with one piece at a time, of a size appropriate to the shape you want. Roll out each piece on a warm, lightly oiled baking sheet or lightly oiled marbled surface. It is essential to work quickly, since the nougatine rapidly becomes brittle. Heat the nougatine in a microwave oven for a few seconds only to soften it if needed. Roll the nougatine into the appropriate thickness for your desired shape, but never thicker than 1/8 inch or 3 mm. Quickly cut out your chosen shapes using cookie cutters, or the blade or heel of a chef's knife. To mold the nougatine, drape it very rapidly over the mold so that it follows the shape and contours. Leave until completely cold before removing from the mold. Or, cut out and using your fingers or a knife, push into folds or pleats… use as a basket, twirl round a knitting needle..Nougatine based shapes can be made two or three days in advance, Keep them in a very dry place and do not fill with something like a mousse more than 2 hours prior to serving.
Recipe for Vanilla Star Anise Mousse:
3 egg yolks
pinch of salt
1/2 tablespoon (3.5gr) powdered gelatin + 2 tablespoons water
100ml water
1 /2 cup (100gr) sugar
1 star anise
1 cup heavy cream
1 teaspoon vanilla bean paste
In the bowl of a stand mixer, whisk the egg yolks and the salt. In a small bowl, sprinkle the gelatin over the water, set aside. Combine the remaining water, sugar and star anise in a heavy saucepan. Cover and bring to a rapid boil over medium high heat (prevents crystallization of the sugar on the side of the pan). Once boiling, uncover and cook the syrup reaches 238F. Remove the star anise and pour the syrup in a container with a spout, it will be easier to add the to the yolks. Pour the syrup slowly and into a steady stream into the egg yolks with the machine running on medium high. Melt the gelatin in the microwave for 10 seconds or into the (now empty) saucepan until dissolved. Add it to the yolk mixture and continue to whisk on medium high until it triples in volume and cools to room temperature. In a separate bowl, whip the heavy cream to soft peaks with the vanilla paste. Gently fold the egg yolk mixture into the whipped cream and use immediately.
Vanilla Tuiles, adapted from Bo Friberg's The Professional Pastry Chef:
4 ounces unsalted butter, softened
4 ounces powdered sugar, sifted
1/2 cup egg whites, at room temperature
1 teaspoon vanilla extract
4 ounces all purpose flour, sifted
Cream the butter and powdered sugar together in a stand mixer fitted with the paddle attachment. Add the egg whites and vanilla and beat until just coming together. Add the flour to the butter mixture and mix until incorporated. Do not overmix. Use right away or store in the refrigerator, taking it out 30 minutes before you plan to use it.
Cut out two 4 inch round stencils in a piece of card stock paper and place them on a parchment lined baking sheet. Spread a little of the batter over the stencils, carefully lift the card stock paper, and bake 5-8 minutes at 350F until the edges are just getting golden brown.
To make cocoa swirls, take about one tablespoon of the batter and add one teaspoon of sifted cocoa powder and mix thoroughly. Pipe dots and swirl them around with a toothpick on the tuiles before they go in oven.
Shape the tuiles around a couple of cones or Bismarck tubes. Let cool completely before storing in an airtight container.
Recipe for Grapefruit Sorbet:
2 cups (500ml) freshly squeezed pink grapefruit juice
1 cup (100gr) sugar
4 cups (1 liter)water
2 tablespoons vodka (optional)
In a saucepan, combine the sugar and water and bring to a boil, stirring to dissolve the sugar. Add the vodka (if using)and let cool to room temperature.
Pass the grapefruit juice through a sieve to remove the pulp and add it to the sugar syrup, stirring well to blend.
Pour into the container of an ice cream maker, and freeze according to the manufacturer's instructions. Transfer to a container and freeze until firm before serving.
Chocolate Tuiles, adapted from Michel Roux's Finest Desserts
9 oz/250 grams dark or white couverture or best-quality bittersweet chocolate, chopped
Temper the couverture. Place the template on a sheet of rodoïde (or use a clean sheet of sturdy plastic such as a folder) and fill with about 1 tbs of the mixture. Repeat the process a little distance away from the first one. As soon as you have 5 tuiles fit, slide them onto a mold or rolling pin (side of a glass) to curve. Let cool completely, lift tuiles off the plastic only after the chocolate has set and just before serving, so that they keep their shine.
Bailey's cream:
4 oz (120gr) mascarpone cheese, at room temperature
2 tablespoons (20gr)sugar
1/4 cup Bailey's Irish cream
75 ml. heavy cream
In a large mixing bowl, whisk the mascarpone with the sugar until light. Whisk in the liqueur. Whip the heavy cream to medium stiff peaks, and fold into the mascarpone. Divide among ramekins or glasses and serve with the chocolate tuiles.
Please visit the other Daring Bakers to see their take on the challenge!