Type. Backspace. Type. Backspace. Type. Just keep putting one word in front of the other. Like your feet. That's how life is. You walk, you run or it passes you buy. I run. I laugh. I breathe. I stand straight. My grandmother used to tell me that all the time. No kidding. "Just keep walking. Stand straight. Breathe". To make sure I'd get the day's lesson right, she would sweeten the tone by giving me something sweet to nibble on. Most often it was her vanilla rice pudding. "Riz au lait" as we call it in France.
Today I am borrowing some of your time to pay tribute to my grandmother, Paulette. No tears. No drama. No long drawn out sadness on my part. I am over all that. I have been over it even before she passed, three years ago. Quietly. Softly. That's how I am spending my day. Flipping through photo albums. Trying to sort emotions, thoughts and feelings about her. Smiling. Mostly smiling. And I am finding a bit of comfort by preparing some rice pudding like she used to make us when we had a rough time.
Like many of you, a lot of my memories evolve around food. Some bring me back to her apricot tart, some to her floating islands. And many colds, sore throats and heartbreaks to her rice pudding. There is something about the smell of milk and vanilla simmering on the stove that instantly calms me down. Its simplicity and the memories associated with the gestures of making "riz au lait" helps me focus on the important. It's nothing fancy, but simply good and homey. Like Mamie Paulette.

I was here when my mom called me to tell me she had passed. We were actually packing our suitcases to go on a short vacation. I remember calling the airline to immdiately change my plane ticket and actually tell the agent on the other end "I don't care if I am being a pain. No one messes with me today." She would have said it just like that too. A few hours later I was on a plane, doing what I had done just a few years before for my brother. Yep, August could clearly suck if I did let it get to me. But it does not. Not anymore.
There are birthdays to be celebrated. There are dinners and get togethers to be had. Most importantly there is plenty of sun to be enjoyed. And for my grandmother, if there was any of the above in her day, she was happy. I am like her in that way. In many other ways too as Bill likes to remind me constantly (some are not that endearing mind you!). I like that.
Today I am happy because I have all three. A good dinner is planned with friends and I am making another batch of rice pudding for dessert. It may not be a summer dessert per se but I know our friends will enjoy it. The slightly intoxicating smells of vanilla beans, the simmering of a good story to go along with it. I am also serving it with some citrus spiked caramel sauce tonight. I don't remember Mamie ever making it like this but that's my way of creating new memories.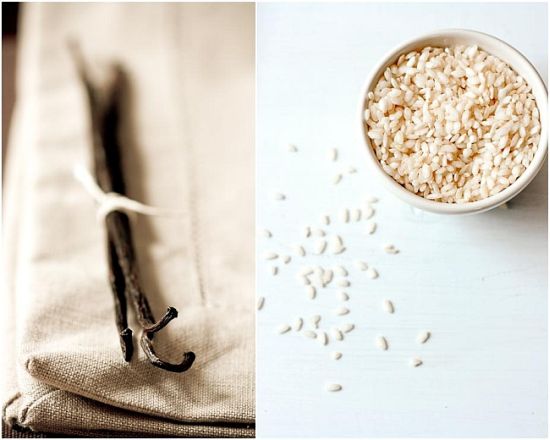 I called my grandfather this morning (he'll be 99 in wo weeks!). My mother was there too. As were my uncles and cousins. We shared a few chosen moments that defined grandma for us. We laughed and we smiled, exactly like the day we told her goodbye. All is well.
As bloggers, we are here for the good times and the bad. There are a couple of posts that struck a cord with me this week. We all are comfortable enough with you, readers, to give you the upbeat, the fun, the creative but also the truth that sometimes, we don't really feel like jumping and down. But we feel enough at ease to tell you so because the good moments as well as the harder ones define our personalities and how they come throughout our blogs, throughout the days. Thank you for that.

We all celebrate the ones we love in different ways. That's why we and they are unique. If you have a minute, leave a note to Marc who is paying tribute to his wife and blogger Bri from Figs With Bri (warning: I sobbed for a few minutes) and to my bad-ass chica, Jen from Use Real Butter who is remembering her lovely sister Kris. I also would love to hear about some of the memories you may have. Good or bad.
Here is one about my grandmother everytime I make Floating Islands. My space is yours.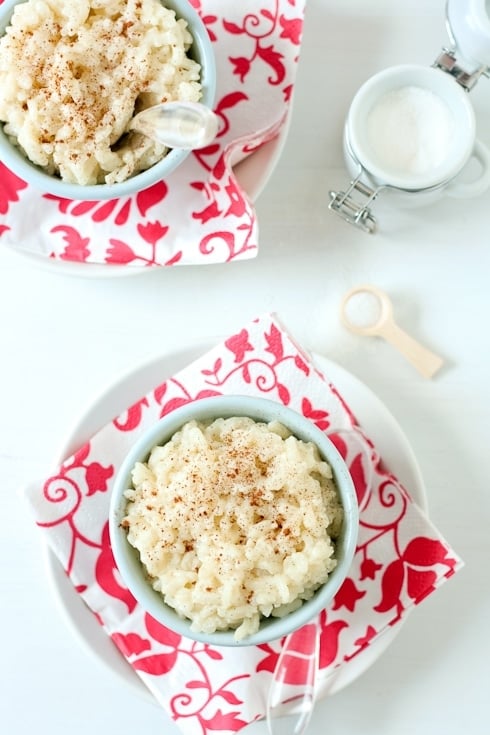 One year ago: Roasted Apricot and Lavender Panna Cottas.
Riz Au Lait A La Vanille – Vanilla Rice Pudding:
Serves 4

For the rice:
1/2 cup (100gr) arborio rice
1 1/2 cups (315ml) whole milk
1/2 cup (60ml) heavy cream
1/2 vanilla bean, split open and seeded
1/4 cup (50gr) sugar
For the citrus caramel sauce: (optional)
1/2 cup (100gr) sugar
2 tablespoons water
zest and juice of one lemon
Prepare the rice pudding:
In a stainer, rinse the rice under cold water for a minute to remove some of its natural starch.
In a medium saucepan set over medium heat, bring the rice, milk, cream and vanilla bean and seeds to a simmer. Cook until tender, stirring occasionally for about 20 to 30 minutes. Add the sugar, stir briefly and remove from the heat. Let cool for a few minutes and divide the pudding evenly among ramekins. Let cool to room temperature and serve with the caramel sauce.
Prepare the caramel:
Place the sugar and water in a medium sized saucepan and bring to a boil. Cook until the mixture becomes a golden amber color. Carefully add the lemon juice and zest (it will splatter so stand back a little). Stir the caramel until completely smooth again. Remove from the heat and let it cool until ready to serve.