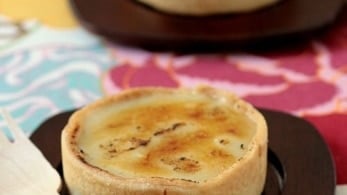 The family is packing for their upcoming departure tomorrow morning, so I thought it's be best to stay at out of their packing jitters and tell you about the Loquat Creme Brulee Tartelettes we had last night….I am all about peace…. with tarts.
Back at the beginning of May when Marcela was visiting, we took a walk downtown and kept bumping into dozens of trees bearing a yellow/orange fruit that looked like a cross between an apricot and a plum. I thought about loquats but quickly discarded that thought. Really, what would be the odds to in the Lowcountry?! They grow and flourish in California in April and May, but it seemed like the first time I had ever seen one in town…but again locals are not the most observant people in their own town sometimes, and that day I had my camera in hand looking for the peculiarities of the city.
The loquat tree takes its origins in Southeastern China and was later introduced to Japan where it has been cultivated for over a thousand years. It is believed to have come to America via Chinese immigrants settling in Hawai. (source Wikipedia). We picked a couple off of a tree and scrupulously peeled them, not sure if we were indeed on the right loquat track. I figured that if the squirrels and the birds were feasting on them, it was safe to join them (yeah, I know, weird justification…!). The fruits was sweet and sour at the same time, like an apricot crossed with an Italian plum with a touch of lemon. We kept on walking and found another tree on the street with a sign giving us the confirmation that it as indeed a Eriobotrya japonica, or loquat tree.
We were not equipped for loquat picking that day (ladder necessary) and I vowed to either sneak into somebody's yard at night or find a person somebody living in town. I started talking about them to one of my clients who lives downtown and she exclaimed that she was going away for the weekend and I was most welcome to go loquat picking at her house because they would otherwise just fall and rot in her driveway. Her waste, my taste….Yippee!! Once off the tree and cleaned of all lovely little bugs, it happens that the fruits turn "bad" very very fast. Not being one to particularly love stomach aches and given that loquats are high in pectin, I opted to make jam with the loot I had left.
Dinner time rolled around last night and no dessert was planned…gulp! We were peaking in the fridge and freezer to come up with something, when I remembered having enough almond shortcrust dough leftover from the blackberry tartelettes, a few egg yolks and a jar of loquat preserve. Loquat Creme Brulee Tartelettes were now on the menu! You can substitute the almonds in the tart dough with any nuts of your liking and do the same with the preserve.
Loquat Creme Brulee Tartelettes:
Makes 6-8 depending on your tart molds
Printable Recipe
For the tart shells:

1 stick plus 1 Tb. butter, cut in small pieces
1 1/4 cups flour
1/4 cup almonds
1/2 cup powdered sugar
1 egg yolk
In a food processor, pulse all the dry ingredients. Add the butter and pulse again. Add the egg yolk and pulse until the mixture comes together in a ball. Wrap in plastic and refrigerate while you prepare the filling.Roll between sheets of plastic wrap and cut out circles larger than your tart shells, fit the dough into the molds and cut out the excess. Prick with a fork, cover with a sheet of parchment paper and fill with pie weights or dried beans. Bake at 350 for about 10-15 minutes. Let cool to room temperature before filling with the loquat preserve.
Loquat Preserve:
2.5 pounds pitted and chopped fresh loquats
3 cups of sugar
1/3 cup of water
1/4 cup of lemon juice
Combine loquats, sugar and 1/4 cup of water in a large sauce pot. Bring slowly to a boil, stirring until sugar dissolves. Cook rapidly until thick. Stir frequently to prevent sticking. Add lemon juice and cook 1 minute longer. Pour hot into hot jars, leaving 1/4 inch head space. Adjust caps. Process 15 minutes on a boiling water bath. If you need to read more about canning, here is a great site: National Center For Home Food Preservation.

Creme Brulee Topping:
1/2 cup sugar
3/4 cup whipping cream
4 large egg yolks
2 large eggs
2 tsp (packed) lemon zest
1 tablespoons granulated sugar + 1 Tb brown sugar for the top
Whisk 1/2 cup sugar, cream, yolks, and eggs in a bowl until pale. Add lemon zest. Pour filling into tart shells filled with the preserve. Bake until filling is slightly puffed at edges and set in center, about 30 minutes. Cool completely, about 1 hour. Remove from rings or tart pans.
Sprinkle tart with 2 tablespoons sugar. If using an oven: broil tart until sugar melts and caramelizes, turning sheet for even browning, about 2 minutes.
If using a torch: start slow and high up to melt the sugar and gradually get your flame closer to finish the burnt effect.