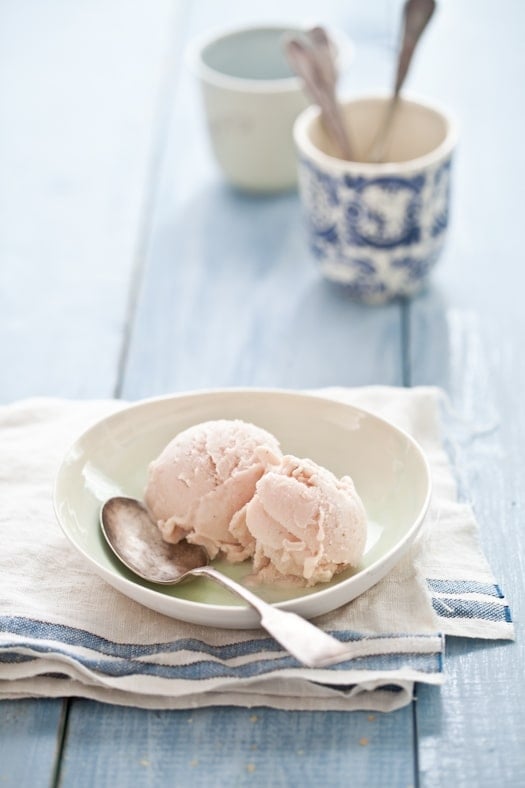 The first days of the Summer here in the South always bring back memories of my youth spent in Provence and Les Grandes Vacances (Summer vacations) spent in the Alps. The scent of lavender, rosemary, thyme. Juicy cut cantaloupe and proscuito salad. Fresh sardines and trouts over a makeshift barbecue pit dug in the earth. Scrumptious fingerling potatoes cooked in the ashes afterwards. That smoky taste was unbelievable.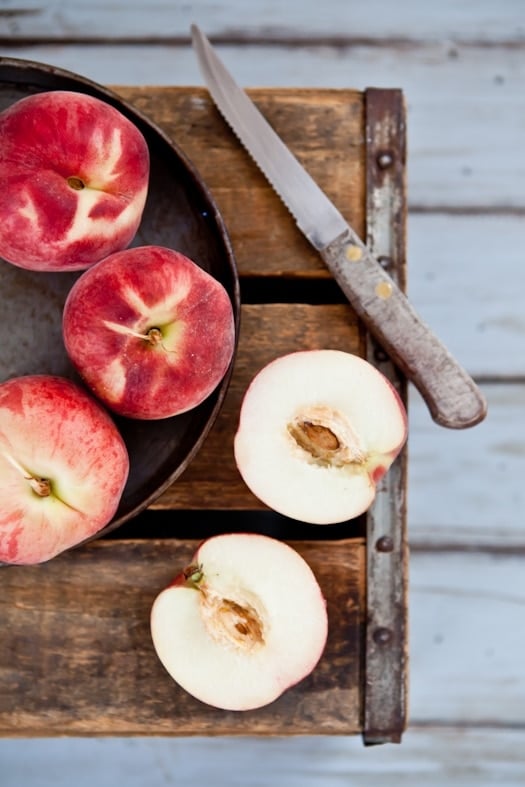 Summers then and Summer now, wherever I find myself, are synonymous with the same scents and flavors. Lots and lots of peaches, cherries, apricots, plums, ice creams, sorbets, fresh and juicy pies. Days were filled with bike rides, hikes, swimming in the river, building tree house and fortresses. No toys necessary. Just friends.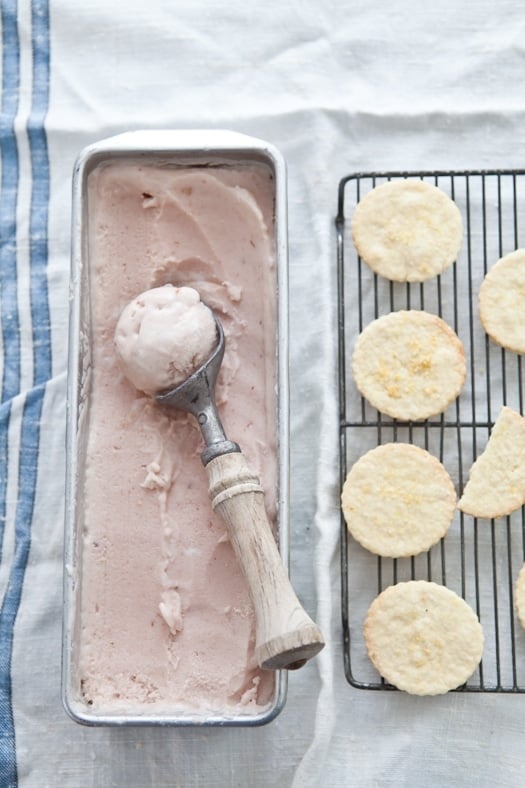 The anticipation of going back to the same summer vacation spot and see who was coming that year again. Even today, I have my brother to tell me who is still stopping by. Yes, thirty something years after their first falls and sometimes first kisses, now that children have become parents of their own, they find themselves continuing the traditions. It's good. It's actually awesome.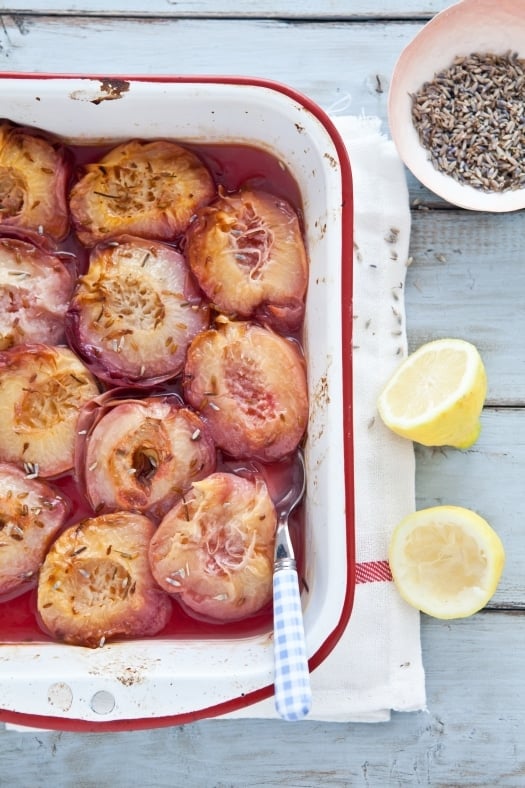 The beauty of being in the present is that I can look up from my work table, cut open a peach and be transported right where I need to be. The look, feel and smell are all I need to create the photo story that calms or inspires me. I am easy. If anything, this past year has taught me to be in the moment. To let it unravel what I need to see.
I did not want to let the season pass by without making some time for peaches and ice cream. And why not combining both if I could…

Stone fruits always make me reach for a complimentary fragrance. Lavender, rosemary, thyme, cumin. Grilled peaches and a few cumin seeds are just incredible together. It changes with my mood but as a Provencal, I think my instinct is to reach for the jar of lavender buds. It almost makes me hear the cicadas in the background. Almost… That and a glass of rose and well, I am just about set!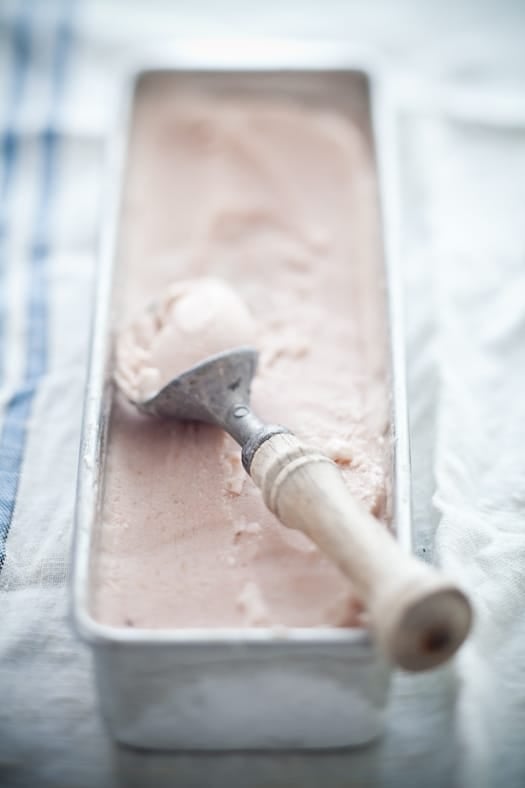 This ice cream is really the best of all worlds right now. Juicy peaches, lavender, plenty of creamy goodness. I served it with easy lemon zested shortbread cookies topped with a little sprinkle of lemon salt I brought back from Portland last year. The contrast was perfect. A nice balance of flavors, sweet, salty and creamy.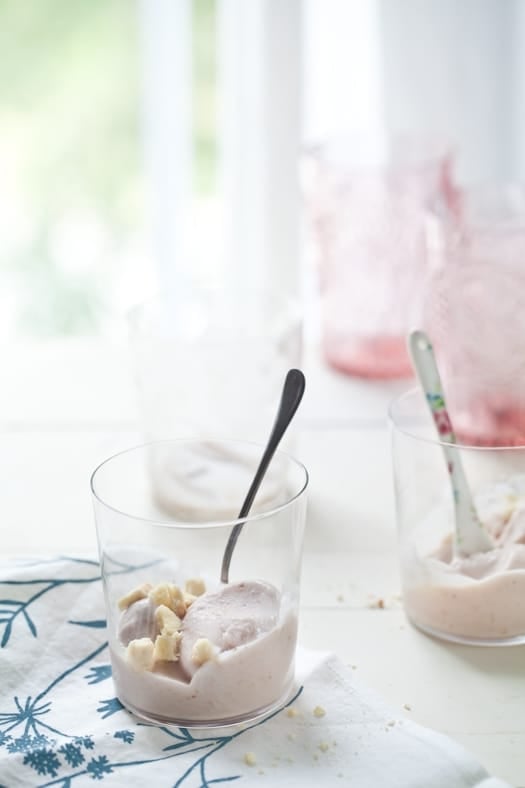 Roasted Peach and Lavender Ice Cream With Lemon Salt Shortbread Cookies:
I went for white peaches for no other reason that they were the most ripe ones at the market one morning and I did not want to wait any longer to make ice cream. Use any stone fruit you like best. Do not worry if you can remove the pits before you put them in the oven, both skins and pits will yield under your fingers once the fruits are roasted. Cook, peel, mash and throw in with the ice cream base which is nothing more complicated than milk and cream and a little sugar or honey.
Best is to prepare the fruit and ice cream base the day before you plan on churning it.
Ingredients:
For the ice cream:
6 peaches
1 tablespoon honey
1 teaspoon dried edible lavender buds
1 cups heavy cream
1 cup whole milk
1 cup whole coconut milk
1/3 cup honey
For the shortbread cookies (makes about twenty 2-inch round cookies)
1 stick unsalted butter at room temperature
1/4 cup sugar
1/2 vanilla bean
2 egg yolks
1 cup millet flour
1/2 cup sweet rice flour
2 tablespoons to 1/4 cup milk (optional)
Lemon salt (optional)(or make your own by added lemon zest to coarse sea salt)
Instructions:
Prepare the ice cream:
Preheat the oven to 400F.
Cut the peaches in half and remove the pits.
Place in large roasting pan, cut side up. Drizzle with the honey and lavender. Roast until golden brown and soft, about 30 minutes. Let cool completely and peel the skins off the peaches (you can roast them the day before if you want). Reserve.
In a large saucepan set over medium heat, cook together the cream, milk coconut milk and honey until they barely come to a boil. Remove from the heat and let cool completely. Refrigerate until cold.
When both fruit and ice cream based are chilled sufficiently, mash the peaches with a potato masher or a fork (no need to puree fine), add them to the base and process the ice cream according to your ice cream maker manufacturer's instruction.
Freeze until set.
Prepare the cookies:
In the bowl of stand mixer fitted with the paddle attachment, whip the butter, sugar and egg yolks together on medium speed until creamy looking. Split the vanilla bean in half and scrape the seeds with the back of a knife and add to the butter and sugar mixture. Mix for 10 seconds. Add the millet and sweet rice flour with the mixer still on low speed. If the mixture feels too crumbly add a little bit of milk to obtain a smooth but not too wet dough. Start with one tablespoon at a time.
Gather the dough into a bowl and refrigerate for about 2 hours.
When ready to bake, turn the oven to 350F and position a rack in the middle.
Roll the dough in between 2 sheets of parchment paper and roll to about 1/4 to 1/8-inch thick. Cut cookies out in the dough and place them on a parchment lined baing sheet. Sprinkle with lemon salt.
Bake for 10-12 minutes or until golden.
Serve with the ice cream.