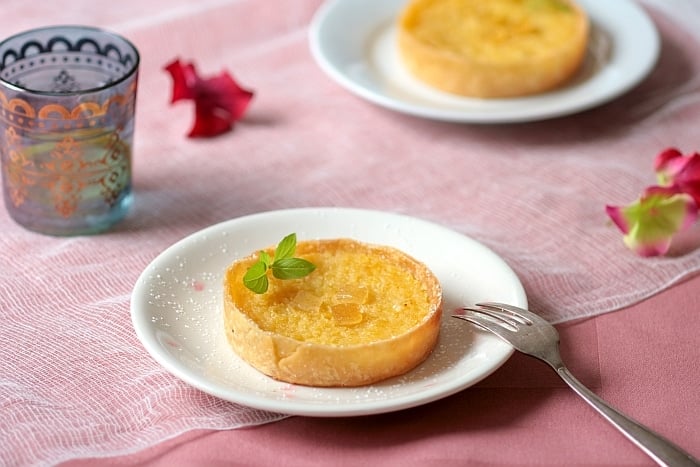 I know I talk a lot about my family back home and the times, desserts and events shared over there but I also have a strong sense of my being and living here in the States, in the present moment. And I am always very aware of things coming up this fine weekend of May. It's Mother's Day. Except it does not phase my own mother much because that special day is not celebrated until the end of the month in France. However she enjoys the fact that with my being here and celebrating Bill's mom, I can't wait another two weeks to tell her anyway. And I realized while making these lemon-basil infused lemon tartelettes that there was a whole of "mothers" going into them.
My mother-in-law is "mama Ruth" to me. She welcomed me to the family like a daughter and she treats me as such and never refrains anything, the good, the bad and the ugly, just like a mom does. She also has what I call a very acute "pantry 6th sense". I can be thinking that I need sugar and Bill comes home with a bag courtesy from his mom (they live 10 minutes away). It's downright freaky some days. Sometimes we shop in doubles like we did last week and I found myself with three big bags of lemons which is why you get one more strawberry free – not yet blackberry post. "Mother moment #1".

I started coming up with various recipes to use all these lemons and since I had some pate brisee left from another project, "tartes au citron" easily came to mind. I have a recipe typed up in my brain from the restaurant menu but I also like to try new ones and it was a good opportunity to flip through the pile of cookbook I own but rarely have time to open. I picked up Pierre Herme's Larousse Des Desserts that my mom sent me last year, figuring that he, of all people would have what I needed. "Mother moment #2".

I settled on a very simple and 100% lemon recipe for the tarts but changed a couple of things around nonetheless. PH uses a shorbread crust but I had pate brisee in the freezer and used it instead. I also wanted to had a little depth to the lemon filling by infusing the melted butter called for in the recipe with lemon basil. I almost wished I had added more than I did. It really gave the filling a lovely grassy quality. I had to refrain though as I am trying not to deplete too fast that lovely lemon-basil plant Mama Ruth picked out at the nursery for me. "Mother moment #3".
As I was baking, I started to think about all these "mother moments" and began to smile bigger and bigger with each step of the process. From prepping and baking to photographing. A lot of you send emails asking me about the props I use and the answer is almost always "mom". My mom. The best personal shopper a food stylist could ever dream of. Rolling pin, tart rings, microplane, pretty lemon bowl…Mom. Care packages with ingredients, tablecloth, napkins, jars, cups and spoons…Mom. She really gets a kick out of it and I am always floored by the cool stuff she finds in the most unexpected places.
So you see, even if I did not intend to make the lemon tarts for Mother's Day, it became quite clear that they really ought to be blogged about this weekend. Thank you Mama Ruth and Maman for all the things you say and do. All the love and forgiveness. Happy Mother's Day to all of you reading this and being celebrated this Sunday!
I also want to thank Suzanne from S.HopTalk for including one of my pictures in this amazing Why Moms Matter video. Pass it along to any mom you know! I hear an ebook is soon to follow…

One year ago: Lemon and Honey Tangerines Gratins.
Two years ago: Meet My Sugar Daddy.
Lemon Basil Tartelettes, adapted from Pierre Herme:
Makes six 4-inch tarts
For the pate brisee:

1 1/4 cups all purpose flour
1/4 tsp salt
5 tablespoons butter, cold and cut into small slices
3 to 4 tablespoons ice cold water
For the filling:
5 tablespoons (80gr) unsalted butter
1/4 cup lemon basil, chopped
3 eggs
1/2 cup (100gr) sugar
5 lemons, zested and juiced
Prepare the dough:
Mix together the flour and salt in a large mixing bowl. Cut in the butter with a pastry cutter or a fork until the mixture forms pea-sized pieces. Sprinkle 2 tablespoons of water over the flour mixture and toss with fork until moistened. Repeat with the remaining water, one tablespoon at a time and gather the dough into a ball with your hand. Do not handle the dough too long. Wrap into a sheet of plastic wrap and refrigerate for 30 minutes. This will allow the dough to relax and make it easier to roll, keeping it from becoming tough. Roll dough on a lightly floured surface, applying pressure from the center to the edges until it is about 1/4-inch thick. Cut out six 6- inch circles onto the dough and press them into the tartlet molds or rings (or one 9 inch pan if making a larger tart). Place the rings or molds on a baking sheet. Prick the dough with a fork, apply a piece of parchment paper inside the molds and fill with dry beans or pie weights. Refrigerate 30 minutes. Preheat oven to 350F and when ready, bake for 10-12 minutes. Let cool completely and remove the pie weights and paper. Keep the oven at 350F.
Prepare the filling:
In a small saucepan set over medium heat, cook the butter and lemon basil until the butter is just melted. Let cool and strain to remove the lemon basil. In a large bowl, whisk together the eggs, sugar, the juice and zest from the lemons and the melted butter. Divide evenly among the tarts and bake for 15 to 20 minutes. Serve room temperature.