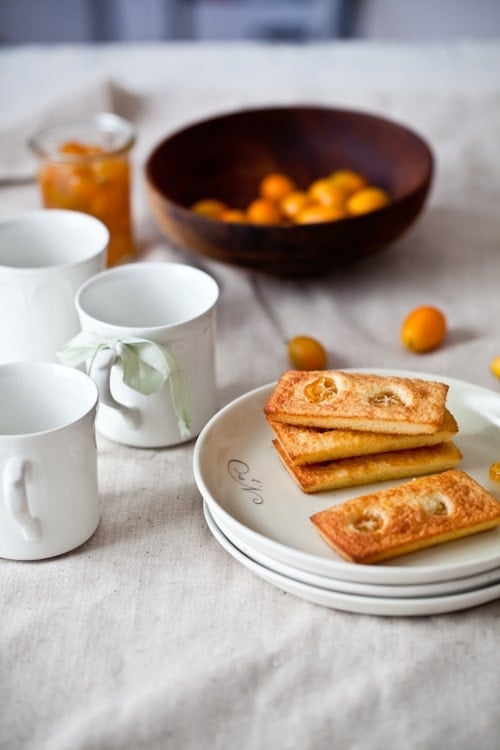 I love this time of year for so many reasons. They hit me with a bit of nostalgia in the afternoon but they all revolve around the same flavors and scents. I found myself humming our favorite Christmas story. He caught me starring at the skyline while my mom was describing the snow back home. He noticed I let the cardamom pods linger on the countertop a little while. That's the holidays too. So I close my eyes and just imagine.

Chocolate. Thick as ganache and strong as coffee hot chocolate. Cardamom. My mom's Swedish cardamom rolls, Roasted chestnuts. Piping hot snack we would get on the streets of Paris while visiting my grandparents. Oolong tea. The perfect cup to warm you up in the afternoon. Clementines and kumquats. One of my favorite Winter dessert.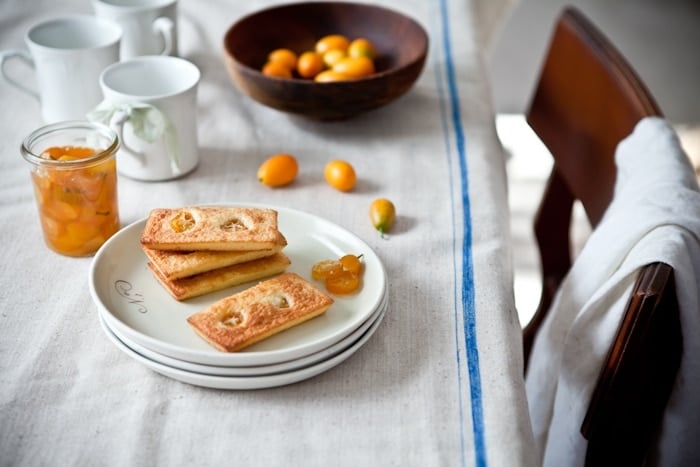 A yogurt and a clementine or a handful of kumquats was by far the most common dessert at our house during Winter. My mom has this gigantic wooden fruit bowl for everyday dinners that I love. Not because of what it is but because of what it promises. Comes Winter and it is a cornucopia of lychees, citrus, pears, nuts and dates. Snapping the citrus skin to smell their natural oils to feel instantly energized was however my favorite part.

With all the hustle and bustle of the holidays, it only took a glance over the kumquats at the store to instantly feel the promises of clean, fresh and vibrant desserts. It brought about the biggest skip in my step and the urge to come home and start baking. I know, I know…it's all about the chocolate this time of year but I got to tell you, after rolling 3 pounds of truffles, I needed a break.
I started slicing and seeding a couple of pints of kumquats and was almost instantly transported back to my parents' home. I had no idea what I was going to make for sure. I only had the beginning of a plan you see. My mind had stopped at poached kumquats. Once I had done those, I started popping them in my mouth like they were candies and figured I'd better come with a plan fast or there would not be many left to share with B.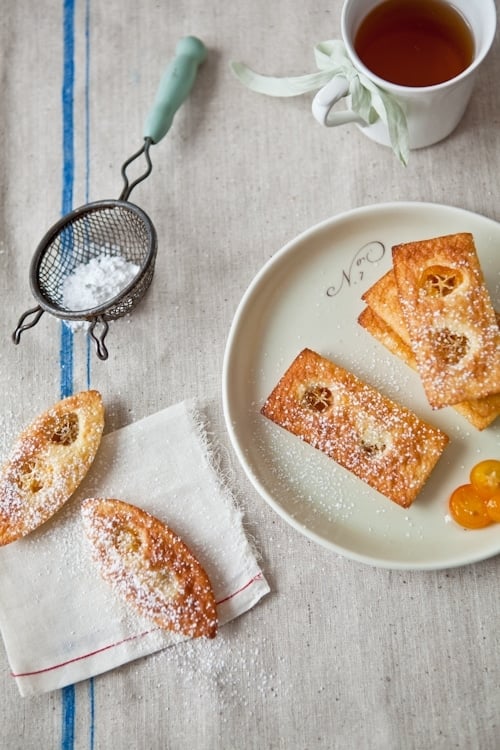 Fate would have it that I had decided to explore some of my favorite dessert book again and had bookmarked pretty much the entire citrus section in Hidemi Sugino's The Dessert Book. I can easily bookmark all the recipes in the book actually. There are handful of pastry chefs I would follow blindly in the kitchen. Sugino is definitely one of them. His desserts are clean and yet complex, refined and yet simple. His recipe bring out the inquisitive quality of each of us and makes you wan to imagine dishes like he did.
My mind quickly settled on a promising recipe for little tea cakes chock full of kumquat compote, poached kumquats and almonds. The compote is made by poaching sliced kumquats until tender and pureeing the whole thing, rind and pulp, together which adds the perfect hint of bitterness to cut down the sweetness of the cakes. Every bite makes made us slow down, close our eyes and just sigh.
Because we wholeheartedly approve. Hope you do to!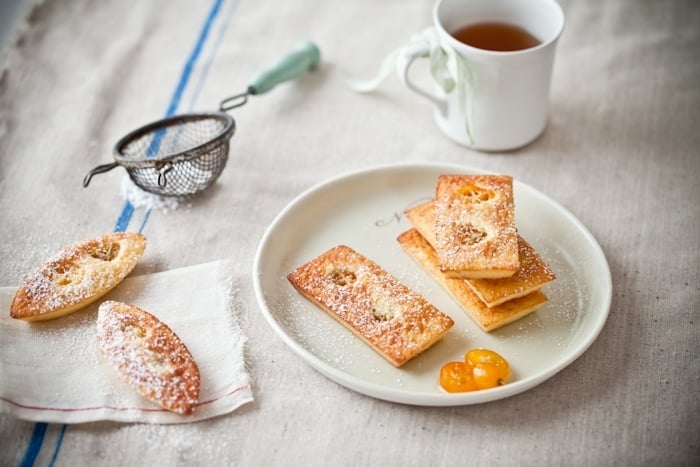 Kumquats and Almond Tea Cakes, adapted from Hidemi Sugino:
Makes 12
For the cakes:
1/2 cup (70gr) millet flour
1 teaspoon baking powder
pinch of salt
1 stick (113gr) unsalted butter at room temperature
1 1/4 cup (150gr) powdered sugar, unsifted
4 medium eggs
1 cup (100gr) ground almonds
1/2 cup reserved kumquat compote (recipe follows)
Sift together the flour, baking powder and salt. Reserve.
Butter the insides of cake tins (your preference) and place on a baking sheet. Reserve.
Heat the oven to 350F.
In the bowl of an electric mixer fitted with the paddle attachment, beat the butter and powdered sugar. Add the eggs, one at a time, beating well after each addition. Add the flour mixture and ground almonds and mix another 30 seconds. Fold in the kumquat compote with a spatula. Divide the batter in between your prepared tins, top with either fresh or poached kumquat slices and bake for 10-15 minutes until golden brown(the larger the tins the more baking time will be needed)
For the kumquat compote:
1 cup kumquats, halved and seeded
1 cup sugar
3/4 cup water
Place the kumquats, sugar and water in medium saucepan over medium high heat and slowly bring to a boil, stirring to dissolve the sugar. Turn the heat down and simmer for about 10 minutes, covered, until the kumquats are translucent. Remove from the heat and cool to room temperature.
Once cooled, drain the kumquats from the syrup, reserve a few slices and puree in a food processor adding 2 tablespoons to 1/4 cup of the reserved syrup as you go along. (it should look and feel like thick marmelade). Reserve.