Thanks for the birthday wishes, emails, ecards and presents you sent. You made my day – week – month! It's been a week full of work which suits me just fine since I don't really know how to relax and take it easy. Seems like I am playing a game of "Catch me if you can" this summer and you know what? I am loving it. I am loving the work, the pressure and the adventures. I've never felt this alive and this happy . Our household depends on it too. It's not just for the fun ya'll. Although… hot dang, this much fun on the job should be illegal!

What's even more fun is to do a little feature for the gals of Design*Sponge. Grace and Kristina are always so thorough and dedicated to their craft that it's always a pleasure to work for them. Kristina asked if I wanted to do something gluten free this time and I had no problem coming up with a few items making the best use of some of my favorite seasonal fruits.

For some reason we have been hooked on vanilla and coconut ice cream lately and as soon as the first strawberries showed up at the market we started having ice cream and lemon-thyme marinated strawberries almost every other night for dessert. That alone satisfies my better half just fine. I, on the other hand, always desire something else to sink my teeth into so I usually make a quick batch of gluten free shortbread cookies but with my crazy habit to load up on rhubarb at the market, I decided to use some of the poached one I prepared for the panna cotta and tart and use it in financiers.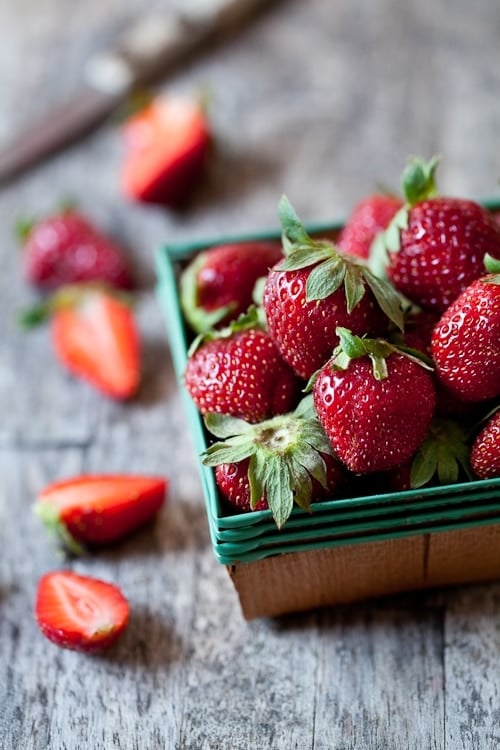 Financiers, or friands in some parts of the world, have to be one of the easiest tea cakes to adapt gluten free and pretty hard to mess up too. And who can resist the addictive smell of browned butter? Obviously not us because these did not last long once all the shots were in the box. Maybe five minutes because we had to drink the ice cream first it was melting so fast?!
Our lemon-thyme and lemon balm plants have been growing wildly and we try our best to include them in most of the foods we eat this Spring. Salads, berries, spring rolls, marinades, etc… and we have been throwing whole stems in homemade lemonade a lot lately for a little extra flavor boost. Lemon thyme is milder than regular thyme and obviously on the citrus-y side which makes it a good substitute, replacement, change from mint. Hope you can give it a try one day!

Head over to Design*Sponge for the recipes and more pictures and say "hello" if you can!