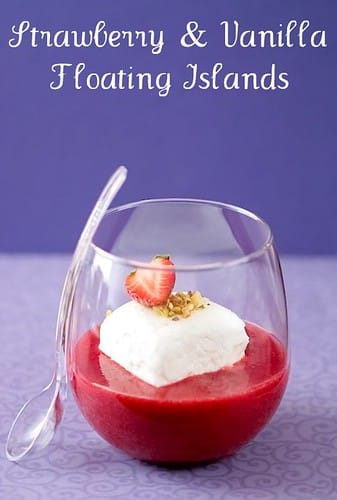 It had been a while since I had the night off to bake something just for us. No book recipe to test, no challenge, no order or request. Just for us. In moments like this I tend to gravitate towards childhood memories and desserts I learned to make with my mother and grandmother. Simple desserts made so often that I bake them from memories with only the guidelines they used to whisper as I was standing on the little step stool next to the kitchen counter. It always amazes me how clearly I can still hear my grandmother's voice every time I make Floating Islands for example.
Many years after her passing, Mamie Paulette is still here as I separate the eggs and mix them with sugar to make those lovely clouds of meringues. Everytime I cut through a vanilla bean I respectfully scrape every bean to the last one "pour ne pas gaspiller" (not to waste) and put the pods in small jars of sugar to flavor it. Whenever we would make creme brulees, we would have floating islands or "iles flottantes" a few days later. Again, "pour ne pas gaspiller". I seem to faithfully carry on the tradition. I measure my egg whites, double their weight in sugar (which you can use as a guideline to increase or decrease the number of servings) and make a Swiss meringue. Stirring as she would to, still fascinated at the magic a couple of ingredients can create once baked…
After the vanilla bean mousse for the Daring Bakers challenge and the creme brulee tartelettes I had enough egg whites for a batch of macarons and some floating islands. The same week, juicy strawberry were on sale at the market and between my mother in law and us, I somehow ended up with about 5 pounds of them. I tried my best to use them but work got in the way and I decided to turn most of them into a coulis and freeze it in ice cube trays. That way I can easily portion out what I need for ice creams, sorbets, buttercreams, mousses later on. Some was used for the Floating Islands instead of the creme anglaise (vanilla custard sauce) they are traditionally served with. I hope mamie won't scream "sacre bleu" since we are severe creme anglaise addicts in the family. I think she would have approved of the variation.
She would either bake the meringue in a baking dish in a water bath and scoop out portions for each of us or divide it in between several glasses and ramekins and bake invidual ones. I liked the latter best as my role once the meringues were baked was to invert them into the pool of sauce and I loved watching how they would just slide on down the glass and float around in the plates. I did the same thing here and decided to skip the traditional decoration of caramel sauce or caramel strands as I wanted to add a little touch of color to the glasses and used finely chopped pistachios instead. There was just not enough time in the day to let me play with caramel which I tend to get carried away with anyway…
The end result was just perfect after a full day at the office. The soft and delicate vanilla scented meringue contrasting with the energizing and fragrant strawberry coulis. Enough to make you want to put on your pajamas to take the dogs for a walk…
Strawberry & Vanilla Floating Islands Recipe:
Serves 4
For the strawberry coulis:
16 oz (500gr) strawberries, hulled and quartered
1/4 cup (50gr) sugar
1/4 cup (60ml) lemon juice
In a medium saucepan, bring the strawberries with the sugar and lemon juice to a simmer over medium low heat. Cook for an additional 2 to 3 minutes. Let cool to room temperature and puree the mixture in a blender or food processor. Divide evenly between 4 dishes or glasses.
For the floating islands:
2 egg whites (60gr)
1/2 cup+1.5 tablespoons (120gr) sugar
1/2 vanilla bean, seeded
Coat 4 ramekins of your choice with cooking spray, place them in a deep baking dish set on a baking tray, set aside.
Preheat the oven to 250F.
Place the egg whites, sugar and the seeds from the vanilla bean in a bowl set over a pan of simmering water and cook until the mixture registers 140F on a candy thermoter, whisking constantly. Remove from the heat and whip the mixture with an electric mixer fitted with a whisk attachment until double in volume and cool to the touch. Pipe or spoon the meringue into the ramekins and fill the baking dish with hot water almost 3/4 of the way up. Bake for 20-30 minutes until the meringues are slightly dry to the touch. Using tongs, remove the ramekins from the baking dish and set aside to cool to room temperature. Once cooled, invert them and let the meringue slide right off over the strawberry coulis.
Decorate with cut strawberries and chopped pistachios is desired.
~~~~~~~~~~~~~~~~~~~~~~~~~~~~~~~~~~~~~~~~~~~~~~~~~~~~~~~~~~~~~~~~~~
Note: If you liked the White Chocolate and Lemon Souffles from last week, you can find 3 more recipes I made for Desserts Magazine. Bittersweet Chocolate Souffles, White Chocolate Souffles and Chesnut Milk Chocolate Tapioca Souffles. It's all about chocolate this month!