This close to the American holiday of Thanksgiving, I figured it was high time I shared some of the eats that we will have with friends this coming Thursday. It's not all that we are preparing but when trying these recipes out for the big day, they really stood out. Tomato And Roasted Garlic Tartines as little bites with cocktails. Winter Greens and Squash Gratin as one of the sides and Mixed Nuts Tartelettes instead of the traditional pecan pie.

These recipes were the kind that made B. proclaim "please-please-please-put-these-on-the-Thanksgiving-menu-or-I-will-pout-and-throw-a-temper-tantrum". No, he didn't really say that. He gestured it while eating another spoonful. So, while planning the menu with my friend Laura, I penciled these down along with tried and true favorites and this Cider Brined Turkey from Bon Appetit. It's mildly concerning how excited I am about this one!

Yes. I am cooking. Yes. I want to. Yes. I am completely thrilled about it. Nothing makes me happier than gathering good friends and family around a good meal, good wine and good conversation. That also has me wildly excited about the day. It's not about buying into the hype. It's not about food. It's about making a meal for people you love. It's about sharing. Making dishes that honor traditions as well as making new ones.

The fact that this meal is centered around Thanksgiving is just icing on the cake. Like many of you, I give thanks everyday for the good fortune I receive and the lessons I learn, bitter or sweet. I think it's nice however to have another chance to give thanks it out loud. To others. To yourself. There are never too many opportunities for gratefulness and wishing good upon others.

While not making a big production of it, I am very thankful that my friends, here or far, love cooking and prepping this much. Every year has brought a different group together and a different flair.

A while back, we decided to do have Thanksgiving with friends and Christmas with family. It seemed a lot easier on our sanity given B's family dynamic and the fact that we do have a close knit group of friends we absolutely love hanging with during the holidays. Of course we compare weird family stories! But most importantly, we can keep our shenanigans up and no one will get offended. We can let loose and do exactly what we want. No pressure. I am grateful for that…

I do count my blessings. Everyday. And one of these is to be able to come here and unwind with you guys. What a blessing it is when things go array. Thanks for being part of the stories I write on this blog, the recipes. Thank you for your feedback, your questions and your love of food and photography.

On a separate note, but one for my mama in particular, the newspaper did a full spread feature about my outlook on life, photography, work, etc.. in their Saturday printed issue that they also posted online here. See mom … I am not always noodling around…ahahah!
Have a wonderful Thanksgiving!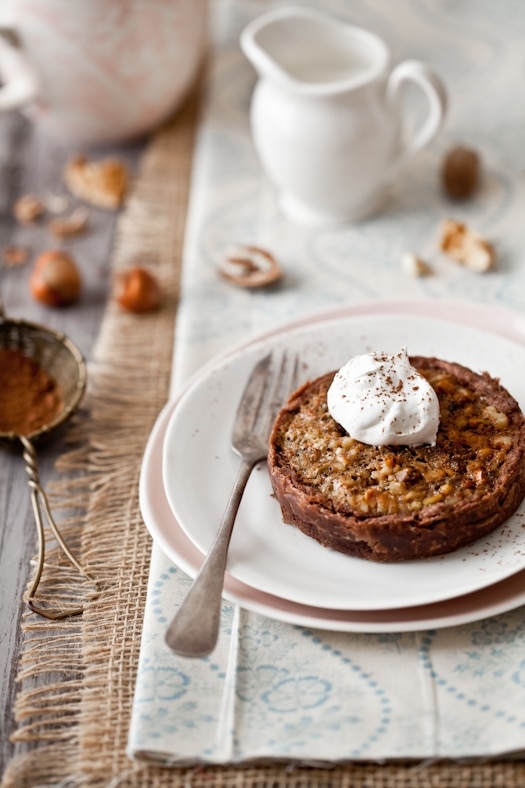 Tomatoes And Roasted Garlic Tartines:
Makes enough for 6 to 8 people as an appetizer/nibble
Ingredients:
2 cups cherry tomatoes (gold or red)
1 whole head of garlic
1 tablespoon olive oil
salt and pepper
baguette toasts (gluten free or regular slices of bread, toasted to your liking)
oregano or other herb of your liking
Directions:
Preheat the oven to 375F (convection) or 400F (normal). Position a rack in the middle.
Place the cherry tomatoes in a baking pan and drizzle about half a tablespoon of oil over them. Season with a pinch of salt and pepper and toss to coat. Set aside.
Cut the top of the head of garlic, place it in a piece of baking foil. Drizzle the remaining half tablespoon of oil. Close the piece of foil over the garlic head.
Place both the baking pan with the tomatoes and the foil with the garlic in the oven at the same time. Remove the tomatoes after 20 -25 minutes and the garlic after 30-40 minutes (it should be soft). Let cool.
Rub each piece of toast with some roasted garlic, add a couple of tomatoes on top and sprinkle with some more salt and pepper if desired. Add some oregano to taste.
**************************************************************************
Winter Greens and Squash Gratin, adapted from Virginia Willis's Basic To Brilliant Y'all (see the original here)
Ingredients:
2 teaspoons unsalted butter, plus more for the gratin dish
1 butternut squash + 2-3 acorn squash, (about 3 pounds total), cut in half lengthwise and seeded
1 tablespoon olive oil
1 small onion
6 cloves garlic, minced
1 large bunch of Swiss chard, cleaned, stems removed and chopped
salt and freshly ground black pepper
1 /2 teaspoon freshly grated nutmeg
1 tablespoon freshly chopped thyme
1 cup milk
1/2 cup heavy cream
3 tablespoons regular or gluten free panko breadcrumbs
2/3 cup freshly grated Parmesan
Directions:
Preheat the oven to 375F (convection) or 400F (normal). Position a rack in the oven.
Place the squash, cut side up on a baking sheet and roast in the oven until soft and slightly golden brown. Let cool.
In the meantime, heat the oil in a large sauté pan over medium-high heat. Add the onion, garlic and cook for about 5 minutes. Add the chopped Swiss chard and cook until the greens are wilted, another 5 minutes or so. Season with salt and pepper to taste. Add the nutmeg and thyme and stir well. Remove from the heat and reserve.
Scoop the flash of the different squashes in a medium sized gratin dish. Sprinkle with a pinch of salt and pepper. Top with the reserved greens.
Pour the milk and cream over the vegetables and cover with aluminum foil. Bake for 25 minutes.
Meanwhile, stir together the breadcrumbs and cheese in a small bowl. Season with some salt and pepper. Decrease the oven temperature to 350F (convection) or 375F. Remove the foil from the dish and sprinkle the breadcrumbs over the top. Continue baking for another 15 minutes.
*********************************************************************
Mixed Nut Tartelettes:
Makes eight 4-inch tartelettes
Ingredients:
For the crust:
1 cup Jeanne's all purpose gluten free mix
1/4 cup cocoa powder
1 stick (115g) unsalted butter, kept very cold
pinch of salt
2-3 tablespoons ice cold water
For the filling:
1/2 cup unsalted pistachios
1/2 cup hazelnuts
1/4 cup waluts
4 tablespoons unsalted butter
1 cup raw honey
1 teaspoon kosher salt
1 teaspoon vanilla extract
3 large eggs
Directions:
Prepare the pastry. In the bowl of a food processor, (or follow the same instructions if doing by hand), pulse together the flour and the cocoa powder until incorporated. Add the butter and pulse until the butter resembles small peas and is evenly incorporated. Add the salt and pulse on more time. Gradually, stream in the cold water until the flour just comes together. Turn the mixture out onto your work surface and form into a 2-inch thick, round disk. Wrap with plastic wrap and refrigerate at least 30 minutes (or overnight) before rolling out.
Flour your working surface with tapioca flour (if gluten free) or regular flour and start rolling out the dough to about 1/4-inch thick adding more flour as you feel the dough starts to stick. You can also roll it out in between two sheets of plastic wrap of parchment paper, especially with working with the gluten free version. Cut eight 5-inch rounds of dough and place them inside eight 3 to 4-inch tartlet pans. Place a small piece of parchment paper inside each of them, fill with dried beans and refrigerate for another 30 minutes.
Preheat the oven to 350F (both convection and not) and position a rack in the middle.
Place the tart shells on a baking sheet and bake the tartlets for about 15 minutes (with the dried beans inside). Remove from the oven, let cool for 5 to 10 minutes and remove the beans and parchment paper.
In the meantime, prepare the filling:
Place all the nuts on a baking sheet and toast until golden for about 10-12 minutes.
Remove from the oven and let cool. Remove the skin from the hazelnuts (see my tip at the end of the recipe). Coarsely chop all the nuts. Reserve.
Melt the butter in a small saucepan over medium-high heat until brown bits form on bottom of pan, about 5 to 8 minutes. Remove from heat and let cool.
Stir together the honey, salt, and vanilla in a medium bowl. Whisk in the eggs, then the brown butter. Fold in the nuts with a spatula or wooden spoon. Divide the filling among the tartlet shells. Bake tartelettes until filling is set around edges and jiggles slightly in the middle, about 30 minutes. Cover with foil over tart if the crust gets too dark. Remove from the oven and let cool.
Tip to skin the hazelnuts:
Place the nuts in a mesh bag like the one you purchase citrus in (lemons, grapefruit) or onion. Over the sink, rub the nuts together in the bag until all the skins have fallen through the holes in the mesh bag. Easy peasy…