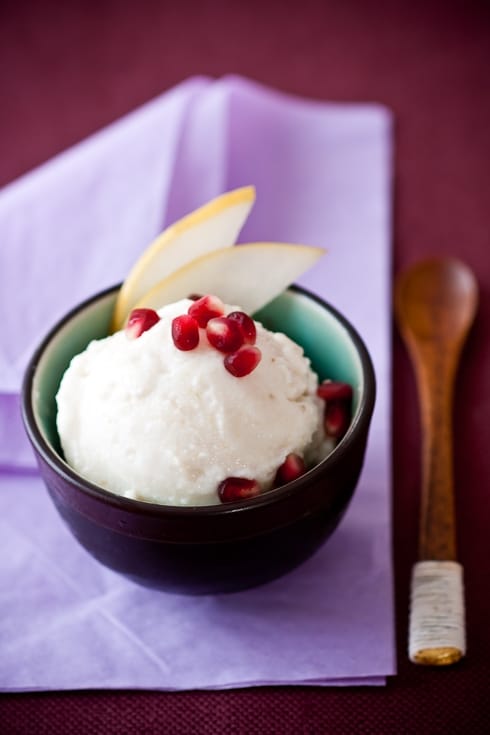 Before I tell you about this Asian Pear Frozen Yogurt, I want to thank everyone who stopped by to enter Ree's cookbook giveaway. The woman is well loved, that's for sure! My random number generator this time was my friend Tami with whom I went to the National Gingerbread House Competition™ and to be fair, I didn't take into account the entries coming in past the deadline. Congratulations to Patricia in Texas, a., and Jelli Bean. Email me your snail mail addresses at mytartelette[at]gmail[dot]com and I'll pass the info on to Ree.
I have been back from Asheville for a couple of days yet and I am not done processing pictures from the weekend. We did a lot, ate a lot and well, drank a lot too! Instead of throwing down a few comments and a few photos here and there, I want to make the competition, competitors and judges justice (Ha!) so that will be in an upcoming post. I was part of an amazing group of people who tackled each house one by one and evaluated every square each of every display, no tasting though. I think I behaved…
Fall-iage in Asheville, NC.
That part lasted from 9.30am until 4.30pm. Yep. Tami who was not on jury duty booked a nice and lengthy massage at the spa, (another kind of heaven!) and there was a brief moment I wished I was there with her but I had a serious task at hand.
Gingerbread houses at The Grove Park Inn is serious business folks!
As in every competition, some of my chosen picks did not win Grand Prize or first place in some categories but that's ok, it's part of the maths behind it all.
Driving the 250 miles to Asheville gave me my fix of gorgeous Fall colors and foliage. I did stop a couple of times along the way to take it all in. I called B. and yapped about the reds and the golds I was seeing while he was racking brown dried leaves in the yard under a hot sun and no wind. He asked if there was some Asian Pear Frozen Yogurt he could have afterwards and lucky for him, I had not completely eaten the batch I had made from Jaden's cookbook!

Trust me, I am not kidding when I say I almost ate the entire batch. That frozen yogurt is seriously addicting. I was hoping B. would focus on all the other dishes I had prepared in anticipation of my weekend away but no, he had to ask about the frozen yogurt! My fro-yo, how dare he?! Eh, that's alright, I was feeling bad he was stuck at home with work while I was gallivanting working hard with Tami in the mountains of North Carolina.
I discovered Asian peasr for the first time when I moved to the US where almost every week I would be faced with a new item, either typically Southern or completely exotic as was the case with these pears (as well as prickly pears, dragon fruit, jicama, okra, etc…). I was intrigued. It was juicy, firm, sweet but the flavor was completely unique. You can easily find your share of bland ones, but if you pick the small ones, they will be packed with flavor and juice.

Jaden's frozen yogurt recipe couldn't be any simpler: pears, sugar, ginger, sugar and Greek yogurt. Chop, process, churn. And eat. She tops hers with some crushed pink peppercorns for a little sweet kick but I was out and particularly pressed for time to get more. Instead I topped ours with pomegranate seeds which gave the frozen yogurt a nice tart note.

Asian Pear Frozen Yogurt, adapted from and with permission of Jaden Hair:
Makes 1 1/2 pints
2 large Asian Pears
1/4 teaspoon freshly squeezed lemon juice (I used lime)
1 tablespoon finely grated fresh ginger
1 1/2 cups (375gr) Greek yogurt
1/2 cup (100gr) sugar
generous pinch of fine sea salt
1 tablespoons pink peppercorns (crushed) (I used pomegranate seeds)
Peel and chop the pears into small 1/2-inch chunks. Toass them with the lemon juice to prevent oxidizing. In a blender, combine the pears and ginger and puree until smooth. Use 1-2 tablespoons of water if this is difficult to puree.
In a large bowl, combine the pear puree with the yogurt, sugar and salt. Refrigerate for an hour.
Note: I skipped this step by refrigerating the pears for a couple of hours before.
Churn the mixture in your ice cream amker according to manufacturer's directions.
Once churned, freeze until firm. Serve topped with the pink peppercorns.