Let's start with the winner of the Chefs Catalog giveaway, shall we? Congratulations to "misreneer"! Send me your address at mytartelette[at]gmail[dot]com and we'll get that package on its way to you!
At the end of the Food Photography workshop I taught during Evo 10 in Park City Utah, a new blogger came to me and asked if I ever got tired and cranky from blogging. I tried my best to keep my eyes from popping like UFOs while keeping my enthused answer to normal decibel level. You guessed it, my answer was "Nooooo! Heck no!" Adding that if anything I get cranky not being able to post and not from having to post.
Like the blogger next to you, we both blogged differently. Yet, we both took immense pleasure in what we did. This space is true comfort for me. The food, the feelings, the people, your visits. It's all pure joy. What I write, photograph, cook or bake. It's authentic. It's life with us. It's not what we expected or wished for sometimes but it is what we have and what we live. It's ours. It's also the space I keep free of insurance and bank talks or the dozens of work emails imploding the inbox. It's a journal.

A space I define and refine constantly as I define and refine what I do and who I am. It's authentic. It's got joys, tears, friends, family. That's enough emotions not to throw my mortgage into the mix. Yes. We blogged differently but for the same reason. Because we felt comfortable to be ourselves and tell of ourselves in that space we created.
I like slipping into the comfort of this page late at night when the house is asleep. It's like digging my spoon into that last bite of rice pudding and feeling at peace with all sorts of emotions and feelings. I also let my thoughts be dark and grey. I let myself get upset and weary before I can be ok again. Coming here forces me to put value and words to those emotions and decide which ones are worth sweating over and which ones are better off letting roll off my back.

As you and I get closer and closer to write and read post #700 I realize that in the end you may read about the small stuff, the little things, the nostalgia and that's because they make me who I am and give me what I see.
As I was packing for Utah and Colorado a couple of weeks ago (darn summer- stop flying by so fast!), I was trying to use up produce that I knew B. would not touch while I'd be gone. As I mentioned before, cooking is not his things, let alone baking. Eating is. I started thinking about desserts that would evoke comfort for him. The kind he'd want to grab after a long day working outside in the hear followed by a few hours of teaching in the evening. Alright, I confess: desserts that would also make him miss be a little bit…eheheh!
I made shortcakes, filled a container of sliced strawberries and whipped up some cream to go along. He shared those with the neighbors. I made his favorite Southern banana pudding from scratch complete with wafers and chopped praline. He invited his parents over to dig through it (praise from my mother-in-law…hallelujah!). Lastly I made my grandmother's rice pudding and we shared some that morning before my flight. Every time I looked at the pictures on my laptop, I felt instantly closer to home. The home in our hearts, not my house or the space we live in. That's changeable. Comfort is where your heart is first.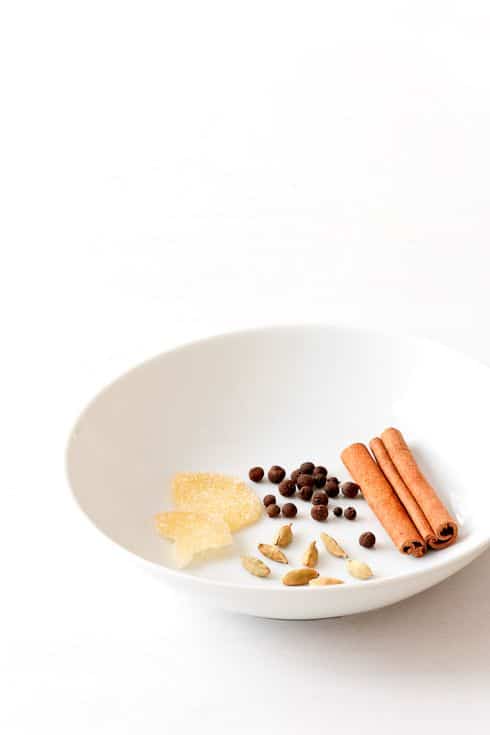 One thing my grandma knew was rice pudding. Riz au lait. One thing I know very well is to take her recipe and run with it as the season change or as my emotions flutter. Sometimes I change the spice, from vanilla to chai. Sometimes I take liberties with the flavors and add a slash of rum or a sprinkle of brown sugar. Other times I'll hide some salted butter caramel right in the middle, or some spiced chocolate ganache. The name may not be all that exciting but the possibilities are closer to sexy than you might think.
This time, I took advantage of a small basket of plums I had just purchased at the farmers market. Tiny, tart and full of flavor. I simply roasted them for a short period of time with a sprinkle of vanilla sugar. For the rice, I used a flattened rice from India that I got while visiting my dear friend Bina. I like this one a lot because it cooks a bit quicker and you can serve it slightly undercooked (to keep more shape) without having it taste raw. I added a pinch of cardamom to the milk I cooked the rice with and voila….one heck of a creamy and comforting dessert topped with some of the best of the season's bounty.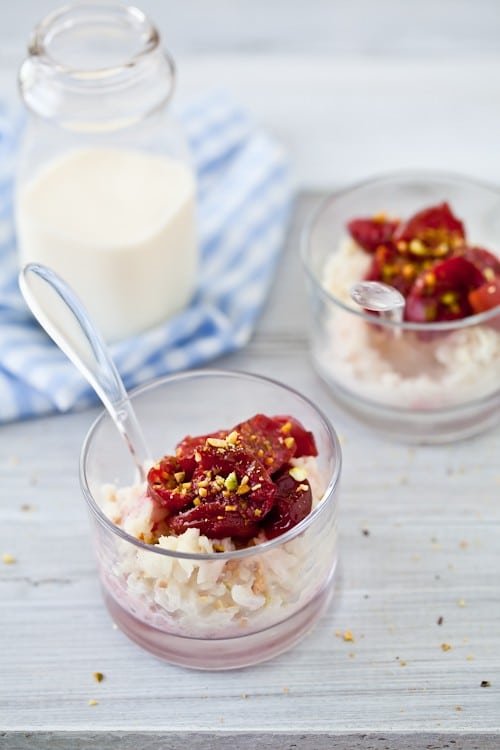 Roasted Plums and Creamy Rice Pudding:
Serves 4-6
For the plums:
1/2 vanilla bean
3 tablespoons sugar (I used sucanat)
pinch of edible lavender
12 small plums, halved and pits removed
For the rice pudding:
1/2 cup (100gr) flattened rice (use arborio if not available)
1 1/2 cups (315ml) whole milk (I used raw)
1/2 cup (60ml) heavy cream
1/4 cup (50gr) sugar
Pinch of salt
1/2 teaspoon ground cinnamon
1/4 teaspoon ground ginger
1/4 teaspoon ground cardamom
1/4 teaspoon ground allspice
chopped pistachios (optional)
Prepare the plums:
Preheat the oven to 400F and position a rack in the middle.
With the tip of a knife, slice the half vanilla bean lengthwise and scrape the seeds into a small dish or ramekin. Add the sugar and mix with your fingertips until the vanilla bean seeds are well distributed.
Place the plums in a baking dish and sprinkle the vanilla sugar and lavender evenly over them. Bake for 20 minutes or until juicy. Let cool.
Prepare the rice pudding:
In a stainer, rinse the rice under cold water for a minute to remove some of its natural starch.
In a medium saucepan set over medium heat, bring the rice, milk, cream, sugar to a simmer. Cook until tender, stirring occasionally for about 20 to 30 minutes. Add the salt and spices, stir briefly and remove from the heat. Let cool for a few minutes and divide the pudding evenly among ramekins. Divide the roasted plums evenly in between the dishes and sprinkle with chopped pistachios if desired.