My parents flew back to France yesterday and everyone in the house woke up a little different. Even the pups who kept going up and down the stairs looking for them. We made coffee, went on the back deck and sat in silence. Heard the clap of the oysters around us. Something my mom would have inquired about. Something my father would have turned into a story.
We had a wonderful time together. It always takes a few days for everyone to find their marks and settle into a groove. That's a given. Each of us has a different schedules, different responsibilities and timing. We all have one thing in common though: we like food. More importantly, we like everything about it.

We like to head out early to the farmers market and get our groceries for the week. We like to prepare it, chop it, cook it, grill it, all the while catching up about the rest of the family news. We like to sit down and share a meal together where we have put forth the textures, scents and flavors of the foods we made.
By doing do, we pay homage to the people who cared to grow it and the people who taught us how to love it and share it with friends and family. So even if my parents and I need a little adjusting at first, we know we always have meals to come together around something we all understand and appreciate.

I was happy to make some time to truly enjoy my parents' visit, after the last few months of a frantic schedule. It's sometimes difficult to explain that time spent on the computer writing proposals and looking over shooting schedules is not time spent noodling around. That's a generation thing. That's part of sharing space and time for a few weeks. It requires patience and understanding from everyone.
Cooking and baking also requires patience and understanding, reinforcing this idea of a common ground for everyone to share.

Nothing is truer in my opinion than when making fresh cheese, yogurt or fromage blanc. Anything with live cultures (bread too) has a wonderful way to show us how to slow down a bit and enjoy the process, the evolution and transformation of what we make.
Everytime my parents are here, I make faisselle for my dad. I often try to describe it properly but it is truly one of those dairy products that is unique. Not yogurt, not fromage blanc, not cottage cheese. Faisselle refers to both the fresh cheese made as well as the container used to make it. The molds have lots of tiny holes in which the milk mixture is placed to drain as much whey as desired. Some people like their faisselle drier than others so the container allows you to control how much moisture to keep.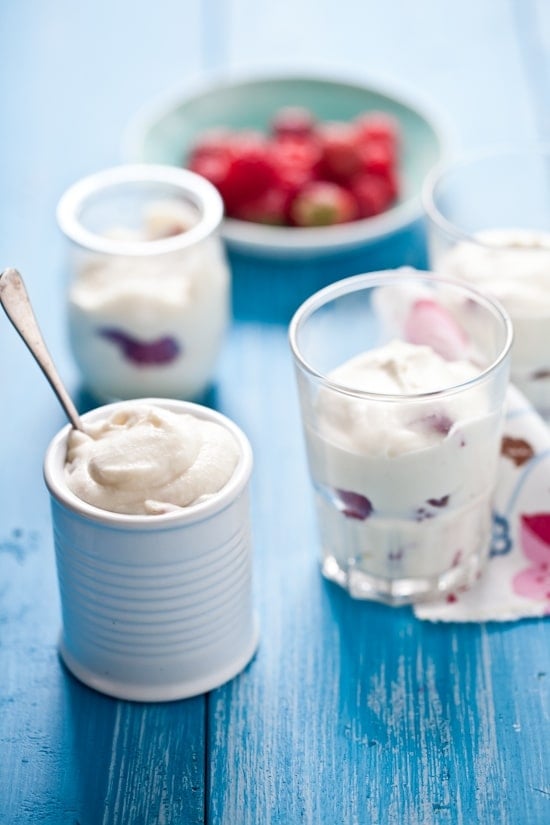 The making process of faisselle is really darn easy and can be made with either cow or goat milk, a few drops of rennet, and a bit of fromage blanc or Greek yogurt for more live cultures. That's it! Once mixed, I let it do its thing overnight and we wake up to wonderful big curds of faisselle. So far I have not tried with non-dairy milk but if you do let me know how it turned out.
Some people like it at the end of the meal with some salt, pepper and freshly chopped chives, some appreciate it with some brown sugar or a touch of honey. With us, it all depends on our mood. Sometimes we drain the heck out of it and end up with something very close to fresh crumbly cheese. Sometimes we'll just grab a bigger spoon and eat as moist as possible.

Sometimes, I sneak around and put some faisselle aside to make something special like these little jars of Fontainebleau, a mousse made with faisselle, whipped cream and fresh berries. It is really the kind of dessert we enjoy all year long by letting the seasons guide our choice of fruit. Caramelized pear or bananas easily replace fresh berries during the winter months and fresh figs with a touch of honey make a perfect topping in the deep of summer.
We went strawberry picking one day with my parents and even after jamming 16 pounds worth of berries, we still had extras that we used in the Fontainebleau along with some freshly picked raspberries from a friend's garden. Feel free to use any fruit, berries or addition that strike your fancy. Crumbled shortbread on top is darn good too…!
By the way, these are also fantastic frozen, poured in shot glasses or lollipop molds. Trust me…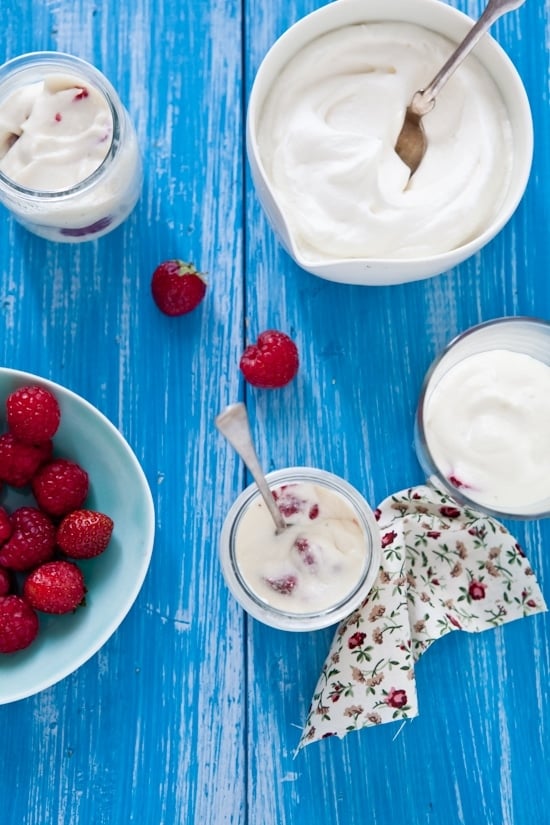 Fontainebleau:
Makes 6 to 8
Notes: when our farmers market is open (April through December) I will use raw goat's or cow's milk. The rest of the time, I use whole, non homogenized, organic milk. I use liquid vegetarian rennet by habit but tablets work just as well.
Ingredients:
For the (fresh cheese) faisselle:
8 drops liquid rennet
1 quart whole milk ( 4 cups – 946ml)(I like to use raw when I can but that is up to your own preference) (goat or cow)
100 gr Greek yogurt or fromage blanc (a little over 3 oz)
Remaining ingredients:
1 cup heavy cream, whipped to medium stiff peaks
1 to 2 cups fresh berries
Directions:
Place the rennet in a clean glass or ceramic large bowl. In a heavy saucepan, combine the milk and Greek yogurt and bring the mixture to 85F. Remove from the heat and slowly pour over the rennet. Do not stir. Let cool, cover with a clean kitchen towel and let sit undisturbed for 4 hours. Place in the refrigerator and let sit overnight to develop more taste.
The next day, take out about 2 cups of the faisselle and drain in a cheesecloth over a pan or the sink (attached to the faucet works great) until most of the liquid is gone (takes anywhere from 2 to 4 hours). When ready to use, slowly fold in the whipped cream and divide in jars by layering the mousse and the berries. You can also, mix the berries as you mix the faisselle and whipped cream. Keep refrigerated until ready to use.