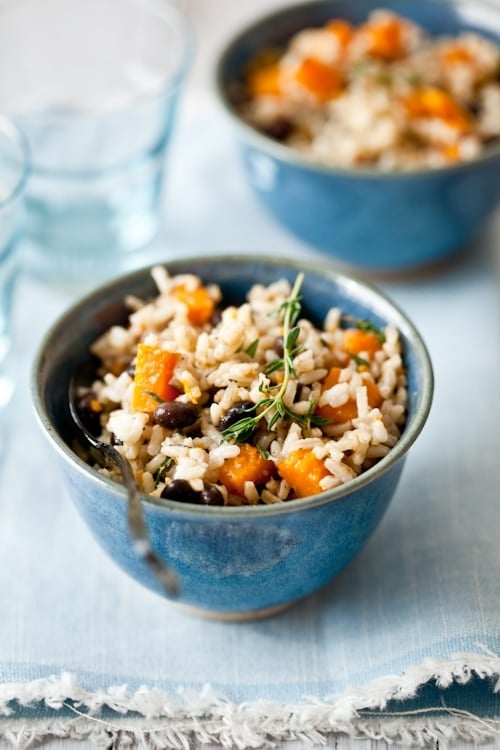 Every year for Christmas I bake gifts for B's family and our friends. The tradition started 10 years ago when B. and I entered stores after stores, Christmas shopping for his relatives, only to come out empty handed. What do you get the people who have everything? Homemade goodies. And tons of them. Neatly packaged in personalized boxes with pretty ribbons and paper. I go all out. They love it.
I do love to give those boxes filled with cookies, truffles, macarons, etc…but it is easy to let flours, sugar, chocolate, vanilla take over the kitchen. There are times I feel I am inhaling far more buttercream than humanly recommended. I bet some of you can relate! Baking after work also means multitasking with dinner. Clearly not the time to experiment with new or lengthy recipes so I rely on dishes which ingredient list and method I can recite as if it were poetry. Enters this rice dish.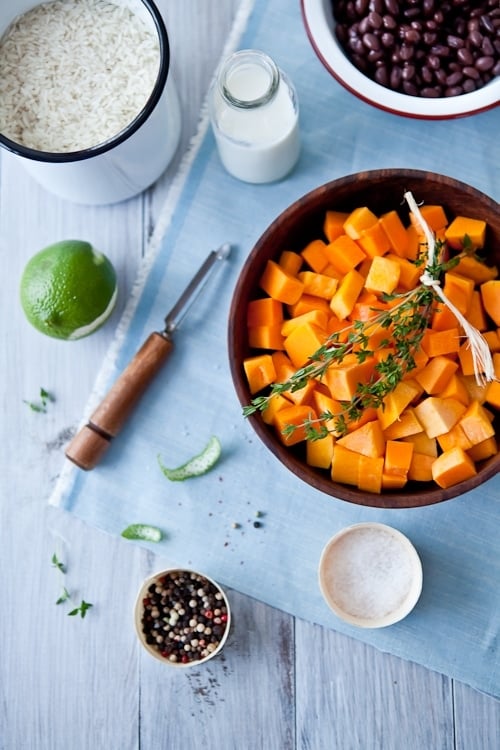 In the past eight years, I have probably made this dish once a month. I know….that's a bit scary to think we ate it or some variation of it close to a hundred times. It's that good. It's so easy and can be adapted to all seasons that once you get the gist of it, it's just a matter of not eating the whole thing in one sitting.
The flavors in this recipe were the main attractions for me. Coconut, squash, onion, thyme. They left me intrigued. It's perfectly suitable for a vegetarian night. We love it simply accompanied by a poached egg on top and a slice of bread. Simple and yet full of flavors. Easy to make and easy to eat.

Right now is the perfect time to use butternut or acorn squash but feel free to substitute yellow squash or eggplant. I sometimes use finely chopped purple or flat leaf kale instead. The black beans can be replaced by any other bean such as pinto or chickpeas. Rosemary can easily replace the thyme. You get it. Use the recipe as a canvas to fit your tastebuds. We love it when the temperatures drop! Hope you will too.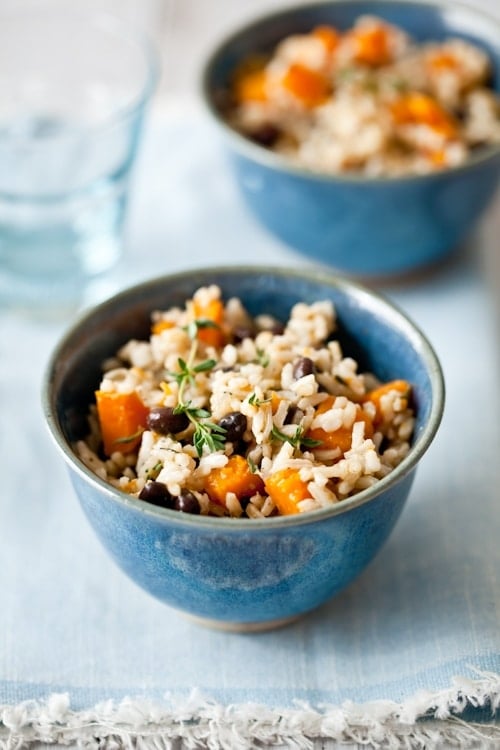 Butternut Squash and Coconut Milk Rice, adapted from Cooking Light 2002:
1 1/4 cups vegetable broth or water
1 cup light coconut milk
1 cup short grained or basmati rice
1 teaspoon olive oil
1 cup finely chopped onion
2 stalks lemongrass, finely chopped
1 3/4 cups cubed peeled butternut squash
1 teaspoon chopped fresh (or 1/4 teaspoon dried) thyme
salt & pepper
1 1/2 cups cooked black beans (if using canned, drain & rinse them first)
zest and juice of one lime
Bring broth (or water) and coconut milk to a boil in a medium saucepan over medium-high heat. Add rice, cover, reduce heat, and simmer 20 minutes or until liquid is absorbed. Remove from the heat and keep warm (I just keep mine covered while I prepare the rest of the recipe).
Heat oil in a large nonstick skillet over medium-high heat. Add onion and lemongrass and sautee 5 minutes or until the onion becomes translucid.
Reduce heat to medium and add the squash. Cook until tender, about 10-12 minutes, stirring occasionally. Stir in thyme, salt, pepper and black beans. Cook 3 minutes or until thoroughly heated, stirring occasionally. Add rice to squash mixture, add the lime zest and juice and stir to combine.