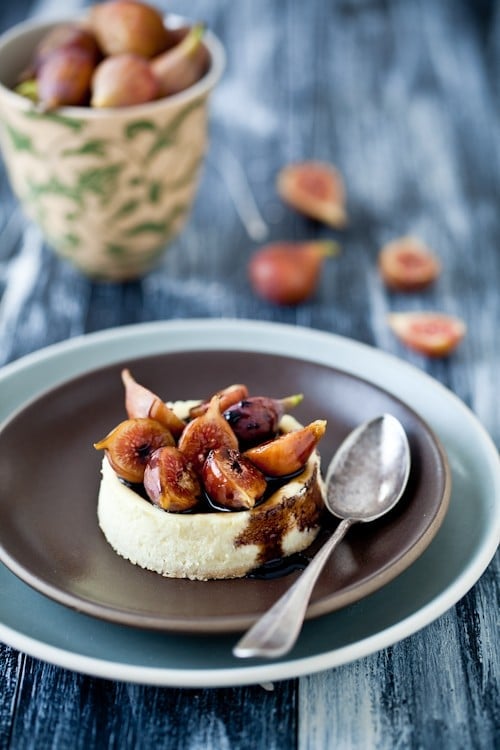 I love Saturdays around here. Right now. In the blistering hot summer days of the Lowcountry. Oh yes…I do love our Saturdays. We literally jump out of bed and head out for the farmers market first thing in the morning. Some times we are a bit more tired than others (depending on the festivities of the night before), and can't decide whether we are ready for breakfast or brunch. But that's ok. It's summer. Bountiful. The choices are enough to make our head spin.
Simplicity is key: we nibble on radishes dipped in a bit of salt, some tomatoes rubbed on thick pieces of bread. A handful of warm olives and soft boiled eggs. Big chunks of watermelon just as juicy as the sun ripened peaches we get every week. Promises of grilled corn and freshly caught fish for dinner. It's easy to forget the heat in those instances. We did just that the other day as soon as we felt a breeze coming in. A sure sign of a storm later on in the afternoon.

We snacked on fresh figs and fresh goat cheese, fresh eggs scrambled with some chives from the garden and big mugs of coffee. Our pups decided to have a barking session with the neighbors' pets, cats included and within minutes we were down by the marsh making afternoon boating and late dinner plans with them. I really love where we live. So easy going and laid back. Reminds me a lot of summers back home.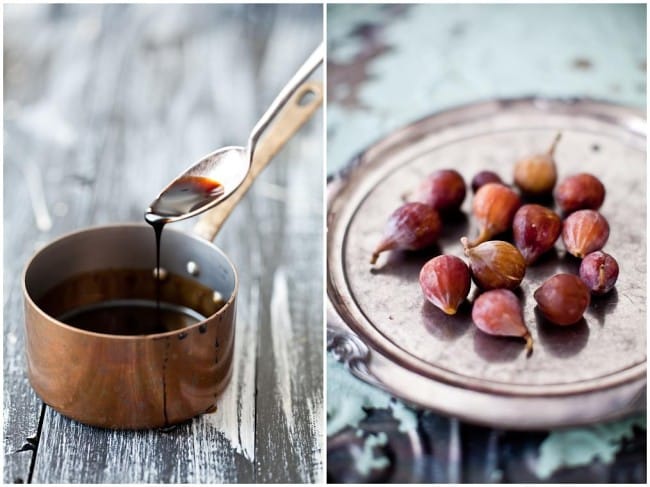 The sound of doors swinging open and kids running out. Free. Loud. My mom's tabouli salad with tons of mint, oilve oil and lemon juice. I felt my heart nagging at me when I called home the other day and my brother was heading to the chalet where we'd spend our summers. I could taste the camp fires, the dives in the river and the hikes up our favorite trails. Filled me with serenity and the strong desire to keep on building my own new memories and trails here. Miles and years away.
I find it a bit harder here where people are constantly on the move but it seems that our street has finally found stability again. The group has changed a bit and that's a good thing. New faces, new stories, new opinions. Same kindness and desire to share which fits right in with the old team. So you see, it's not unusual to wave people over for a nibble and to have them stay the day.

When that happens I like to have something easy to whip up and serve for dinner and one of the recipes that often comes to my mind is custard. Creme brulee, creme caramels, pots de creme…things like that. This time though I went and dug out one of my all time favorite cookbook for a something new: Sweet Seasons by Richard Leach.
Seasons oriented cookbooks are not "news" but his book is the first one that stuck such a strong cord with me. A perfect mix of simple flavors and recipes with more high end ones. No matter which core recipe you settle for, you can pick one, more or none of the elements around it. This is the only cookbook that I have used from page one til the end. There is absolutely zero flaw in the recipes, explanations and techniques.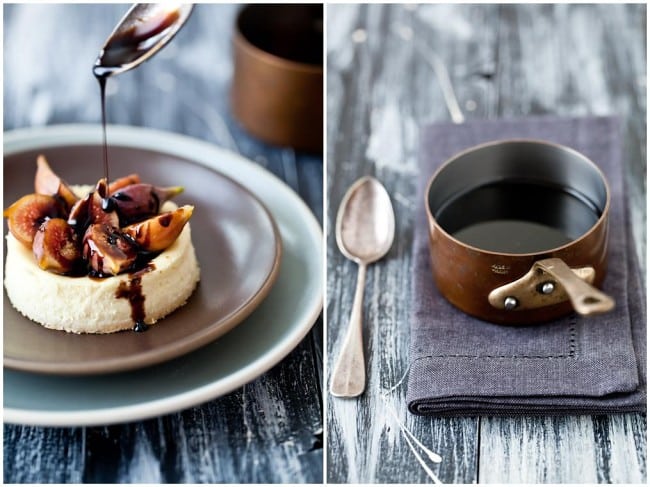 I had ear marked Chef Leach's recipe for Mascarpone and Goat Cheese Custard with Fresh Berries moons ago and you guessed it, never got around to make it until this past Saturday. We were nibbling on goat cheese and fresh figs when the proverbial light bulb came upon me and I remembered the recipe in Sweet Seasons, promptly removed the goat cheese plate from under B.'s nose and headed to the kitchen.
A friend in town put the bug in my ear one day about figs and balsamic when she was describing tart flavors she was putting together. I could not wait to get more figs at the market to pair them with a sweet balsamic reduction. Let me tell you…the combination with the goat cheese custards was perfect. A little sweet, a little tart, a little tangy. I made eight. I served six. Yep. We just could not wait…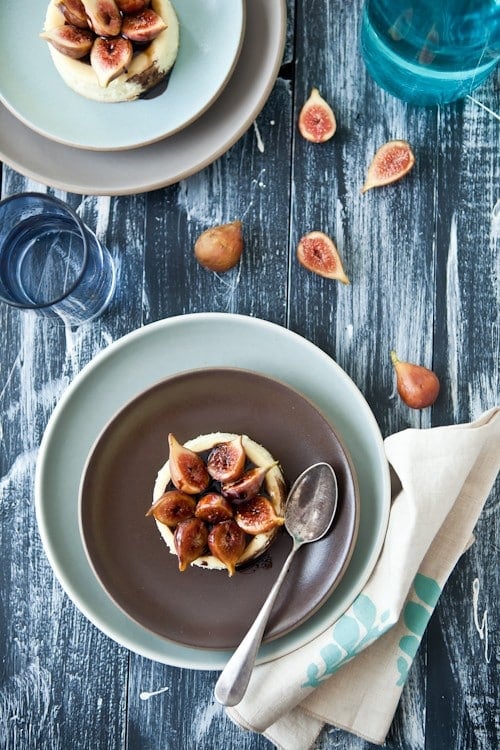 Goat Cheese Custards With Figs & Balsamic Syrup, (custard recipe adapted from Sweet Seasons by Richard Leach).
Makes 8
Notes:
The custards are a breeze to prepare and you could substitute cream cheese instead of mascarpone if you needed to.
These are best prepared a couple of hours in advance and can be kept in the fridge for up to 3 days.
For the custards:
3/4 cup mascarpone cheese
3/4 cup ricotta cheese
3/4 cup fresh goat cheese
1/3 cup honey
zest of one lemon
2 large eggs
1 large egg white
3/4 cup heavy cream
pate brisee or gluten free tart dough.
2 cups fresh figs (depending on the size you might have to quarter them)
Preheat the oven to 300F.
In a large mixing bowl, whisk together the cheeses, honey and lemon zest until smooth. Add the eggs, egg white and heavy cream and whisk until smooth. This is best done by hand so you don't incorporate too much air in the batter which would make your custard rise, fall and crack.
Roll the pastry dough to about 1/8 – inch thick and cut eight 3.5-inch disks from it. Place the 8 disks on a parchment paper lined baking sheet. Gently indedt a 3-inch metal ring into each disk but without cutting through.
This will form a seal between the baking sheet and the custard and provide a bit of a crunch when you eat the custards. If this step is too time consuming, simply bake the custards in ramekins.
Bake the disks with the rings for about 20 minutes and allow to cool before filling.
Lower the oven temperature to 250F.
Fill the rings to about 3/4 full with the cheese custard and bake for about 30 minutes or until the filling seems set (should not wiggle anymore). Let cool and run a knife inside the rings to release the custards. Refrigerate until ready to serve.
For the balsamic syrup:
1 cup balsamic vinegar
1/3 cup honey
Put the vinegar and honey in a medium, heavy bottomed saucepan and bring to a strong simmer over high heat. Turn the heat down to medium and let the vinegar reduce by half or until thick enough to coat the back of a spoon. Keep warm.
To serve, place cut figs (either halved or quartered depending on the size) and drizzle with balsamic syrup.
——————————————————————————–
Props:
– plates from Heath Ceramics
– tea towel from Jewelweeds on etsy
– silverware, milk bottle, sugar jar from vintage shop in town
– cup from Anthropologie
– vintage strawberry short baskets from Sadie Olive on etsy.