Swedish Walnut Tea Ring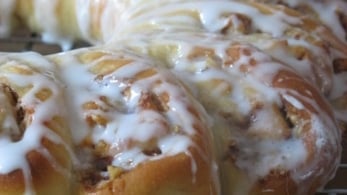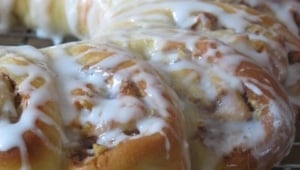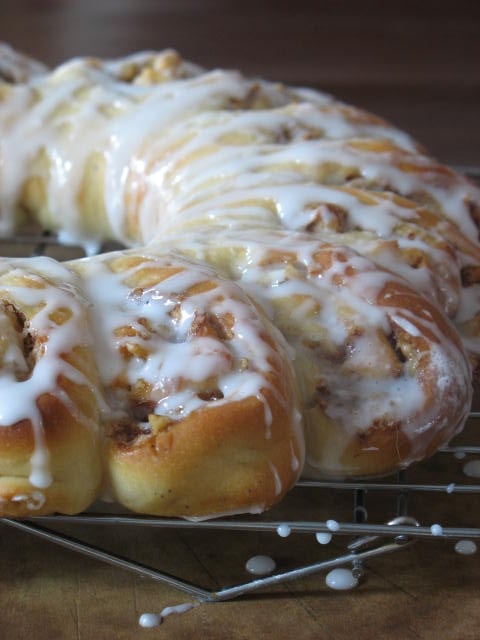 Hard to believe that in spite of the amount of bread I bake every week, from simple baguettes to brioche or my now well known love affair with cinnamon rolls, I have not participated in one single Bread Baking Day event, created by Zorra. Something had to change! When Eva announced this month's theme, I knew I could not pass on it: shaped bread. I love messing with decoratively shaped breads such as Sunflower rolls, Dulce de Leche Rolls, Apricot Couronne and others. There is one that I love to make on an almost weekly basis: the Tea Ring. Over the past years, I have tried so many different recipes that I have come up with a basic dough that is light and soft yet sturdy enough to accommodate many different spices, nuts and fillings.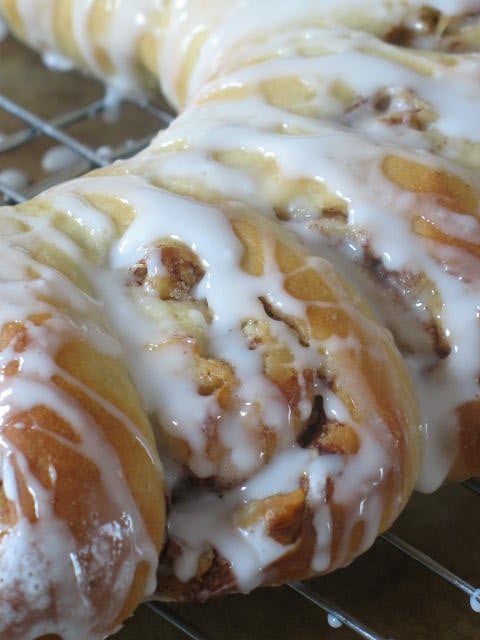 This one has my beloved cardamom in the dough, as well as cinnamon and walnuts inside. The crumb is perfectly tight to hold it own dunked in coffee and yet soft enough to melt in your mouth. I make it using either instant dry yeast or rapid rise yeast and never had a problem either or. With the instant dry yeast, you will need to proof it first in the warm milk. If you are relatively new at bread making this can be easily messed up if your liquids are too hot. Using rapid rise yeast decrease this risk because you just mix it in with the rest of the ingredients, skipping that proofing step.
Which one do I use? Both, and I admit that I have come to love the rapid rise kindbecause I don't have to mess up with the liquid temperatures, if that gets me yelled at by the bread police, well then be it! My take on it is that if it sold and it works to produce lovely breakfast rings like this one, I am in! Since I use the instant yeast and proofing method for this one, I will write the recipe down as such, but know that is ok to be lazy busy and throw the yeast in with the rest of the ingredient if you use rapid rise.
Swedish Tea Ring:

Ring Dough:
1 package instant yeast (2 1/4 tsp)
1/2 cup milk
1/4 cup butter, softened
2 Tb sugar
1 egg, beaten
1/4 tsp salt
1 tsp. cardamom
zest of one lemon
2 1/2 – 3 cups all purpose flour
Filling:
1/4 cup butter, softened
1/4 cup brown sugar
1/2 TB cinnamon
1/2 cup walnuts, chopped
Glaze:
1 cup powdered sugar, sifted
2 Tb milk
1/4 tsp vanilla extract
Heat the milk until tepid (105F-110F). In the bowl of a stand mixer, dissolve yeast in the warm milk until foamy, about 1o minutes. Add 2 1/2 cups flour, butter, salt, sugar, egg, lemon zest and mix using the dough hook until the dough comes together. Add the remaining 1/2 cup of flour if the dough is still too soft. Turn it out onto a lightly floured surface and knead until smooth and satiny, about 5 minutes.
Lightly oil a large bowl, place the dough in the bowl and turn to coat with oil. Cover with plastic wrap and let rise in a warm place until doubled in volume, about 1 hour.
Punch down the dough and turn out onto a lightly floured surface. Roll the dough out to a 12×18 inch rectangle. Spread the softened butter all over the rectangle. In a small bowl, mix together the cinnamon, sugar and walnuts. Spread this mixture evenly across the dough. Roll the dough into a long roll and press the seam closed. With the seam turned downward, seal the two ends together to make a ring.
Place the ring on a parchment paper lined baking pan. Using a sharp knife or kitchen shears, make cuts every inch or so along the ring, cutting only three quarters of the way through. Twist each piece slightly so that the rolls fan out from the center of the ring. Cover the roll with plastic wrap and let rise in a warm place for 45 minutes. Bake at 375F , 20 to 30 minutes. Remove the ring from the oven, place on a rack to cool.
When cooled, combine the powdered sugar, vanilla and milk and drizzle the glaze all over the ring.