Sunflower Bulgarian Bread: WTSIM Easter Basket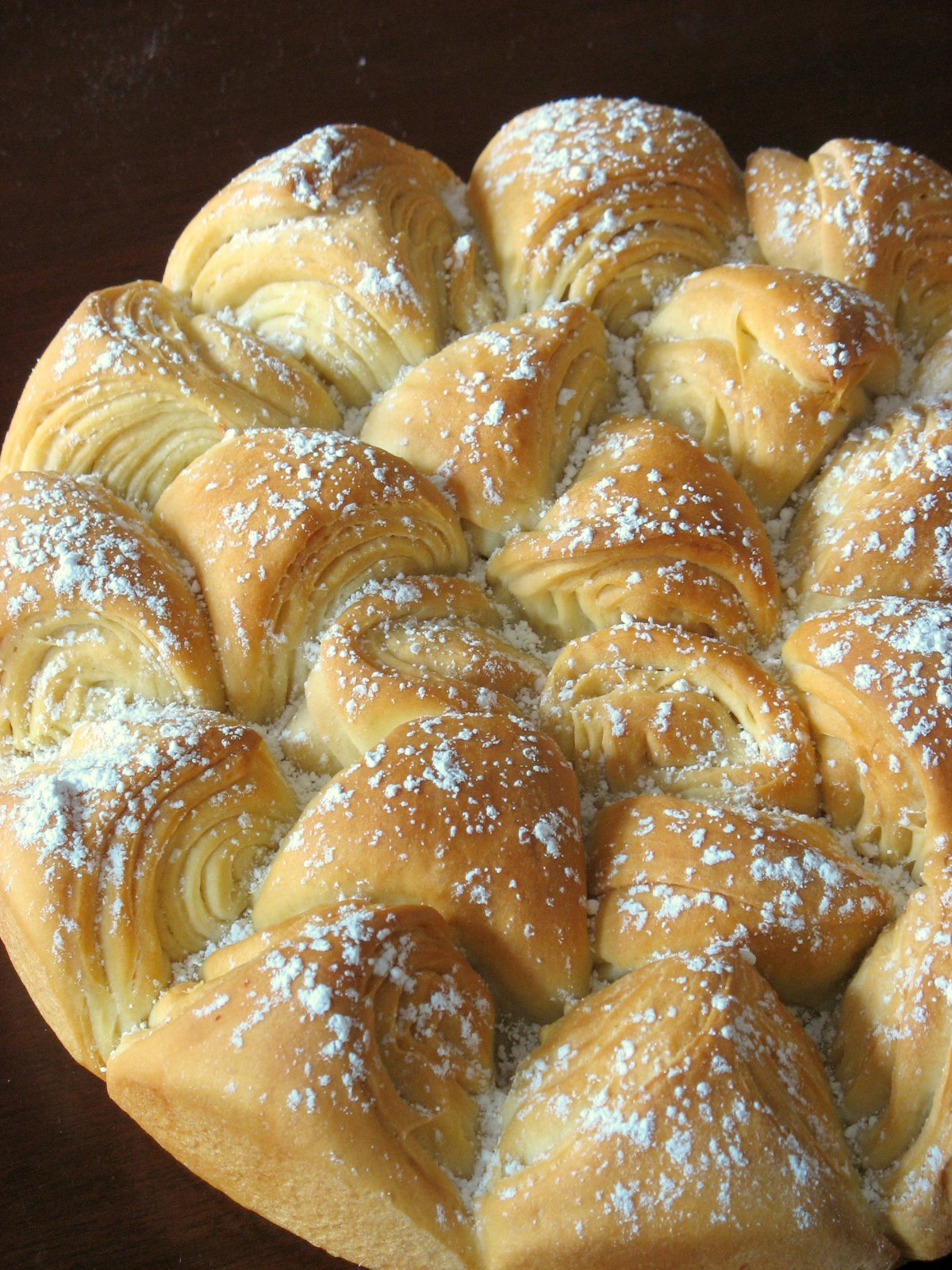 Do you ever get stuck on one picture and its recipe while reading your favorite blogs and you go back to it many many times? The minute I saw this bread, I hit the "add to favorite' button, and stared at it several times a day while reading emails or researching items on the computer. The recipe comes originally from Zapbook and has already traveled the French blogosphere quite a bit during this past month. I have been fond of Petite Lolie's blog from the day I stumbled upon it. There is something aboout her site…it is beautiful, that's what it is. Full of life, warmth, knowledge, know hows ans how tos…It's fresh and abundant in lip smacking recipes.
Although the exact source of the bread is unknown, the recipe delivers a sunflower looking like brioche. I followed Petite Lolie recommendation and added a bit more sugar. I don't think I kneaded the dough quite enough as the the texture of the dough was not as soft as my previous brioche. Always room for improvement. The actual shaping of each roll may seem time consuming but it took me about 15-20 minutes and the end result (look wise) is well worth it.
Sunflower Bulgarian Bread, adapted from Zapbook and Petite Lolie:
200 gr. milk
1/4 cup sugar
1 tsp. salt
2 eggs
500 gr. flour
2 tsp. dry yeast
50 gr. melted butter
extra melted butter for shaping the rolls
Put the yeast in a non reactive bowl. Heat the milk to lukewarm, and pour it over the yeast. Stir with a fork or spoon to make sure it dissolves properly. Add 2 Tb. sugar and slat and let the yeast proof for 10 minutes.
In a stand mixer fitted with the dough hook attachment, combine the flour, eggs, remaining sugar, melted butter. Turn the mixer on slow and slowly pour in the yeast mixture. Let the dough come together and continue the kneading either by hand or with the mixture for a good 5-8 minutes.
Put the dough into an oiled bowl and let rise for 1 hour or until doubled in size.
Shaping of the bread:
Once the dough has risen, divide it into 16 equal portions. Roll each portion out into a circle or oval. Take one piece, brush with melted butter, stack another piece on it, brush with melted butter again and repeat with 2 other portions. You are actually making 4 stacks of 4 portions each. Roll each stack tightly. Cut each into 4 triangular pieces. Position the rolls in a 10 inch round pan, with pointy ends facing toward the center.
Let rise for another 45 minutes. Preheat the oven to 375. Once the dough has risen, brush with an egg wash (egg beaten with some milk) and bake for 30 minutes.
End result…one could argue that brioche is brioche and this is yet another recipe. But come on, look at those plump folds! Every nation has its version of the basic brioche dough and I like exploring other cultures through bread baking. I am looking forward to making this one again, probably for the only reason that it looks gorgeous, tastes great, behaves well, and made my morning brighter! Yep, I am not complicated…making bread fuels my fire! I am wondering if such a bread exists in Bulgaria so I am on the lookout for a source, let me know if you have one.
One thing for sure: I am definetely putting this in my Easter Basket to be delivered to The Passionate Cook as part of this month's Waiter There's Something In My…(and because my dear mother in law is organizing brunch next sunday, as a pre-Easter menu testing).