Rhubarb Banana Cupcakes With Cream Cheese Frosting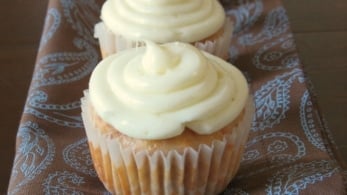 Some of you are probably wondering if I am growing banana trees in my backyard…Every time I turn around there is a banana or two ready to be used. I even found a big bag of them in the freezer…We are being invaded and I have to come up with the recipes faster than I can run. I hope that this is my last banana installment for a while, not that I am getting tired of the taste but it's time to move on and play with other things in the kitchen.
I looked at pages after pages of banana centered recipes, and although they were all fine and dandy, there seemed to be something missing. After reading so many recipes for muffins and cupcakes, I already had formulated a basic recipe that would allow me to play with the ingredients and the spices.
I quickly scribbled this one on a piece of paper, using some of my sad bananas and extra roasted rhubarb. Then, I added two of my favorite spices, ginger and cardamom and to round things out I included some orange zest. The frosting used is a cream cheese one I have used several times on this blog before and could eat with a spoon on m morning toast.

Rhubarb Banana Cupcakes with Cream Cheese Frosting:
3 cups flour
1 cup sugar
1 tsp baking powder
1 tsp. ground ginger
1 tsp. ground cardamom
3 eggs
3/4 cup oil ( I used apricot)
1 tsp. vanilla
grated zest of one orange
2 bananas, mashed
1 cup roasted rhubarb
Combine the dry ingredients in a large bowl (flour through cardamom). In a separate bowl, stirr the eggs and the oil. Add the bananas, rhubarb and orange zest. Add to the dry ingredients and stir just until combined. Divide into muffin lined tins and bake 35-30 minutes or until a toothpick inserted in the middle comes out clean.
Cream cheese frosting:
1 stick (115 grams) unsalted butter, room temperature
8 ounces (227 grams) cream cheese, room temperature
2 cups (230 grams) powdered sugar, sifted
In bowl of electric mixer, beat the cream cheese and butter, on low speed, until very smooth with no lumps. Gradually add the sifted powdered sugar and beat, on low speed, until fully incorporated and smooth. Pour into a piping bag and decorate the cupcakes.