Strawberries & Honeydew Melon With Lemon Sugar & Mint
Feels like Summer is officially here in the South. Don't let the calendar fool you! I spent my birthday last week in the company of the guy I call my surrogate brother, chef John Ondo, and a group of complete strangers on the beach while doing a food photography and cooking workshop. Well, we were strangers to each other for about five minutes. Nothing like a few nibbles he had prepared for us and a glass of wine to break down the ice and make everyone share a good laugh and a good story.
The workshop was a huge success in my book. Between photo assignments and down times, everyone walked away with a different perspective on their own photography and cooking. We ate well, enjoyed the sunshine and the heat and welcomed the rain and lower temperatures one day. It gave me the opportunity to show students why shooting in the rain always gave me the greatest pleasure. The electricity in the light, the potential for pushing your camera settings and re-programming your brain to find the unexpected.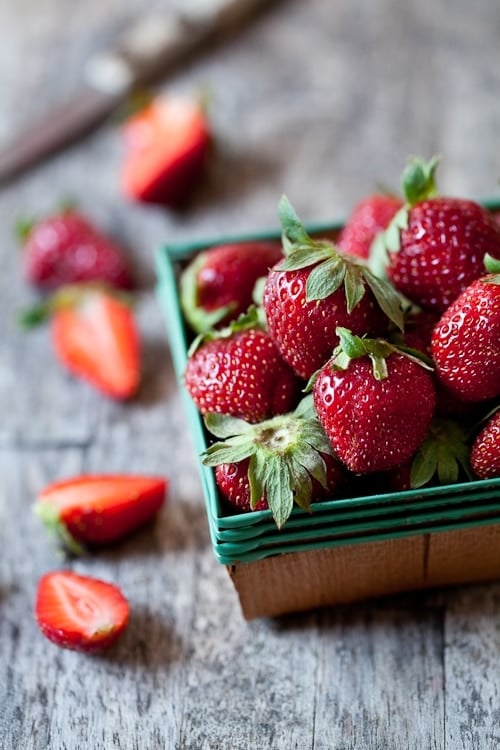 I walked away with new friends, new connections, plans for future workshops that leave me with a skip and a hop in my step. Always something that keeps pushing me forward. On a side note, we have a couple of spots open for the workshop I am doing in Atlanta in a couple of weeks! Details HERE.
Coming back from workshops is always tricky. Let's face it, they require a lot of planning and "on" time. It takes a few naps and a few long nights to get my internal clock re-adjusted. In those circumstances I always rely on the food on my plate to give me the sustenance needed to re-enter reality.

With the heat, my palate craves the fresh flavors of sweet fruits. A meal always end with something sweet, usually a square of chocolate or fruit compote on yogurt in the winter and big fruit salads in the summer. Right now, the farmers market abounds with local bright red strawberries. We've been adding them to everything, including green salads actually.
The combination of honeydew melon and strawberries is always a winning one for us. We just sliced a bunch for dessert and sprinkled our plates with lemon juice, lemon rubbed sugar and fresh mint. Clean, light and super refreshing. The kind of desserts that helps my body and mind feel reset. It's really so easy to prepare and always a hit with our friends.
Strawberries & Honeydew With Lemon Sugar & Mint:
Serves 4 to 6
Ingredients:
1 pound strawberries, hulled
1/4 to 1/2 medium honeydew
one lemon
1/4 cup sugar
3-4 sprigs of mint
Directions:
Thinly slice the strawberries and place them in a non reactive bowl. Remove the skin from the melon and remove the seeds. Cut it into thin slices and add to the strawberries.
Zest the lemon and add to the sugar in a small bowl. Rub the sugar with your fingertips to release its natural oil. Juice the lemon and toss it with the strawberries and honeydew. Spoon the fruits onto a big platter and sprinkle with the sugar and mint leaves. Eat right away…