Violet Macarons With Violet And Vanilla Bean Buttercream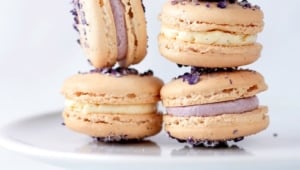 I know, in my last post I asked you what my mom should make as an upcoming guest blogger, ratatouille or apple tart and here I am giving you macarons! Remember discombobulated? We did make the ratatouille, … and ate it so it will have to wait for a redo.
There is actual logic behind posting these delicious, Spring colored macarons filled with violet and vanilla bean buttercream and topped with crushed violet pearl sugar. I thought about using my cherry blossom extract but could not locate the bottle on time (I guess that's why they call it Spring cleaning, ugh?!).
Today is the official first day of Spring. Yeah! Aren't you just loving this lighter feeling in the air? Blooms are everywhere to be seen and I keep bokmarking a ton on my Flickr favorites. I am addicted! People seem to slowly shred their winter attitude. Smiles and random acts of kindness are more frequent. I am trying to savor each day this Spring. It won't be long before we melt under the scorching heat and humidity as Summer seems to start way too soon around our parts.
It is also Macaron Day in France. Yeah! Four years ago renowned pastry chef Pierre Herme collaborated with other pastry chefs in Paris to create Le Jour Du Macaron to raise money for charity. All you have to do is hop into one of the participating locations in France and other European countries to receive 4 free macarons and leave a donation in a charity designated box.
I say that chosing the first day of Spring and its blooming promises was a brilliant idea. If you have access to free macarons and do a good deed at the same time, I say "Run to it!".
And it is my brother's birthday. Yeah! Ok, I knew this last one would not move you as much as the other two but I have to tell him outloud "Joyeux Aniversaire Arnaud!". Last year I virtually gave him fun Swirly Macarons.
This year, I went for a more subtle and Springy feel thinking about his adorable daughters and their love for all things pink or purple. Because he lives in the violet city of Toulouse, I found it fitting to use the violet pearl sugar they sent me both outside and inside the macarons.
I admit that anything strong with the scent of violet leaves me a little lightheaded or with that brain freeze feeling right between the eyes. However the crushed violet sugar was just enough to boost up the flavor of the shells which I had left plain, except for the natural almond flavor.
For the violet buttercream, I melted some of the sugar in a tablespoon of water, let it cool and added it to half the buttercream (with a touch of violet coloring) and added vanilla bean seeds to the other half. For once, that was the extent of my kitchen experimenting madness! One reader kindly left a comment with this link if you are interested in getting candied violet petals.
Violet Macarons With Violet And Vanilla Bean Buttercream Recipe:
Makes between 30 to 40 macarons
For the macarons shells:
90 gr egg whites (about 3)
30 gr granulated sugar
200 gr powdered sugar
110 gr almonds
2 tablespoons crushed violet sugar or candied violet petals
For the whites: the day before (24hrs), separate your eggs and store the whites at room temperature in a covered container. If you want to use 48hrs (or more) egg whites, you can store them in the fridge.
In a stand mixer fitted with the whisk attachment, whip the egg whites to a foam, gradually add the sugar until you obtain a glossy meringue.
Do not overbeat your meringue or it will be too dry. Combine the almonds and powdered sugar in a food processor and give them a good pulse until the nuts are finely ground. Add them to the meringue, give it a quick fold to break some of the air and then fold the mass carefully until you obtain a batter that flows like lava or a thick ribbon.
Give quick strokes at first to break the mass and slow down. The whole process should not take more than 50 strokes. Test a small amount on a plate: if the tops flattens on its own you are good to go. If there is a small beak, give the batter a couple of turns.
Fill a pastry bag fitted with a plain tip (Ateco #807 or #809) with the batter and pipe small rounds (1.5 inches in diameter) onto parchment paper or silicone mats lined baking sheets. Sprinkle with the crushed sugar or violet petals. Preheat the oven to 280F. Let the macarons sit out for 30 minutes to an hour to harden their shells a bit and bake for 15 to 20 minutes, depending on their size.
Let cool. If you have trouble removing the shells, pour a couple of drops of water under the parchment paper while the sheet is still a bit warm and the macarons will lift up more easily do to the moisture. Don't let them sit there in it too long or they will become soggy. Once baked and if you are not using them right away, store them in an airtight container out of the fridge for a couple of days or in the freezer. To fill: pipe or spoon about 1 big tablespoon of butterceam in the center of one shell and top with another one.
Violet and Vanilla Buttercream:
1/2 cup (100gr) sugar
2 large egg whites
1 1/2 sticks (6 ounces) unsalted butter, at room temperature
1 tablespoon violet sugar +1 tablespoon water (or 2 tablespoons violet liqueur)
1 vanilla bean, split open and seeded
Put the sugar and egg whites in a large heatproof bowl over a saucepan of simmering water and whisk constantly, keeping the mixture over the heat, until it feels hot to the touch, about 3 minutes. The sugar should be dissolved, and the mixture will look like marshmallow cream. Pour the mixture into the bowl of a stand mixer fitted with the whisk attachment and beat the meringue on medium speed until it cools and forms a thick shiny meringue, about 5 minutes.
Switch to the paddle attachment and add the butter, one tablespoon at a time, beating until smooth. Once all the butter is in, beat in the buttercream on medium-high speed until it is thick and very smooth, 6-10 minutes. Divided the buttercream in two portions.
For the violet buttercream: microwave the violet sugar and water for 30 to 45 seconds. Let cool completely before folding it into the buttercream. If using liqueur, just fold it in the buttercream.
For the vanilla buttercream: add the seeds from the vanilla bean to the buttercream and fold with a spatula until fully incorporated. If not using right away, refrigerate for up to a week or freeze for up to 1 month.