Vanilla Bean Chocolate Ice Cream Sandwiches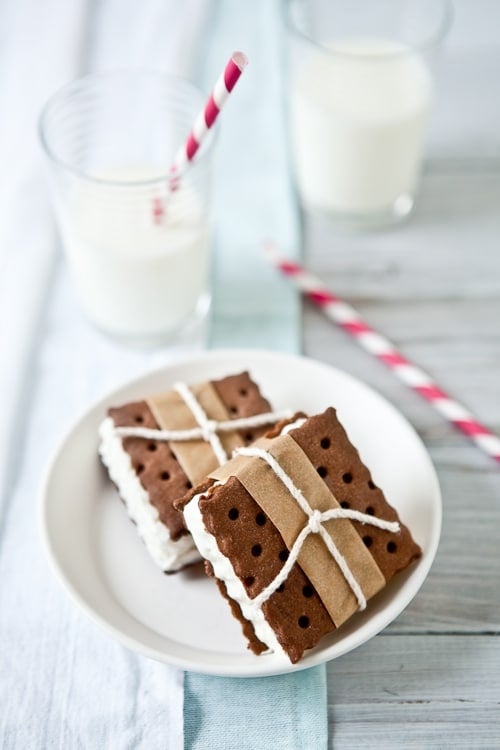 It's the little things lately that fuel me up. The details. Paying attention. So much is out my hands that it's all in the little things. Maybe it's the renewed warmth of Spring doing that to me with very much intensity. Maybe it's the rhythm of the work days that intensified lately. It makes me crave finding my grounds, keeping them and taking care of us.
Food is naturally part of that equilibrium. Roasted chicken and mixed greens enjoyed with friends during a lazy Sunday lunch. A simple salad of heirloom tomatoes shared with B. in between his classes and his music. A classic nosh of French cheeses and pate downtown at a new favorite hang out. A simple plate of lentils and kale topped with a friend egg on a weeknight. Simple. Details. Seasonings. Spices. Balance.

When it comes to dessert, you can bet I am right around the corner with a big plate and large smile! I rarely want a slice of cake or a dozen cookies. Fresh. Seasonal. Textures. Aromas. These words resonate strongly when it comes to picking desserts. There are things I can't have anymore and ingredients I need to pay attention to so desserts need to pack a punch in a few bites. They need to make me weak in the knees or I'll pass. I am a gourmande. I'd like to enjoy that for a while and not feel worse because I am not keeping tabs of what I do.
Most nights dessert is a bowl of strawberries or raspberries and a dollop of whipped cream (my absolute weakness), a handful of cherries, a baked apple. Simple. Then there are the simple but planned out desserts we enjoy a couple of times a week. The ones I come to tell you about here. The ones which flavors dance in my head long before I actually make them.

Like these Vanilla Ice Cream Sandwiches. They were not just good. They were simple. They were made from scratch with good stuff like homemade vanilla ice cream. And they were gluten free. I know! You're thinking "Stop the healthy stuff Helen or we're going to throw you a cookie." "Ice cream! Portable! Yes!".
I could fit one in my hand without a problem. I could do a 3 bite dance just as easily. I could also carry one in my pocket. I am sure the pups would follow me to the end of the earth with such a trick, ahahah! B. simply loved the taste of the wafers which always make me happy as I bake more and more gluten free that he can't point out the switch. He grabbed a handful of plain wafers on his way out earlier. Just like that.

I took the cookie recipe used on a job last week and modified to be gluten free and I was really pleased to see the end products behaved the same while being prepared, baked and stacked. The original recipe called for margarine which I subbed for half butter and half coconut oil (see reasons and how to's in recipe section here) but feel free to use all butter. For the ice cream, I kept it pretty simple and did an eggless base loaded with good vanilla seeds.
Here's what I like about making ice cream sandwiches from scratch beside the obvious "they're better for us": it gives me an excuse to make fresh ice cream for some other night of the week. I don't have to fill all the cookies at once and can do so as we please since they too can be kept in the freezer and I can keep some cookies plain on the side when a chocolate cravings comes knocking at midnight. As it is now….
Why is the freezer door this loud this time of night when everyone is asleep but me? Ha!
————————————————————————————
One more thing before I go: If you are curious to read about more about the whys/whats/wheres of this blog, check out an interview I just completed on Bizymoms by going here. Thanks!

Props:
– milk bottle and various plates: ebay
– flatware and straws: Kikkerland on amazon.com
– paper straws: Bake It Pretty (I hear Anthropologie also has them)
– "Ice Cream Parlor" cup (2nd picture): cup outfitted with a DIY pattern from Eat Drink Chic.
Vanilla Ice Cream Sandwiches:
Makes twelve 3-inch square sandwiches
Notes:
– you can use 2 cups all purpose flour instead of all the combined gluten free flours (sweet rice through cornstarch)
– for the dotted look on the sandwiches, I used one of the tools comprised in this set that I received as a gift years ago.
For the cookies:
4 tablespoons (55gr) unsalted butter, at room temperature
4 tablespoons coconut oil (55gr), at room temperature
1 cup sucanat (organic cane sugar) muscovado or brown sugar
2 large eggs
1 tsp. vanilla extract
1/2 cup cocoa powder
1/2 cup superfine or regular sweet rice flour
1/2 cup superfine or regular brown rice flour
1/2 cup millet flour
1/2 cup cornstarch (use tapioca flour if allergic to corn)
1/2 tsp xanthan gum
1 tsp. baking powder
1/4 tsp. salt
Prepare the cookies:
In the bowl of a electric mixer fitted with the paddle attachment, beat the butterm coconut oil and muscovado sugar on medium speed until fluffy, about 2-3 minutes. Lower the speed and add the eggs, one at a time, beating well after each addition. Add the vanilla extract.
In a separate medium bowl, combine the cocoa powder, all the flours, baking powder, and salt. Still with the mixer on low speed, at the dry ingredients to the butter mixture and mix until the dough starts to come together. Gather the dough into a ball and refrigerate at least 1 hour.
Preheat the oven to 350 degrees and line a pan with parchment paper or a silicone mat.
On a lightly floured surface or a Silpat, roll out the dough to about 1/4-inch thick. Use your preferred cookie cutter to cut out as many pieces as you can. Gather and re-roll the scraps if necessary. Make patters on cookie with a fork or other tool (see notes) if desired. Place on lined baking sheet and bake 8 – 10 minutes. Cool completely before sandwiching them with ice cream.
For the vanilla ice cream:
1 cups (250ml) heavy cream
1 cup (250ml) whole milk
1 cup (250ml) whole coconut milk
1/2 cup (125gr) mild honey
1/2 vanilla bean, split open and scraped – seeds set aside
Prepare the ice cream:
In a large saucepan set over medium low heat, bring the cream, milk, coconut milk, honey and vanilla bean seeds to a simmer, stirring occasionally. Remove from the heat and let it cool to room temperature. Refrigerate, preferably overnight.
Process the mixture into your ice cream maker according to the manufacturer's intructions.
Once the ice cream has reached soft serve consistency, pour about half into a 9×9 freeze proof dish lined with plastic wrap (try to get about 1 to 1.5 inch thickness for the ice cream to sandwich later on) and the other half into a freezable container. Freeze until firm.
No ice cream maker? No problem! Pour the cream into a freeze proof container and freeze for a couple of hours. Take it out and whip it with an electric mixer or immersion blender, freeze it again, whip it again….do that four or five times. The mixture won't be quite the same but pretty darn close.
Assemble:
With the same cookie cutter, cut through the ice cream that was poured into the 9×9 inch pan and sandwich in between two cookies. Keep frozen. The cookies will keep well wrapped in the freezer for up to 3 months.
————————————————————————————-
I'll upload the recipe in French either tonight or Wednesday – ran out of steam tonight!
La recette en Francais ce soir ou demain au plus tard. Le boulot ca fatigue – ahahahah!