Strawberry Vanilla Ice Cream & Strawberry Thyme Shortbreads

We have a winner! Beside the winning combination of Strawberry Ice Cream and Strawberry Thyme Shortbreads Cookies, I am happy to announce that Maryann from Finding La Dolce Vita is the winner of The Baker's Odyssey! Congrats Maryann! Shoot me an email with your address and the book is on it way!
I realized last evening when someone called to hire B's band at the last minute for today that it was Mardi Gras! Ah! As a kid it was one of my favorite celebration in the year because I'd get to dress up and I loved to play dress up…ask my mother. I think I just about drove her crazy most years but she knew how much I loved becoming someone completely different even for just a day. So "Bon Mardis Gras" to anybody celebrating!

This past weekend I had the opportunity to play dress up. A different kind though. I played the adult, hardcore. I held the hand of a person in pain and massaged her back. I read her stories and cooked dinner. I did someone else's laundry and folded someone else's socks and underwear. For a weekend, I was mother, sister, friend and everything in between. I was the cold cloth girl, the cook, the story teller. We spent the weekend with friends who needed us for one last round of chemo aftermath. Hear that…last one…Hooray! Go life!!

M. was not up to much fun but she was a trooper and when she saw me unpack the groceries for the weekend, she got that little twinkle in her eyes. "Did you bring dessert? I wonder if I'll have enough of an appetite for it…". Yes, I had brought dessert, a freshly made batch of strawberry and vanilla bean ice cream and planned to bake some cookies at their house. Yes, one more strawberry post but when they are this fresh and this gorgeous in their shiny red coat, I can't help it…I am weak. What better combination than fresh vanilla, cream and strawberry?
I know how much they like a good cookie with their ice cream and I had planned to make shortbread cookies but the idea was still in progress in my head though. Sometimes, if you leave me too think to long, it ends up in a little frenzy. This time however, everything came together in a very fun way, blending and talking, chopping and talking.
I just did not want they plain and that is when I decided to dry some strawberry slices and add them to the dough along with some fresh chopped thyme. Yep, thyme. If rosemary and plums can be so good together, why not thyme and strawberries? It was perfect with the tart bits of the strawberries and the crumbly, sweet dough and it was delicious with the ice cream. Makes me want to try them with some lemon thyme once I get my herbs growing again. Strawberry heaven….Now I think I am done for a while with them…or am I?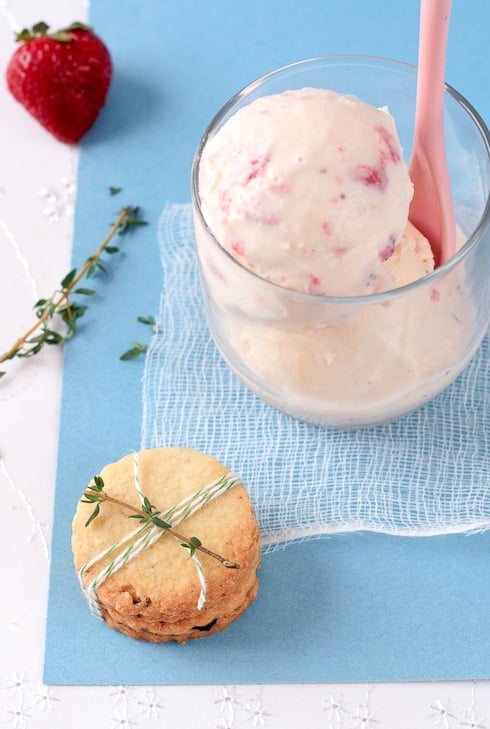 Strawberry Vanilla Ice Cream Recipe:
Kitchen Notes: I made one batch with all the juices and the ice cream turned a very pretty pink but there were virtually no swirl left after trying to get the perfect scoop for a photo op!
I made another batch where I just used diced strawberries thrown in the vanilla ice cream base. Plenty of vanilla color to go around this time! (used in the pics here)
4 egg yolks
1/2 cup (100gr) + 2 tablespoons (25gr) sugar
2 cups half and half
1 vanilla bean, split open
1 cup strawberries, hulled and quartered
In a large bowl, whisk the egg yolks and one cup of sugar until pale and thick. In a saucepan set over medium heat, bring the half and half and vanilla bean to a simmer, without letting it come to a full boil. Slowly pour the hot cream over the egg yolks mixture while whisking to temper the egg yolks. Pour the whole mixture back into the saucepan and cook over low heat, stirring constantly, until the cream coats the back of spoon. It should register 170F on a candy thermometer. At this point you have made a custard sauce, also known as "creme anglaise". Let cool completely, strain and refrigerate until cold.
While the custard cool, prepare the strawberries. Place the quartered strawberries and the remaining measurement of sugar into a small heavy saucepan over medium heat and cook just long enough for the strawberries to soften and to release some juice. Remove from the heat and let cool. Once both the fruit and the custard are cold, process the custard first according to your ice cream maker manufacturer's instructions and toward the end of the churning period, throw in the strawberries.
Dried Strawberries and Thyme Shortbread Cookies Recipe:
Makes about 2 dozen cookies, depending on the size of your cutters.
1 cup strawberries, hulled and thinly sliced
1 stick butter (113gr) butter at room temperature
1/4 cup (50gr) sugar
2 egg yolks
1 1/2 cups (188gr) all purpose flour
2 teaspoons fresh chopped thyme
pinch of salt
1/2 tablespoon of milk
Preheat your oven to 250F.
Place the strawberry slices in one single layer on a parchment paper line baking sheet and let them dry in the oven for about one hour. Let them cool completely. Chop the dried slices in small pieces and set aside.
Turn the oven to 350F.
In a stand mixer, beat together the butter and sugar until pale and creamy. Add the egg yolks, one at a time, beating well after each addition. Add the flour, thyme, dried strawberries, pinch of salt and the milk and beat until the ingredients are just started to come together. Stop the mixer and finish mixing the dough with yout hands on a work surface. Cover with plastic wrap and refrigerate at least 30 minutes. On a lightly floured surface roll out the dough to about 1/4 inch thick. Cut out cookies with your desired cookie cutter and place them on a parchment lined baking sheet. Refrigerate for 30 minutes before baking the cookies for 8-10 minutes or until just golden brown around the edges.