Strawberry and Rhubarb Pate De Fruit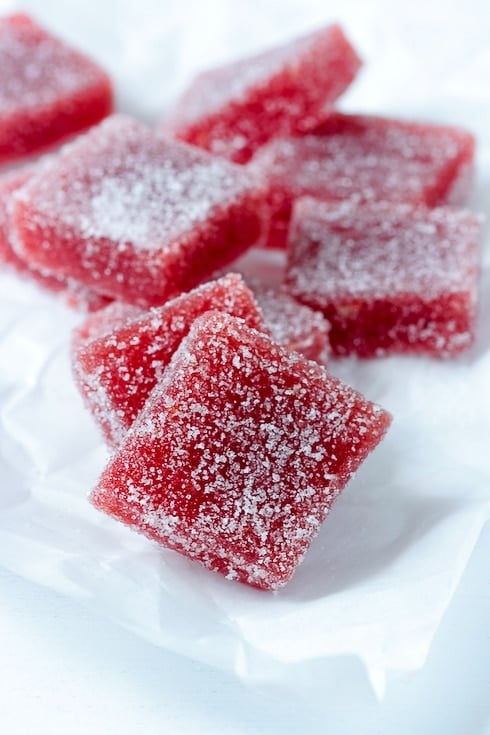 As I woke up this morning, I quickly put on my shoes and ran downstairs to get the boat ready for a little outing. We were indeed rushing, grabing pieces of buttered toast and ushering the dogs up and down the stairs. You see it's rain season here, so every opportunity to be out and about in a dry and sunny moment is fully taken advantage of. We got all the way to the boat landing and all of a sudden the clouds darkened and the skies broke lose. B. looked at me, hands open to the sky, raising his shoulders as if to say "sorry sweets, not today".
No big deal, being flexible is the name of the game in June around here but there is plenty for me to do to actually tie myself to a chair instead of going around playing on the water (more on that at the end of this post). When things don't go as planned, there are ways to make the situation a little sweeter. Tons sweeter. Little confections like pate de fruits are especially good to turn grey skies into sunshine, if only in your head. More so if the they take advantage of the seasonal bounty around you as in these Strawberry and Rhubarb Pate De Fruits (fruit paste candy).
The town of Provence I am from, Apt, is known as the capital of fruits confits (candied fruits) and subsequently as a great pate de fruit producer. We take that craft very seriously and we just don't go to a patisserie to buy them. Non, non, non…we go to a confiserie. I feel like I have turned my kitchen into one these days stirring as many pate de fruit batches as I have. Friends and family have been dropping off pounds after pounds of ripe local strawberries, rhubarb, peaches, apricots that have ended up in pate de fruits at some point or another during the week.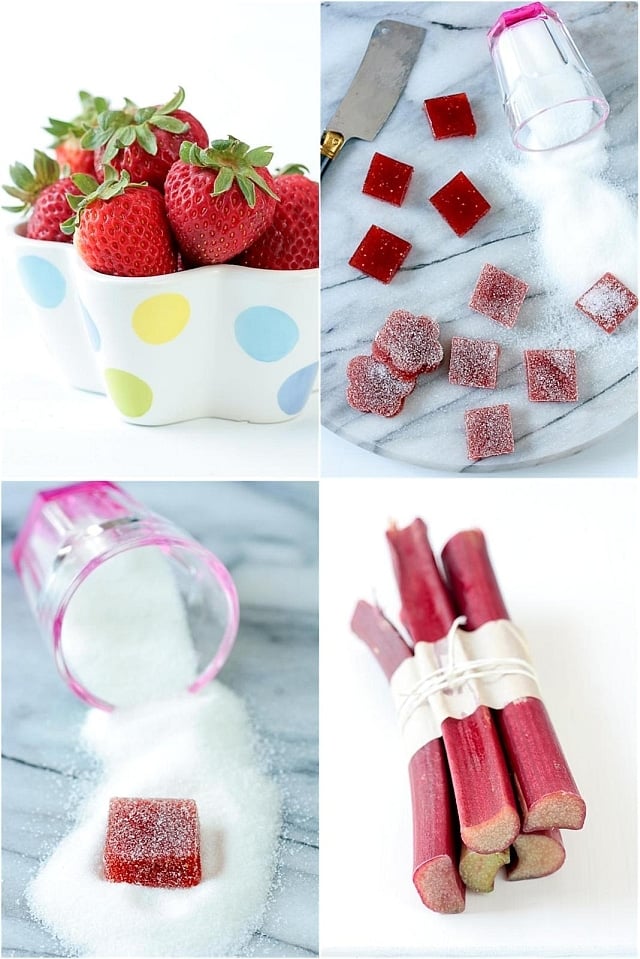 I usually make pate de fruit the way confiseurs have been making it for generations, cooking and stirring only 3 ingredients together: fruit, sugar and lemon juice. If you think about these items cooked down to make a paste, you can suspect it usually takes quite some time. During the winter or early spring, that's not a big problem but given that we are in and out getting things done according to the rain and tide schedules these days, it's safe to assume, I took a bit of a time shortcut for a couple of batches by using pectin. Inexpensive and easy to find liquid pectin to be exact.
There are as many recipes for pate de fruit as there are people making them. Some call for apple pectin, yellow pectin or simply nothing. Let's face it, if you know you are not going to be making pate de fruit often, it's easier and more economical to get good old liquid pectin than the others for the same result (if you are not going to go the 100% natural route that is). The trick is to learn how to cook the pectin differently, by bringing your fruit mixture to the right temperature in stages. I also have to say my pocket book is screaming "I love you" to the liquid one.
I had planned on showing Jen how to make pate de fruit during my visit to her place in Colorado without knowing that she had always wanted to try her hand at them. Well, Colorado did not happen because the organization hiring B. royally messed up on all fronts possible. Another thing not going as planned. Another reason to practice flexibility. I still went ahead and made pate de fruit, assuring Jen I'd post about them this week.

Obviously I am running a bit behind, busy wrapping up book edits. I have this vision of her tapping her foot on the floor, hands on her hips, telling me "it's about time girlfriend!" But again, I know Jen is busy running the trails and enjoying the outdoors and I have to say I can't blame her considering where she lives.
Oops! Sun's out again…I am out of here! Enjoy the rest of your weekend!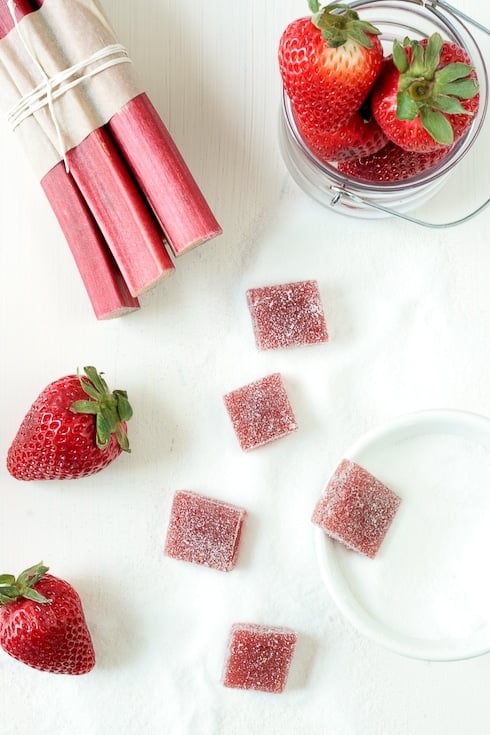 One year ago: Strawberry Lemon Thyme Shortcakes.
Two years ago: Pink Fraise Tagada Macarons.
Strawberry And Rhubarb Pate de Fruit:
Notes: I use store brand liquid pectin so I can't vouch for how others might behave. I use a large stainless steel pot so the evaporation and cooking could happen faster (much like with making mava). I recommend not straining the fruit in a fine mesh colander otherwise you are at it for a week. I use one with medium sized holes just to make sure I get rid of any pieces of fruit that has not been pureed properly.
For a superb pectin free recipe, follow this recipe posted by the awesome Anita from Married with Dinner.
6.5 oz (190gr) strawberries, cleaned and hulled
6.5 oz (190gr) rhubarb, cleaned
1 tablespoon lemon juice
2 cups (400gr) sugar, divided
2.5 tablespoons liquid pectin
Line a 8×8-inch pan with parchment paper and set aside.
Roughly chop the strawberries and rhubard and puree them really well in a food processor. Strain the fruits over a heavy saucepan and add the lemon juice. Stir in 1/2 cup (100gr) saugar and bring the mixture to a boil over medium heat and cook until its temperature register 113F, stirring constantly. Add the remaining 1.5 cups (300gr) sugar and the pectin to the pot and slowly bring the mixture to 200F, still over medium high heat while stirring constantly. Turn the heat down a bit and keep the mixture at 200F for 2 to 3 minutes. Turn the heat back up and slowly bring the mixture to 223F. Keep it there for an additional 2-3 minutes (turn the heat down if necessary to do so). Remove from the heat and immediately pour the mixture into your pan lined with parchment paper. Let set for a couple of hours. Cut shapes with a sharp knife and roll the pieces of pate de fruit in sugar. Refrigerate if not eating all of them at once.
On another note, after many requests by some of you to know if I sold my pictures as prints, I finally took the time to set up a shop on etsy called Delicious Images where I have uploaded some of my favorites from this blog as well as many still life pictures and some never seen on this site yet. Thank you for asking about that and thank you for your support and readership. You guys are the best!