Pomegranate and Caramelized Pear Panna Cotta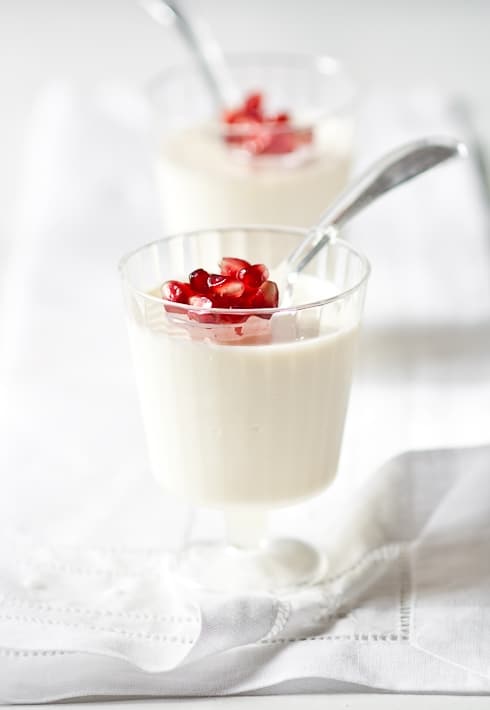 I appreciate this time of year when night falls so much earlier. It makes me want to rush home and cozy up with loved ones, a book or a good project. Unlike summer when things are so bright up in my face, I love that Fall and Winter are seasons of shadows and angles with night and day playing cat and mouse so well. So many holidays around the corner. So many friends dropping by, parties hosted and kitchens in full roar. Time to connect and reconnect with people and things. Time to lose half your brain too if you don't pay attention!
When things get plenty busy, it's always good to have a few staples in your kitchen repertoire that are not only show stoppers but easy to prepare and make ahead, almost ensuring your guests will ask for more. My holiday staples almost always include cremes brulees, pots de creme, and panna cottas. Among the variations I like on this traditional Italian favorite, these Pomegranate and Caramelized Pear Panna Cottas have come to rank high on the list.

Panna Cotta is said to have originated in the northern region of Italy where dairy is one of the main agricultural productions but spread out to the entire nation and the rest of the world throughout the years. Variations of panna cotta exist in almost every country as it is a very convenient way to use up extra dairy like cream, milk and yogurt. I grew up on Blanc Manger for example which is a close cousin to the creamy silky no-bake Italian custard.
There are many, many reasons to start putting panna cottas on your list of "reliable-good-things-to-make-for-people-I-love." For starters, what is really fun about panna cotta (beside listening to an Italian saying it outloud) is that you can add flavors and ingredients inside, outside, above and below. You can also mix up the choice of dairy to be used as long as you make sure to balance the acidity and fats of each appropriately. You can prepare them up to 48 hours in advance and keep them snuggled up in the refrigerator until ready to eat. You can top them with whatever strikes your fancy that day or what is available during the season. And…they are gluten free!

November is synonymous with pears and pomegranate to me. Where my mother-in-law tries to find the biggest Comice and Bosc pears for cooking, I tend to favor Seckel and Forelles, my absolute smaller favorites. Where she feels like she hit the jackpot with the biggest pomegranate on the shelf, I always dig for the tinier ones. Yes, I like small and tiny anything but for a reason. Almost everything here is bigger than where I am from. Bigger roads, bigger houses, bigger stores and bigger produce which unfortunately doesn't always mean bigger on taste. I often find that smaller fruits and veggies pack so much more flavor and I'd rather have a small anything full of aroma any day like small servings of creamy and silky Panna Cotta.
Can I say out loud how much I love caramel? If you know me a tiny bit, you know that the mere idea of caramelizing anything gets me moving. When I made these panna cottas for a catered event earlier this week, I kept the base relatively simple with just a touch of vanilla bean and focused more on the toppings. I caramelized some seasonal Forelle pears with just a touch of butter and brown sugar and kept them at room temperature until the guests were ready for dessert. However, when it comes to pomegranate, nothing beats eating them straight out in their natural form. I just love the tart pop that comes with biting into pomegranate seeds. They were just the perfect texture and color contrast to the richness of the panna cottas.

One thing that you can play with and never reach the end of your playtime when it comes to Panna Cottas (beside the flavors) is the combination of dairy you use. Most recipes give you a combination of heavy cream and milk, some add buttermilk or/and yogurt to the mix. All are good, all work…in the proper ratios. If you use more acidic dairy like buttermilk and yogurt (even full fat) make sure to keep twice the amount of heavy cream in the mix. The more acidity is mixed in, the greater risk you run of the base separating into one part cream, one part whey. Nothing to do at this point but to start from scratch. Live and learn. If I can save you a major "Oh no!" and an extra trip to the store, then I've done my job!
If you are vegetarian or vegan, panna cottas can still be well within your dessert favorites. You can substitute any of the dairy for their vegetarian or vegan equivalent such as soy, almond, oat, hemp milks or vegetarian cream as long as they are the full fat kind. Panna cottas rely on the addition of gelatin which is a no-no if you are not a carnivore but kosher gelatin is often vegetarian and agar agar and carrageen are often used as substitutes. I am not proficient with any of these but you can find more information in this article on their nature and preparation.

Panna Cottas are pretty much a bottomless well for your tastebuds and imagination.



Pomegranate and Caramelized Pear Panna Cottas:
Notes: I make my own yogurt and used a freshly made batch in this recipe but you can substitute with store bought plain full fat yogurt, just don't use light, pretty please.
If you are not used to working with gelatin, in all its various forms, I recommend this article written by David Lebovitz. Gelatin won't be a mystery anymore!
Serves 8
For the panna cottas:
2 tablespoons cold water (more if using sheet gelatin)
2 teaspoons (5gr) unflavored powdered gelatin (1.5 sheets to 2 sheets gelatin)
2 cups (500ml) heavy cream
1/3 cup (70gr) sugar
1/2 vanilla bean, split lenghtwise and seeded
1 cup (250ml) plain whole milk yogurt
For the caramelized pear topping:
1 tablespoon (15gr) unsalted butter at room temperature
2 tablespoons (30gr) light brown sugar, packed
2 Forelle or Seckel pears or one Bosc pear, peeled, cored and cut in small dices
One pomegranate, seeded
Prepare the panna cottas:
Place the water in small bowl and sprinkle the gelatin over it. Reserve.
In a large heavy bottomed saucepan placed over medium heat, bring the heavy cream, sugar and vanilla bean seeds to a simmer. When the cream is hot, remove from the heat and whisk in the reserved gelatin until it is completely dissolved. Add the yogurt and whisk until well blended.
Divide the mixture among 8 glasses or ramekins. Let stand at room temperature for 20 minutes and then refrigerate for at least 4 hours before serving to let the cream set properly.
Prepare the caramelized pears:
In a heavy sautee pan set over medium heat, melt the butter and sugar together. When the mixture starts to sizzle, add the pear dices and sautee them until they start to become translucid and a little soft to the touch, about 2 minutes. If you cook them too long, you will end up with pear compote which is good too, but does not have the same biting contrast as barely sauteed pears.
Remove from the heat and let cool to room temperature.
To serve:
Top the panna cottas with some caramelized pears or pomegranate seeds as desired.