Poached Pear And Almond Fallen Souffle Cakes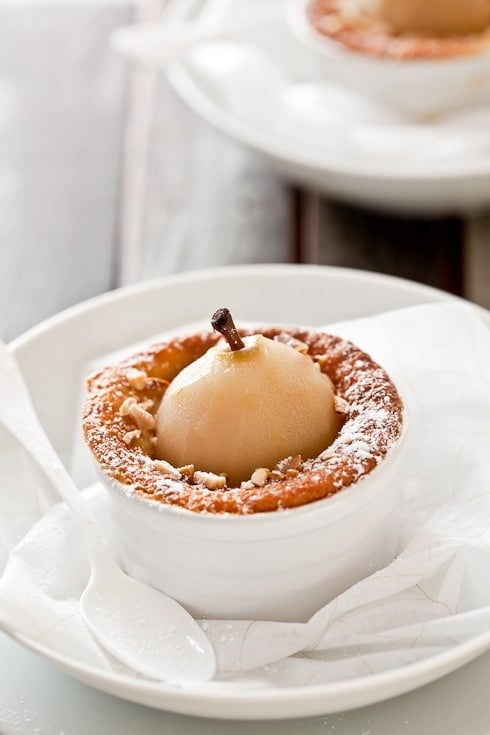 All weekend long I kept hearing about the snow falling down, heavy and thick in some places, watery and clumpy in some others. Friends here were making hot cocoa and shoveling driveways. My parents back home in France were describing the park in our village as wearing a light dusting of snowflakes. Here, we started to wonder if we would spend Christmas day in shorts like we did last year. Probably not but neither Bill nor I have put on coats yet this year. Indeed, we finally had signs of Fall. In December.
I have long understood that the South beats to a different rythm. It's in the air. Literally. It suits my personality just fine. Winter breeze at 5am and reddish-brown leaves still falling, blanketing the yard by 5pm. Winter citrus sharing shelf space with Fall pears and apples at the market. I just felt compelled to fill my basket with the juiciest mini d'Anjour pears I could find, go home and make these gluten free Poached Pear and Almond Fallen Souffle Cakes.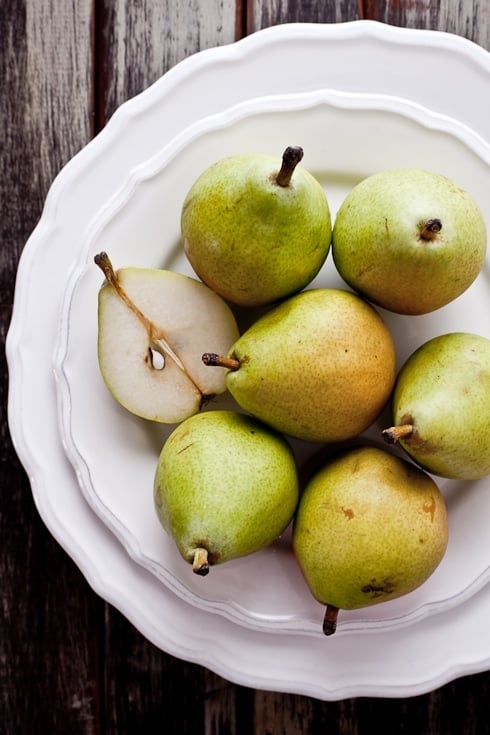 One thing I have inherited from my mother and grandmother (beside the all-in-or-nothing temperament) is their love for poaching fruits in the colder month and using them in all sorts of desserts. I don't really care what the thermometer reads outside lately. I am a bit homesick. It's the holidays. I'm poaching. As I told Bill "French Christmas carols and lots of poached fruits – deal with it!". His eyes lit up and he replied "let me pull out some pillows and we can cozy up and you can tell me all about all the Christmases of your childhood." Love that man.
Fo us, one of the many joys of being in a relationship is to share just about everything. Even a bad cold. I don't mind having a cold. I do mind when it hovers between cold and flu with fever, aches and chills but without knocking you down completely. This thing we have been sharing back and forth has been lowering all our levels by 40%-50% or so. It angers the bejesus out of me. Especially a few days before Christmas when there is still a ton to get done and lots of friends to see. But as we sat down with a cup of ginger tea and a warm pear and almond cake, we felt instantaneously better, warmer and happier.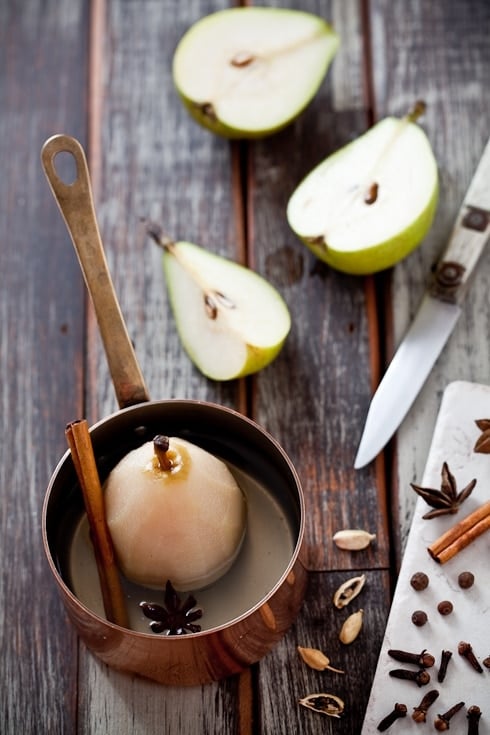 I did convert the recipe to be gluten free to work with my diagnosis (yes, I know, research is still out on that one but I see the rewards of going gluten free and almost sodium free and that's good enough for me) and I snuck in a whole poached pear instead of a half like my grandmother used to do. However, I know it wasn't the reason why they rose as high and fell as quick as souffles.
We then changed their names too. The original was more of a scribble on a piece of paper from Mamie reading "Gateaux Amandes et Poires Pochees. Faites attention, ils degringolent" which could be translated as "Almond and Poached Pear Cakes. Watch out, they tumble down". And she was absolutely right. Hence B. felt compelled to rename them – he's a stickler that way, ahah!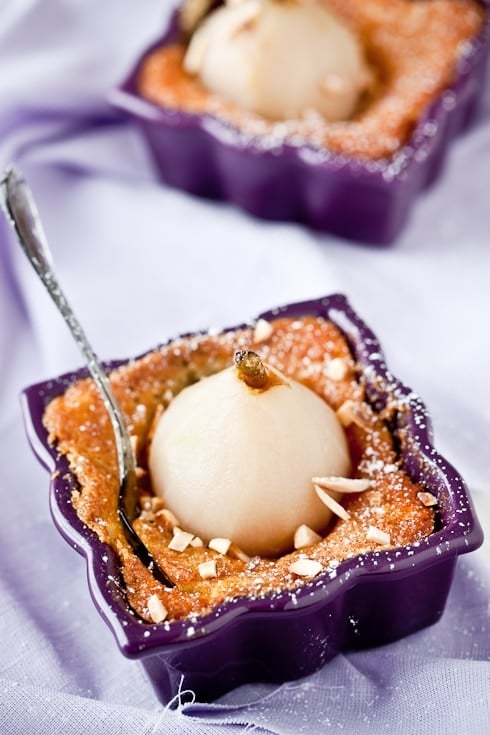 Whichever name you choose, all I know is that they are the perfect cross between a souffle, a cake and a custard. That for a brief moment they stopped my coughing and sneezing and that "Douce Nuit Sainte Nuit" never sounded more beautiful.

Poached Pear And Almond Fallen Souffle Cakes:
Makes 6
Note: you can core the pears from the bottom to about 1 inch from the top with an apple corer but these are so tiny that I just removed the stem button at the bottom. Everything else in the core baked to very soft texture and the seeds were easy to remove while eating (kind of like tails on baked shrimp).
For the poached pears:
6 mini d'Anjou pears, peeled (or other small pears like Forelles or Seckel)
1/2 cup (100gr) sugar
2-3 cloves
2-3 cardamom pods
1 stick cinnamon
5-6 allspice berries
1-2 star anise
1/2 lemon
4 cups (1 liter) water
For the cakes:
3 tablespoons (40gr) unsalted butter, at room temperature
1/2 cup (100gr) sugar
2 eggs
1 teaspoon pure vanilla extract
3/4 cup (190ml) heavy cream
1 cup ground almonds (blanched or skin on – your preference)
1/4 cup (40gr) sorghum flour (or use 1/4 cup all purpose flour)
1 teaspoon baking powder
Prepare the pears:
Place the pears, spices, lemon and water in tall saucepan and bring to a boil over medium high heat. Lower the heat and let them simmerfor 15-20 minutes or until the pears are just soft (poke with a toothpick to check).
Remove from the water using a slotted spoon and allow to cool on paper towel or baking rack.
Prepare the cakes:
Preheat the oven to 350F and position a rack in the middle.
Slightly butter or spray 6 ramekins and place them on a baking sheet. Set aside.
In the bowl if an electric mixer fitted with the paddle attachment, beat the butter and sugar on medium speed until light and fluffly (about 3 minutes). Add the eggs, one a time and beat well in between each addition. Reduce the speed to low and add the vanilla, heavy cream, almonds, flour and baking powder and beat until incorporated. Fill each ramekins about 1/3 full with the batter and place a poached pear in the center.
Bake for 25-30 minutes.