Grilled Peaches, Poached Cherries and Vanilla Bean Ice Cream

B. jokes that every four years, he loses me to the World Cup. I smile and add "and the rugby Six Nations Championship, the Tour de France and the Formula One races throughout the year. Let's not forget the 24 hours of Le Mans". That's the environment I was raised in. I grew up with Platini, Maradona, Sella, Camberabero, Prost, Schumacher, Fittipaldi, Bernard Hinault, Laurent Fignon. All year long. All these years.
And yet no one in my family actually played a sport past 16 years old! That is unless you consider four or five- hour long dinners a sport, which my husband happens to do, especially after many a Sunday dinners shared back home. Competitive longest meals followed by competitive moonshine. My uncle Jacques is still reigning supreme in the "moonshine so strong it will bleach your coffee cup" department.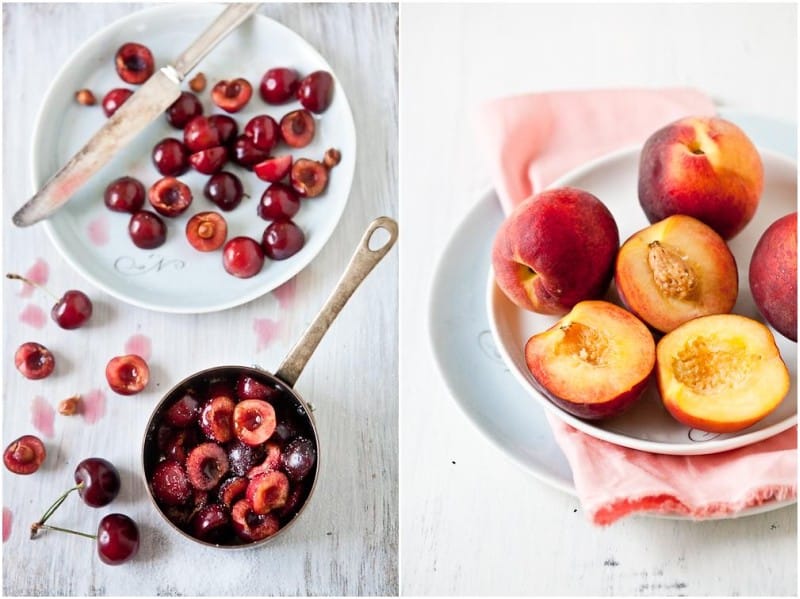 I have mentioned Sundays in passing with my grandmother's apricot tart but they were much more than that. They usually started with a trip to the market behind our house where my grandmother would get tiny grey shrimp and peppery radishes. Getting flowers, setting up the table, cutting saucisson for the aperitif. Waiting for everyone to finally start lunch around 12.30pm and linger all afternoon in between the TV room and the dessert plates. Coffee, petits fours, chocolates. Heaven.
Desserts were most often kept very simple with a big bowl of fruit salad. Some cookies. Some ice cream. Came summer, the table was graced with an abundance of deep dark cherries and juicy peaches. Two of my favorite summer fruits.

Perfect French Word A Week opportunity if you ask me. And that's two words to boot.
If you ever travel to the South of France, they will quickly become crucial to know as they are everywhere in those parts. Perfectly kissed by the Provencal sun.
Click on the words Peche (click on word for the pronunciation).
When sports start to tie up the little bit of free time I have, especially in the summer time, I'd better have something quick and easy ready for us, whether we dine alone or get together with friends. I have a strong affinity for ice cream paired with fresh fruits when warmer and sunnier days roll around and things happen a lot more in a impromptu manner.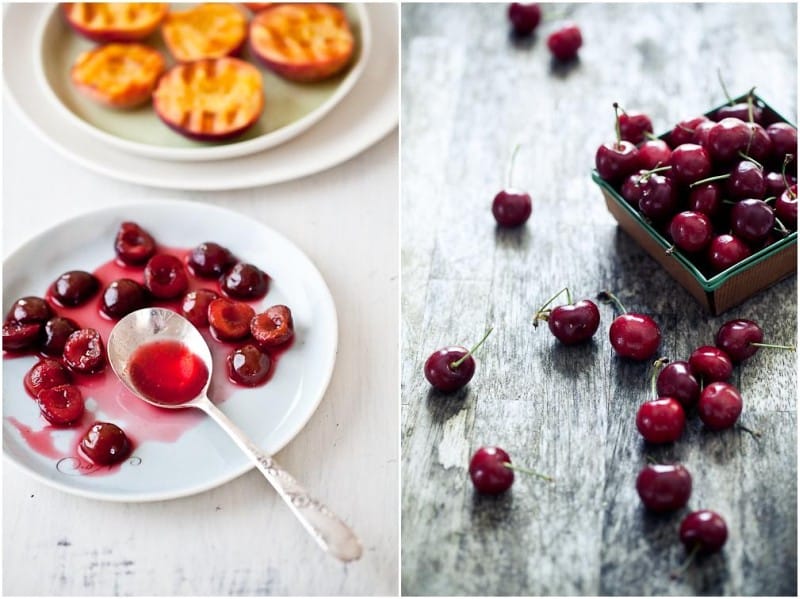 If they are perfectly juicy, ripe and a bit tangy, then I am in heaven. Sometimes, dessert needs to remain this easy. Sometimes, it needs a little pimping out and it gets even better. Over the years, I have become completely addicted to grilling stone fruits and serving them with fresh yogurt, fresh cheese or ice cream. The combo is just brilliant. When it comes to cherries, B. is not a big fan unless I poach them with honey until soft and tender.
Such a simple combination and so easy to put together with friends around the barbecue one summer evening. Homemade vanilla bean ice cream, grilled peaches and warm juicy poached cherries. Next time I think I'll pair lavender ice cream and grilled apricot. Non?
When I combined the two the other day, it got me a two-day free pass to not have to walk the dogs during a World Cup game. I took it. Right now, it's better than a free laundry pass to me, eheheh!

So…what is your secret culinary weapon to earn yourself some "house points"?

Before I forget: Thank you Mom for the pretty plates from Asya at www.gleena.com for my birthday! They arrived still warm from the kiln. Kidding. Just about.
Grilled Peaches, Poached Cherries and Vanilla Bean Ice Cream:
Serves 6-8
Notes: once the ice cream is set, everything else comes together in less than 20-30 minutes. You can also start with the cherries and let them cool while you prepare the peaches.
For the ice cream:
4 egg yolks
1 cup (100gr) + 2 tablespoons (25gr) sugar
1 cup (250ml) whole milk
1 cup (250ml) heavy cream
1 vanilla bean, split open and seeded
In a large bowl, whisk the egg yolks and one cup of sugar until pale and thick. In a saucepan set over medium heat, bring the milk, cream and vanilla bean to a simmer, without letting it come to a full boil. Slowly pour the hot cream over the egg yolks mixture while whisking to temper the egg yolks. Pour the whole mixture back into the saucepan and cook over low heat, stirring constantly, until the cream coats the back of spoon. It should register 170F on a candy thermometer. At this point you have made a custard sauce, also known as "creme anglaise". Let cool completely, strain and refrigerate until cold.
Once the custard is cold, process it according to your ice cream maker manufacturer's instructions and freeze for 2 hours or more.
For the fruits:
4 peaches (preferably not completely ripe so they don't disintegrate)
1 to 1/2 cups cherries
1/4 cup honey
1/4 cup orange juice
Prepare the peaches:
Wash them thoroughly but do not peel them. Cut them in half and remove the pit. Preheat the grill to medium-high heat and lightly oil the grill grate. Place the peaches cut side down on the prepared grate, and grill for about 5 minute. Remove and set aside.
Prepare the cherries:
Wash them thoroughly, cut them in half and remove the pits with the tip of a sharp knife. Place them in a large saucepan with the honey and orange juice over medium heat and cook for about 10 minutes until soft. Remove from the heat and let cool a bit. Too warm and it will melt the ice cream way too fast.
To assemble, simply layer the ice cream and the fruits in bowls, cups and ramekins.