Vanilla Rice Pudding & Chocolate Panna Cotta

Yes, I am giving away a box full of chocolate donated by Scharffen Berger in San Francisco. Head toward the end of the post for details on how to participate.
Back in June (wow that feels like an eternity…) I was part of a food blogging panel at Evo 10 with two wonderful ladies, Jane and Helen Jane. Yep, I am not making this up. We clearly sounded like a tribe "Hi! I'm Helen!" "And I am Jane!" "And I'm Helen Jane". They were handling the blogging part of our workshop and I was doing the photography part. Lots of fun and new friendships came out of this. Honest, comfortable and packed with belly laughing punctuated conversations.
There is a myriad of ways to blog and find your peace and balance. I don't think on it much. I am thrilled to make you discover bits about my home country, new recipes and techniques. It's a place for me to practice my crafts and hopefully to give you something enjoyable to look at and tempt you as well. I put a lot of hard work and dedication into this space and it has given me so much in return. Most of all, the possibility to connect with wonderful people all over the world and be able to live all sorts of experiences.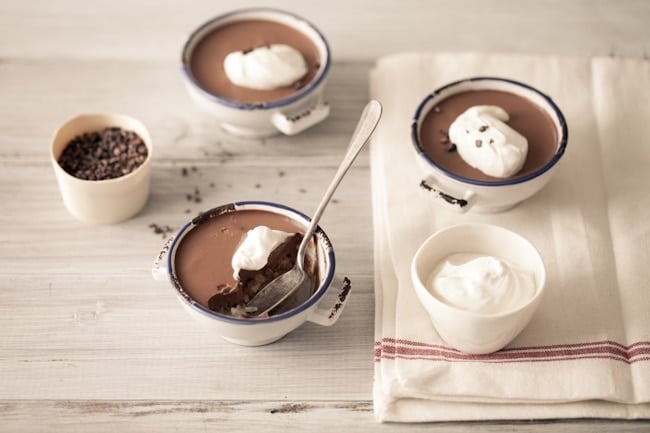 However, when Jane sent me an email asking me if I wanted to help her organize a little party during BlogHer Food this weekend, my first reaction was "ugh…I don't really have time to plan right now" but Jane came back with the words "what if it is a swanky chocolate filled little shingdig?". My reply? "go on, I'm listening…"
I have no idea how it all happened but before I knew it, I was part of a team of talented and generous ladies getting together venue, foods, libations and gifts for a party. I got worried that we would have to sell our souls to the Devil to make it happen but Jane & Kristen calmly said "We won't do any of that. Just sit pretty and eat your chocolate. Scharffen Berger is giving us tons for the party".
I am a milk chocolate kind of gal if you must know. I don't eat that much chocolate but when I do, it's the creamy kind that gets me all tingly. Add nuts and caramel bits and I will do just about anything…

And that I did. And still do tonight as I am finishing packing for BlogHer Food. I can't wait to be there and see familiar faces and meet new ones. People I've been reading for years becoming even more real. I love that my schedule this weekend is a nice balance of work, play and unexpected.
There was a tad bit of planning to be done on the home front before heading out though. Mainly stocking the fridge with good foods and making sure that the important things were right in front of his eyes if B. opened up said fridge. There are now eight Vanilla Rice Pudding & Chocolate Panna Cotta facing him. Don't worry, he's got more nutritious foods to dig into.
I have no idea what got into me to combine panna cotta and rice pudding except my deepest love for both. I figured with the weather finally changing a bit we could try to get into Fall mood a little too and start simmering, stirring, chocolating again after the heat of the summer. It does feel nice to finally have that little crisp in the air as the sun rises over the water.

So I am not going to tell you that this post was made possible by the folks at Scharffen Berger who sent me chocolate because I would have made this recipe without them sending chocolate anyway. But…I would have used high quality chocolate like theirs nonetheless specifically because chocolate is in the front seat in this one.
What I am going to tell you is that they make some mighty fine chocolates and by using the 70% bittersweet chocolate bars, the panna cotta packed a good chocolate punch while remaining smooth as silk. To make sure you get the chance to feel the way we feel after sharing one of these, I asked if they'd let me have more chocolate to give away to one of you. I asked for "some chocolate" and they are sending a box full.
That's also why I love them. They know how good their craft is and are all about getting us addicted to it…eheheh. Did they ask or demand I post about them? Nope. I volunteered. That was a no brainer for me. Eat chocolate and giveaway some more on your blog. Make someone else happy.

I am happy to be giving away a mixed box of Unsweetened Natural Cocoa Powder, 99% Cacao Unsweetened Chocolate Baking Bar, 62% Cacao Semisweet Chocolate Baking Chunks and a few of their eating bars in various percentages courtesy of Scharffen Berger. To enter, you have until Monday October 11th, midnight Easter standard time to leave a comment on this post. (No anonymous comment). The winner will be picked at random by the closest person to me in the room (not kidding) – I'll be in San Francisco until Tuesday but I will make sure to get in touch with the winner.

Vanilla Rice Pudding & Chocolate Panna Cotta:
Serve 6 to 8
For the rice pudding:
1 cup rice (really the kind you like best)
1 1/2 cups (315ml) whole milk (I used raw)
1/2 vanilla bean, split open
1/2 cup (60ml) heavy cream
1/4 cup (50gr) sugar
Pinch of salt
For the chocolate panna cotta:
1 tablespoon powdered gelatin (2 sheets gelatin)
1/4 cup water
1 cup whole milk
1 cup heavy cream
1/3 cup honey
8 oz bittersweet chocolate
1 cup Greek yogurt
Cocoa nibs, dusting of cocoa powder and fresh whipped cream (optional garnish)
Prepare the rice pudding:
In a stainer, rinse the rice under cold water for a minute to remove some of its natural starch.
In a medium saucepan set over medium heat, bring the rice, milk, cream, sugar to a simmer. Scrape the seeds from inside the vanilla bean and add to the pan with the salt. Cook until tender, stirring occasionally for about 20 to 30 minutes. Remove from the heat. Let cool for a few minutes and divide the pudding evenly among ramekins. Cover with a layer of plastic wrap until you are ready to pour the panna cotta on top of the rice pudding.
Prepare the panna cotta:
Place the water in small bowl and sprinkle the gelatin over it. Reserve.
In a large heavy bottomed saucepan placed over medium heat, bring the milk, heavy cream, and honey to a simmer. When the cream is hot, remove from the heat and whisk in the chocolate until melted. Add the reserved gelatin and stir until it is completely dissolved. Add the yogurt and whisk vigorously until well blended.
Divide the mixture over the rice pudding ramekins. Let stand at room temperature for 20 minutes and then refrigerate for at least 4 hours before serving to let the cream set properly.
Garnish with cocoa nibs and whipped cream if desired.
Full disclosure:
The chocolate, cocoa powder and cocoa nibs used in this recipe were given by Scharffen Berger at no cost.