Seared Scallops Salad With Blood Orange Vinaigrette
A little update: the workshop that I am teaching with food stylist Tami Hardeman and prop stylist Mindi Shapiro is selling fast and we only have one spot available. If you are interested in more details, please read here. Thank you!
Spring is finally here. On paper for some. All around us here for sure. It's been a couple of weeks that we have been able to enjoy the first blossoms, the first days without a heavy coat and Spring produce appearing on the stores shelves. I enjoy winter, evenings spent with a warm bowl of soup in front of a roaring fire, turtlenecks sweaters and colorful scarves. I am looking forward to zucchini blossoms and fresh peaches. And yet, I hurried to get as much of my favorite winter items in the last month. Blood oranges specifically.
I did cook and bake them in anything and everything I could think of this winter. And had them plain after my morning run with the old pup. Bag after bag after bag. Many a t-shirt and cutting board were splattered and stained by the colorful juice. Pile and pile of blood orange skins were dried to flavor hot brewing tea in the evening. I love this time of year. The end of warm fizzy blanket and the beginning of bare feet in the grass on crisp sunny mornings.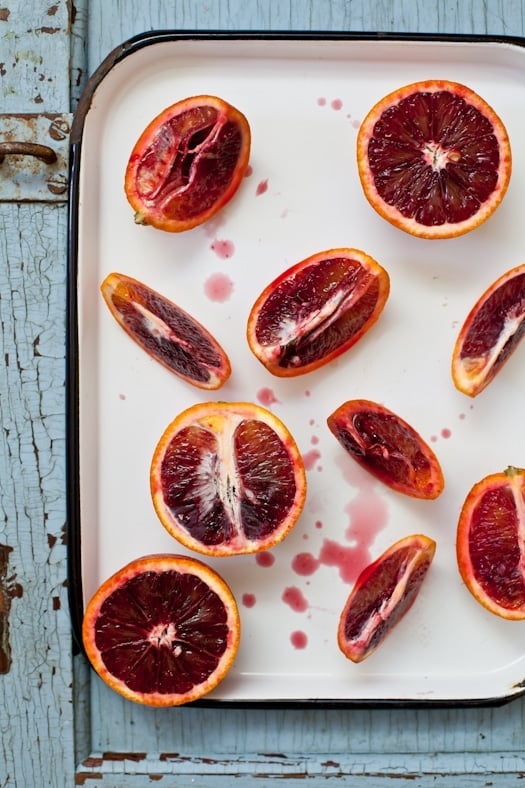 What more appropriate way to celebrate the lead into a brighter and lighter season than with a refreshing salad of tender scallop, smooth Boston lettuce and tangy blood orange vinaigrette. After a couple of weeks of cooking from Southern Comfort, I got inspired by one of the salads in the book, took the three main components, lettuce, scallops and citrus and ran away with it. I changed their lettuce – grapefruit combination for Boston lettuce and blood orange.
Pan seared and core tender scallops nested on a bed of smooth and super fresh lettuce. All drizzled with a generous amount of tangy blood orange vinaigrette. A super fresh and easy salad when all you want to do is feed yourself right and get outside to enjoy the warmer weather. Pure good mood – good weather food.

Happy Spring!
Seared Scallops Salad With Blood Orange Vinaigrette:
Serves 2 hungry people as a main dish
Blood orange vinaigrette
1/4 cup freshly squeezed blood orange juice
1 garlic clove grated (use a microplane) or minced
1 tablespoon red wine vinegar
salt and pepper to taste
1/4 cup olive oil
In a medium bowl, whisk together the blood orange juice, garlic clove, vinegar and salt and pepper. Slowly whisk in the olive oil. Set aside until needed.
Scallop Salad:
1 tablespoon olive oil
8 to 10 medium sea scallops
salt and pepper to taste
1 small Boston lettuce
oregano or mint leaves
In a large saute pan, heat the olive oil over medium high heat. Season the scallop with salt and pepper on both sides and carefully add them to the pan (oil may splatter a bit). Sear them for about 2 minutes, carefully flip them and sear for another 2 minutes. Remove from the pan and reserve to the side.
On individual plates,arrange a good amount of lettuce leaves, place the scallops on top and drizzle with the blood orange vinaigrette.