Pear & Almond Frangipane Tartelettes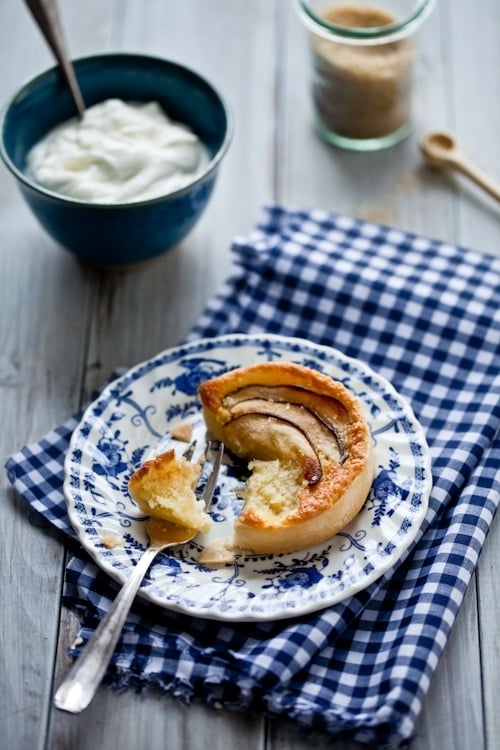 It's been a week of catching up here since New Year. Catching up on family, catching up on friends, emails, snail mail, thank you notes, love notes. The holidays have been so busy and wonderful that every bit of everyday is truly dedicated to organizing. At the end of the day, feeling both mentally spent and elated, we welcome a little break and a treat.
It does not have to be anything fancy or sweet. Sometimes it's just a slice of bread and some honey, a couple of cookies, a piece of bread and a cracker, etc… Sometimes, it's a treat I made specifically for a tea break. Sometimes, like the other day, it was pulling ends and pieces together to make something utterly scrumptious: Pear and Almond Frangipane Tartelettes.

On New Year's day I made all the traditional Southern foods since my in-laws were coming over such as ham, black eyed peas, collard greens, biscuits, etc..I also added one of my family's traditions by making a galette des rois with gluten free puff pastry. I know I was a few days early, but that's how it goes in my family because of everyone's travel and work schedule during the holidays. At least, we make time to gather, eat a piece of galette and have a glass of Champagne to toast the new year.
This NY Day, I made more frangipane than I actually used in the galette so I parked it the fridge. I did consider eating it with a spoon as it was if you must know. There is something about frangipane that is just creamy enough and rich enough to make me forget reason…

It took a couple of extra days and I had all the elements necessary to make proper (read dignified) use of the frangipane. Some very ripe pears, some pastry dough saved over from making quiche and these little tartelettes were born. We barely waited until they were cool enough to share one during a little mandatory work break.
I am just very sad we are both starring at the last one right now! Have a great weekend!


Pear and Almond Frangipane Tartelettes:
Makes six to eight 3.5-inch tartelettes or one 9-inch tart
For the crust:
5 tablespoons (70gr) unsalted butter, at room temperature
3 egg yolks
pinch salt
1/2 cup (80gr) superfine rice flour
1/2 cup (60gr) millet flour
1/4 cup (30gr) sorghum flour
1/4 cup (40gr) corn starch (or tapioca flour)
2 tablespoons to 1/4 cup cold water or milk
For the frangipane:
1 stick (115 gr) butter, softened
1/3 cup (115gr) honey
1 cup (100 gr) ground almonds (blanched, slivered, whole, your call)
2 eggs
1/4 cup (60gr) heavy cream
1/4 teaspoon cardamom
3 medium pears, cored, halved and thinly sliced (I left the skin on but feel free to peel them before hand)
Prepare the crust:
In a mixer, whip the butter on medium speed until light and airy. Add the egg yolks, one at a time and beating well after each addition. Mix until incorporated. Add the salt, and all the different flours, and mix briefly. Add some water or milk, one tablespoon at a time if the dough feels too dry. Dump the whole mixture onto a lightly floured (use more rice flour) board and gather the dough into a smooth ball. Flatten the dough into a disk, wrap it in plastic wrap and refrigerate for an hour.
Preheat oven to 350F and position a rack in the center.
When the dough is nice and cold, roll it out on a lightly floured board or in between two sheets of plastic to fit your prefered pie pan or eight 3.5-inch tart rings. If the dough tears while you roll or/and transfer into the pan, just patch it with your fingertips. Line the dough with a piece of parchment paper, fill with pie weights or dy beans and par bake for 10 minutes until almost partially baked. Remove the weights and parchment paper. At this point you can refrigerate the baked crust for up to 5 days before using. Let cool while you prepare the filling.
Prepare the frangipane:
Place the butter, honey, ground almonds, and the eggs in a large bowl and whisk until smooth (can also be done in a food processor). Add the cream and cardamom but stir in it instead of whisking not to emulsify it or it will rise while baking.
Assemble and bake:
Divide the frangipane among each tart rings, add a few slices of pears right on top (no need to push them through) and bake for about 20-25 minutes until golden brown.
We like ours with creme fraiche and a bit of vanilla sugar.