Pan Seared Smelts & Gathering Around The Simple Things

It's the little things that make me happy. Not just smiling. Truly happy. The little things that instantly make my eyes sparkle, my memories ramble and my step take a lighter beat.
A wine my grandfather served me on my last Christmas home that I spot on a menu in a restaurant downtown. The sound of the foam bubbling away after a cold beer is poured too fast in a glass. The crack of a spoon hitting the burnt sugar crust of a freshly made creme brulee.
Opening a book at the very first pages, heart and mind ready to dive in, wrapped around with words, images, and possibilities. Lifting one's head after a day at work and be greeted by the most beautiful sunset.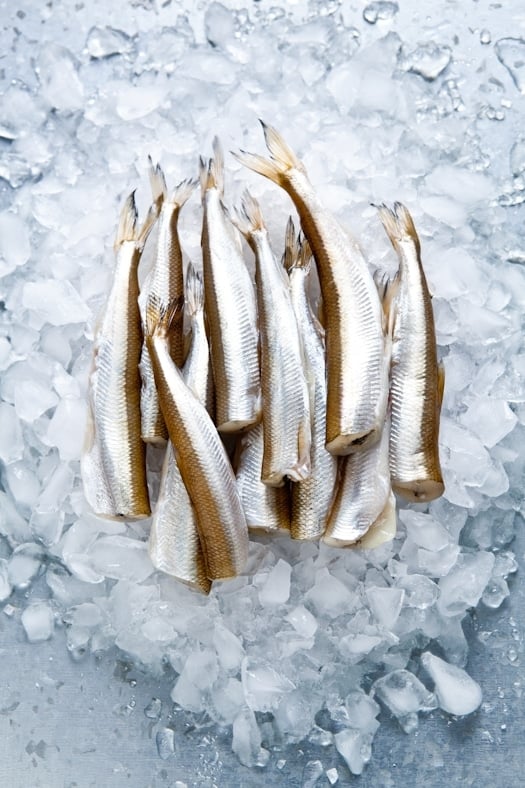 Little pleasures. Finding them in all things around us. Sometimes, it can be as simple as seeing a familiar food from childhood. Like smelts. I know, weird… I think the guy behind the fish counter at the market thought I was mildly eccentric when my eyes grew wide open at the sight of freshly caught smelt in his display.
The mere sight if these tiny little fish, bright of their silver and gold reflections, transported me back to my family's chalet in the Southern Alps of France. Every school holiday was spent there, skiing in the winter, hiking and swimming in the summer. Lots and lots of fishing too.
It was a place meant for simple things. Like a dinner made of pan fried smelts and a big salad. Food did not define every waking moment of our time together. Being together around the table breaking bread and passing plates did. Cousins, uncles, aunts, brothers and sisters. Food was the excuse to be a family, to argue and make up.

I remember my mother dipping the smelts in lemon juice, then breadcrumbs flavored with freshly cut herbs from the garden, and quickly pan searing them in a little olive oil. A good sprinkle of salt and pepper and we were good to go. The more people at the table and the bigger the pile of fish. And the bigger the sighs coming from the kitchen as my mom kept on cooking and cooking the tiny little things.
Pan seared smelts are not most refined dinner items but to me there are the heroes of family moments I cherish everyday. Hence the little skip in my heart when I spotted them at the market. I was sure not to find them again for a long while so I got more than enough for two dinners. I loved seeing my mom's eyes sparkle when I pulled a bag out of the freezer for us one evening.

I knew instantly where her mind had wandered. I recognized that little smile at the corner of her mouth. I could imagine the memories going through her head. I pulled out a skillet and started preparing dinner. She set the table and told me a few stories.
It was my turn to nurture her. Around something as simple as plate of tiny seared fish. The connection was solid and gave us room to add this moment to the memory bank. And our tastebuds…


Pan Seared Smelts:
Serves 4
Ingredients:
2 pounds smelts (they usually come gutted and cleaned up but ask your fishmonger to do it for you if needed)
1 cup Panko style breadcrumbs (gluten free or not – your choice)
1 teaspoon of kosher salt
1/2 teaspoon freshly ground pepper
1/4 cup finely chopped thyme
juice of 2 lemons
4 tablespoons olive oil, divided
Directions:
Rinse the smelts under cold water, dry thoroughly with paper towels. Reserve.
Place the breadcrumbs, salt, pepper and thyme in a large shallow plate. Place the lemon juice in another shallow plate.
Heat up one tablespoon of olive oil in a large skillet over medium high heat.
Dip about 1/4 of the smelts in the lemon juice, then toss in the breadcrumbs. Place them in the skillet in one single layer and sear for about 3 minutes on each side.
Repeat with the remaining smelts, lemon juice, breadcrumbs and oil. Serve immediately with a simple side salad.