Grilled Baby Artichokes With Chimichurri
With the last days of summer right around the corner, there have been dinners on the patio after dinners on the patio. Friends, neighbors, just us. It's been lovely. Truly. A balm for the soul. Summers are a bit harder on me than any times of the year. Summer is the time when we have entire months back home devoted to vacationing. Just that. It's another mind set. Another way of doing things. And while I knew my family was gathering at our chalet in the Alps or just moving about France, I worked straight through the summer.
Every morning this summer, I would sit on the patio here in Alabma and listen to the sound of cicadas, a light breeze brushing my cheeks. A tease really, often quickly replaced with smoldering heat and humidity. I'd often close my eyes and I could almost feel home. I could almost hear my nieces running around in the garden, jumping off into the pool, laughing wildly with their friends, and the cicadas. Always a sign of being home.
And warm evenings with lots of grilling involved.
One thing I try not to do all summer long is turning the oven on. Where we are now, it basically heats up the whole dining and living area, bringing the smoldering heat inside for hours. So off to the back deck we go! Lots and lots of fish, meats and vegetables did end up being grilled, charred, slow roasted and smoked. Finger licking good stuff.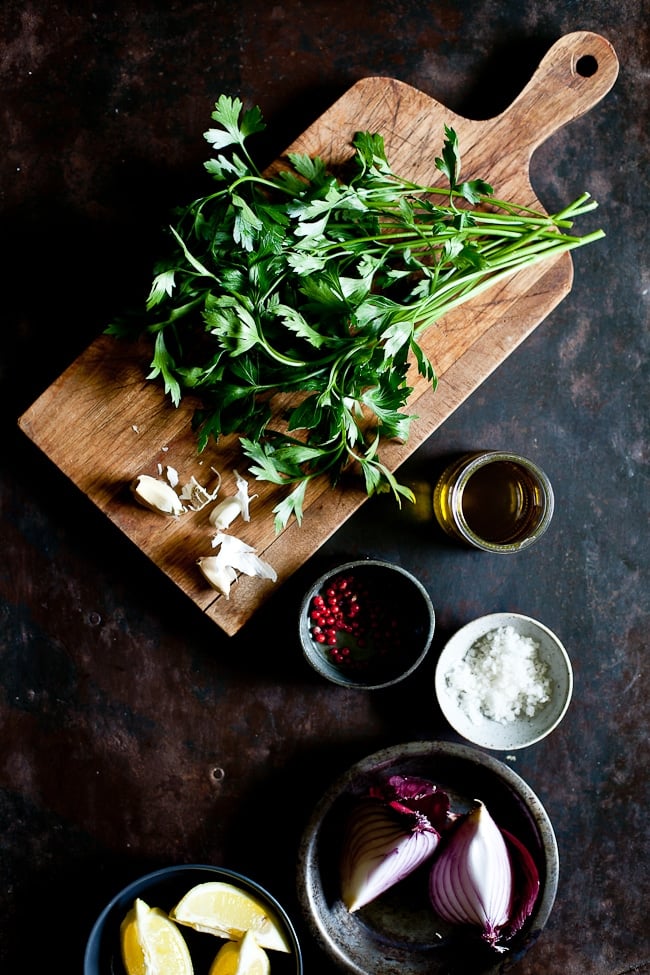 One thing I grew up eating were steamed artichokes and vinaigrette. While vegetable soup was a staple starter in our house, my mom would often make steamed artichokes during the summer. As well as her proscuitto and melon salad. But that's for another time… With nostalgia tugging at me these past few months, I took it upon me to take familiar dishes that reminded me of time spent with loved ones and gave them a more current flair. Current to the temperatures, our way of living in the heat and our tastes at this moment.
Grilled baby artichokes with chimichurri sauce became an easy side our starter to many a dinner, shared with friends or just the two of us. They require a bit of prep and maybe a bit messy if eaten with a fork and knife which in my opinion is a plus… Just grill, grab and dip… They make a great snack too when watching a movie on a lazy Sunday evening or during any sport related weekend.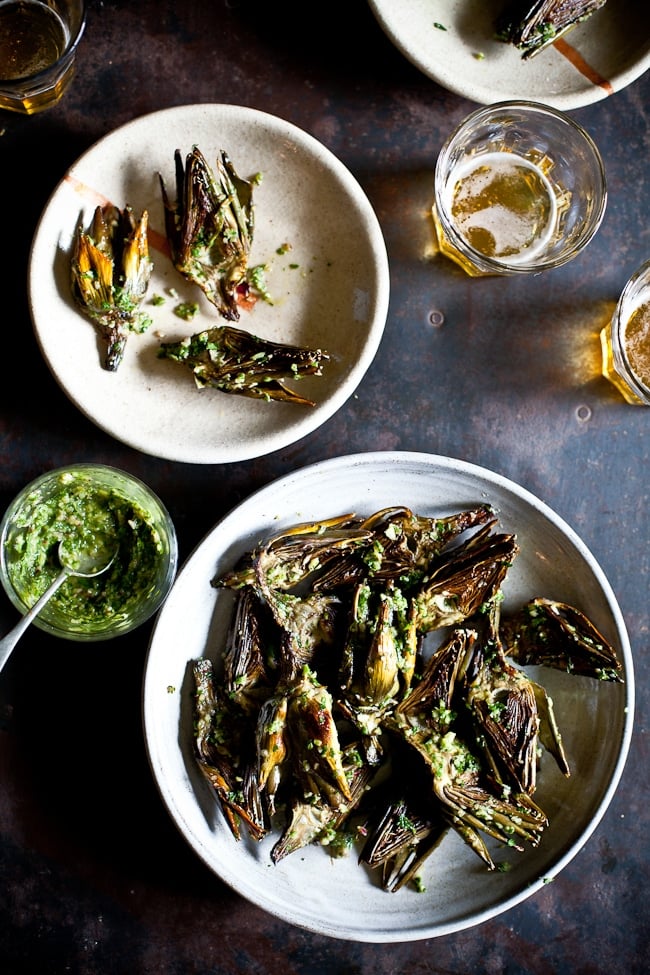 Grilled Baby Artichokes With Chimichurri Sauce.
Serves 6 as an appetizer
Ingredients:
For the artichokes:
juice of one lemon
12 baby artichokes
1 teaspoon salt
Preparation:
Place the lemon juice in a large bowl of cold water. Cut stem off the artichokes, leaving about about 1 inch. Snap off the bottom 2-3 rows of outer tough leaves. Cut the tip off of the artichokes. Cut them lengthwise and submerge in the lemon water.
Bring a large pot of water to a boil, add the salt. Add the artichokes and cook for about 5 minutes. Drain while you heat up the grill.
Preheat your grill to medium heat. Rub the artichokes with about 1/3 of the chimichurri sauce (recipe below). Grill until slightly crisp, about 5 minutes per side. Remove from the grill, let cool sligtly and serve with remaining chimichurri sauce.
For the chimichurri:
1 cup parsley
1 teaspoon sea salt
1/2 teaspoon freshly ground pepper
4 garlic cloves, crushed
1 small red onion, quartered
juice of one lemon
1/3 cup olive oil
Preparation:
Combine the first 5 ingredients in a food processor and pulse until finely chopped. Adjust salt and pepper if needed. Add the lemon juice and oil. Set aside until ready to use.