Fresh Tomato Tart & A Radish & Pea Salad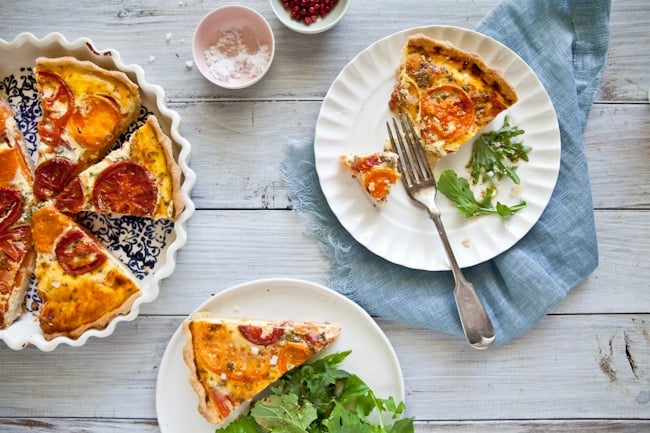 I admit, I had some reservations about moving to Alabama in spite of the amazing opportunity to challenge my creativity and eye every day with like minded people. My husband was ready for a change, I was ready for a new adventure, both professionally and personally. Charleston was my home, where I met Bill, where we dated, got married and were I started establishing a career as a professional photographer. Where my closest friends and surrogate family was. There is something idyllic and timeless about Charleston and the Lowcountry. I know it. I feel it everytime I drive home, windows down, feeling the humidity in the air, watching the sun set over the marsh, the Spanish moss hanging from the trees, Charleston will always be my home away from France.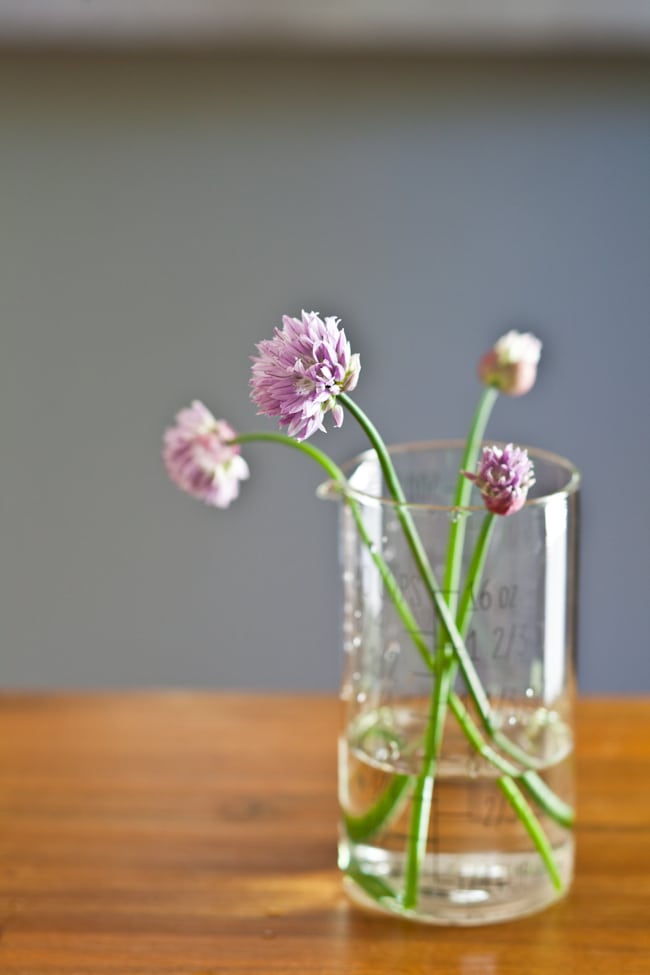 Yet, Birmingham is home right now. And a very pleasant one. Now that my husband has been here full time for a few months, we enjoy discovering the city and the surrounding towns every chance we get. Living with an historian as definite perks in that regard. Always finding the interesting, that one stone yet unturned. We are a good team, I pick the new places to eat and drink and he picks the historical sights. And when I drag him to the farmers market every Saturday at 7am, he does not blink an eye. Pups and basket in tow, we head out to sample some of the best produce in the South.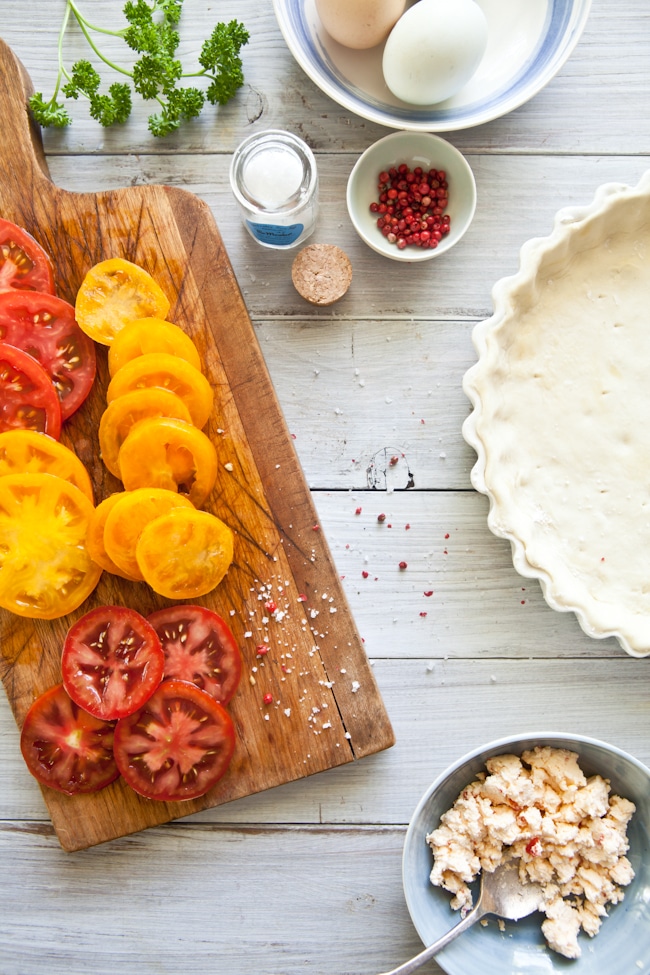 Charleston farmers market spoiled me. Having a good connections with farmers, sampling gorgeous and local produce 8 months out of the year was something I feared I would not have in Birmingham. Boy was I wrong! The farmers market here is a cornucopia of dedicated and like minded people. While some are more traditional in their offerings (peaches, tomatoes, radishes), others have given us the opportunity to get completely different things than in South Carolina. Micro greens galore, wild garlic, chive flowers and French grey shallots to name a few.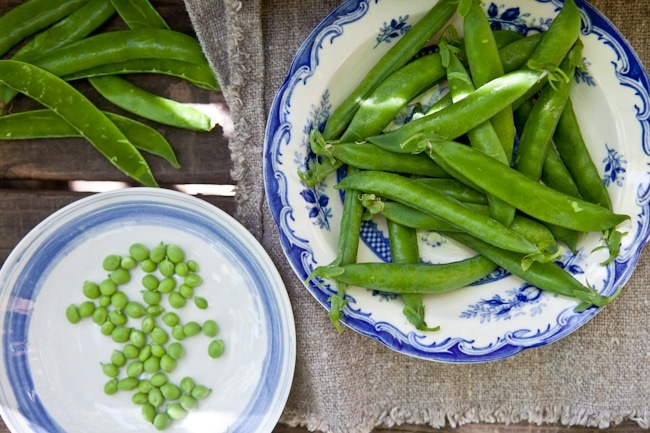 It is pure pleasure to craft a weekend around the produce I get early on Saturday morning. I may have a few ideas in mind but once I get to the market, I just let myself be inspired by the produce I see. We have quite a few artisans around bringing the extra supplies I need, like fresh baked breads and fresh cheese. My friend Ana, who works as food stylist in Birmingham also owns a sheep dairy farm, Dayspring Dairy, and makes the best haloumi type cheese (as seen in my previous post), a gouda type cheese called Ewtopia and a lovely fresh cheese speckled with pimento which I love to spread on toast in the morning or incorporate in dishes such as Tomato Tart.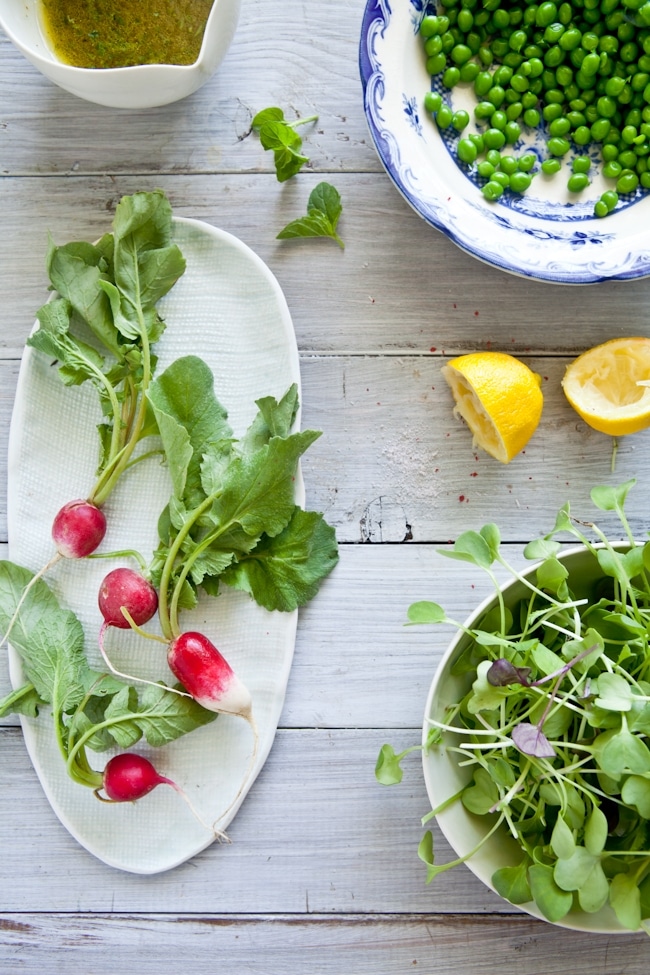 Right now, it's all about tomatoes, peaches, strawberries, radishes and peas. We can't get enough. Well, I am severely allergic to peas but that does not stop me from making Bill a favorite salad of his. A simple combination of fresh easter egg radishes, peas and radish microgreens, a sprinkle of salt and pepper and a drizzle of pungent olive oil. Lunches and dinner at the house right now often look something like this. A tart or tartine and a big salad. Making the best out of Alabama produce. It's not difficult. And it helps feeling a little bit more grounded.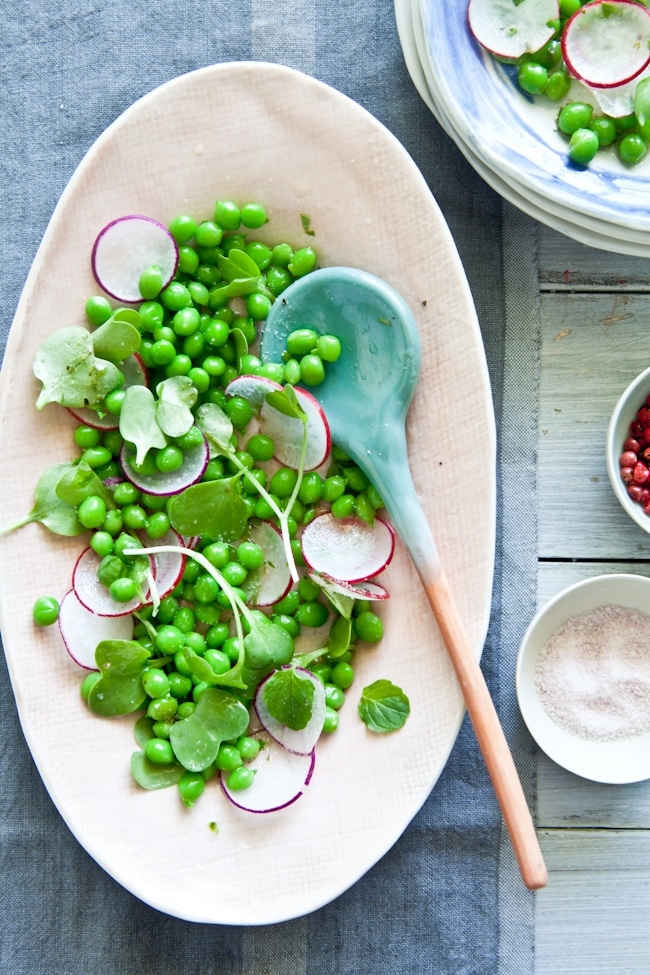 Note: both these recipes use salt dear to my heart from The Meadow in Portland Oregon. I have previously blogged about their lemon salt before here and wanted to share more of their awesomess. I am a salt addict. I do get salt in every country or town I visit. The tart is sprinkled with their Admiralty Sea Salt and I used their Cherry Plum salt in the Radish and Pea Salad. If you have not yet discovered their salt and mastermind, Mark Bitterman, now is the time…
Tomato Tart:
Serves 6 to 8
Ingredients:
For the crust:
1 1/4 cup all purpose flour or Jeanne's all purpose gluten free mix
1 stick (115g) unsalted butter, kept very cold
1/4 teaspoon of salt
2-3 tablespoons ice cold water
For the filling:
4 to 6 tomatoes, depending on size
2 eggs
1/3 cup fresh cheese (type fresh goat or sheep milk cheese)
1 cup whole milk
1/2 teaspoon sea salt
1/4 teaspoon freshly ground pepper
2 tablespoon freshly chopped parsley
Finishing salt (I used The Meadow's Admiralty Sea Salt)
Directions:
Prepare the crust: In the bowl of a food processor, (or follow the same instructions if doing by hand), pulse together the flour until incorporated. Add the butter and pulse until the butter resembles small peas and is evenly incorporated. Add the salt and pulse on more time. Gradually, stream in the cold water until the flour just comes together. Turn the mixture out onto your work surface and form into a 2-inch thick, round disk. Wrap with plastic wrap and refrigerate at least 30 minutes (or overnight) before rolling out.

Flour your working surface with tapioca flour (if gluten free) or regular flour and start rolling out the dough to about 1/4-inch thick adding more flour as you feel the dough starts to stick. You can also roll it out in between two sheets of plastic wrap of parchment paper, especially with working with the gluten free version. Fill an 8-inch tart pan with the crust, trimming the edges if necessary. Prick the bottom and set with a fork. Refrigerate while preparing the filling.

Preheat the oven to 350F.
Slice the tomatoes rather thinly. Place the tomato slices on paper towel. Set aside.
In a large mixing bowl, whisk together the eggs and fresh cheese, slowly add the milk. Add salt and pepper and the parsley.
Layer the tomato slices over the crust, slowly pour in the filling over. Bake for about 45 minutes to an hour or until golden brown. Let cool slightly. Right before serving, sprinkle a few pinches of finishing salt on top of the tart.
~~~~~~~~~~~~~~~~~~~~~~~~~~
Fresh Peas & Radish Salad:
Serves 4
Ingredients:
1 pound shelled fresh peas
1 pound radishes (I like easter egg radishes but any kind will do)
1 small handful radish microgreens
salt and pepper to taste (I used The Meadow's Cherry Plum Salt)
Juice of one lemon
Olive oil
a few mint leaves
Directions:
In a large pot of boiling water, blanch the peas for 8 to 10 minutes. Do not add salt or the peas will get wrinkly. Quickly rinse the peas under cold water. Place a few ice cubes over them and set aside to drain and cool.
Slice the radishes thinly (a mandolin works great here). Toss the peas, radishes and micro greens together in a large bowl. Season with salt and pepper to taste. Add the lemon juice.Drizzle with 1-2 tablespoons olive oil. Add the mint and serve immediately