Creamy Salmon Bisque & Rhubarb Tarte Tatin
A little update before I talk Salmon Bisque and Rhubarb Tarte Tatin…The workshop in Ireland sold out so fast that we decided to exceptionally open up four more spots. There are three remaining. So, if you missed registration and would love to be able to join us for an amazing three day- four night food photography workshop on the grounds of Belle Isle Castle and Belle Isle Cookery School (all details here), here is your chance! Follow this link to the registration page. Hope to see you there!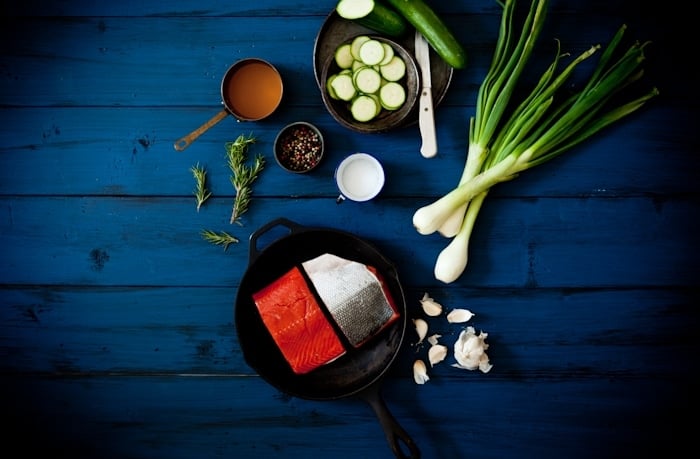 Back to today's recipes…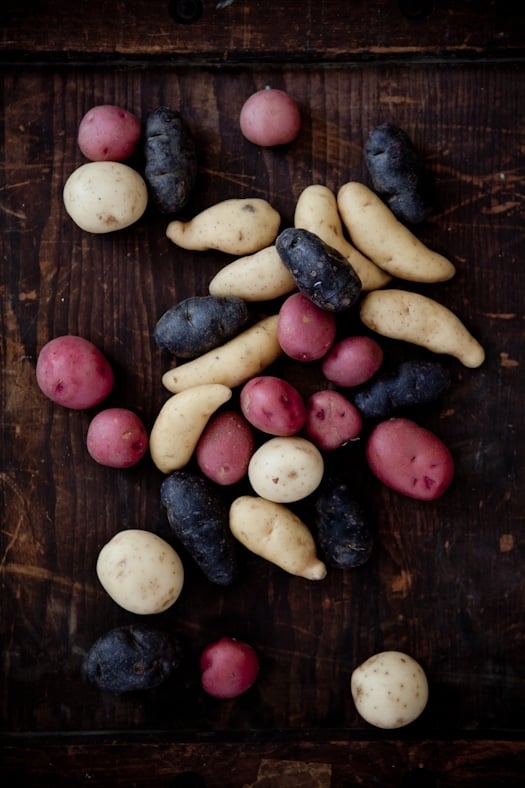 Let's back track to a couple of weeks ago when I had tooth issues. Bear with me, something incredibly tasty came out of one little inconvenience. Well, it did not feel "little" at the time but in the grand scheme of things and with two more family members in bad shape, you won't hear me complain of anything. It was just a tooth and one minor setback not the end of the world…
I could not eat more than two or three spoonfuls of soup at at time. I started dropping weight. If you know me, you know this is the last thing I need. I was starting to lack energy while my gigs were getting more intense. Not a good combination. I knew I could easily fix this by making meals that packed a punch in nutrients. I could eat soups. I devised a plan to make a big batch of a super nutritious soup and to keep a bowl by my side at all time during the day. A few spoonfuls there, another couple here and within the course of the morning, I would finally have eaten a normal lunch. Same thing for dinner.
What soup did it? A Salmon Bisque, full of good-for-you wholesome ingredients such as wild pacific salmon, potatoes, Vidalia onions, zucchini, garlic, fish stock and herbs. I could make it thin, chunky. I could change the vegetables with whatever was in the fridge such as subbing carrots for the zucchini, lefover rice instead of potatoes, etc… As long as I had a good combo of protein, carbs, fat and veggies, I was good to go. Getting all my nutrients helped heal at a normal pace. I did that for five days and it worked. Hooray!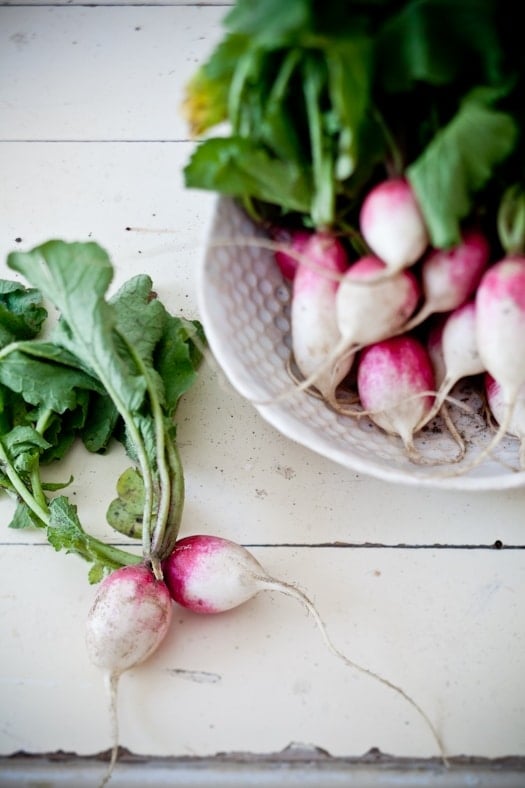 Not going to lie, but the first thing I sank my teeth into after that episode was a big plate of crunchy radishes, a plump kebab of local shrimp and a big slice of tarte tatin. Rhubarb tarte tatin. With plenty of buttery goodness from the puff pastry crust and long pieces of caramelized rhubarb that just melted in your mouth. The latest edition of Donna Hay magazine was just chock full of tatin recipes with puff pastry. And well, those two words tend to make weak in the knees as soon as I see them..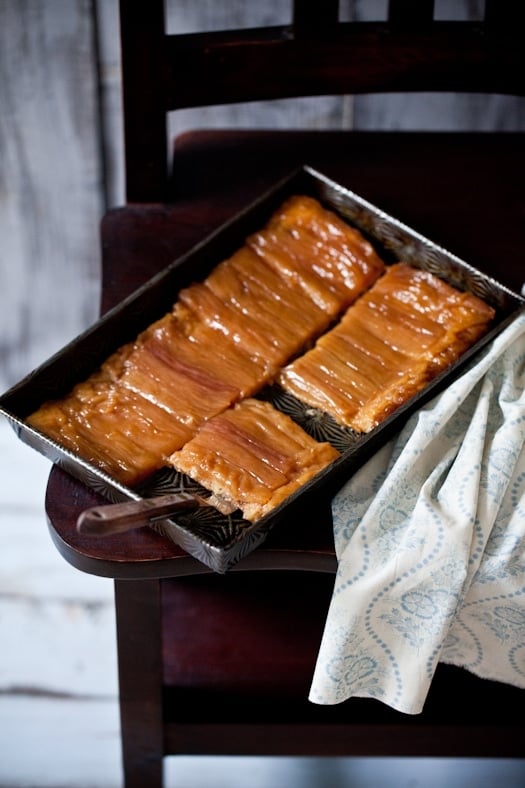 Since I can occasionally eat gluten (once or twice a week without showing signs of Meniere's) I figured a Tarte Tatin would be a darn good way to go for it. And it was. And I have one in the oven as we speak. I wish I were kidding. But this one is for my in-laws. Because they can't ever have too much tarte tatins. Or rhubarb.
After a nice bowl of soup. This tarte is definitely melt in your mouth decadence of the best kind.

Creamy Salmon Bisque:
Makes enough for 6 to 8 large portions.


Ingredients:
1 tablespoon olive oil
3 small baby Vidalia onions (sweet onion) or 1 large onion, sliced
1 tablespoon chopped fresh rosemary
3 zucchini, sliced
1/2 pound small potatoes
3 garlic cloves, minced
1 pound wild salmon, boned, skinned and cut into large cubes
4 to 6 cups seafood stock
salt and pepper to taste
Directions:
In a large stock pot, heat the olive oil over medium high heat and sautee the onions and rosemary for 2 to 3 minutes or until the onion is translucent. Add the zucchini and potatoes and sautee another 2 minutes. Add the garlic and salmon and saute for a couple of minutes, making sure not to burn the garlic. Add about 4 cups of seafood stock and pinch of salt and pepper. Bring the mixture to a boil, reduce the heat and simmer, uncovered for 10 minutes. Remove from the heat, let cool for about another 10 minutes and puree in a food processor or blender (immersion blender works great too) until completely smooth. Add more stock to adjust the consistency to your liking. For example, we like thick soups but some don't – adjust accordingly. Salt and pepper to taste if needed. Serve warm.
——————————————————————————————
Rhubarb Tarte Tatin, very slightly adapted from Donna Hay magazine:
Serves 6
Ingredients:
1 sheet of puff pastry (I made my own using this recipe) (you can also find a gluten free puff pastry here)
3/4 cup (165g) sugar
1/4 cup (60ml) water
2 tablespoons (50gr) butter
1/4 teaspoon cardamom
1 1/2 pounds rhubarb, cut into 10cm long pieces (4 inches long)


Directions:
Preheat oven to 375F. Roll the puff pastry to 1/8-inch thick. Cut out a 22cmx32cm (8.5 inch x 12.5inch) rectangle from the pastry and set aside.
Place the sugar and the water in a small saucepan over medium low hear and cook, stirring until the sugar dissolves. Increase the heat to medium high and cook for 8 minutes, until the sugar turns to a caramel color Add the butter and cardamom and stir until the butter is completely melted and combined with the caramel.
Pour the caramel into a 20cmx30cm (8×12-inch) baking pan and arrange the rhubarb pieces over it.
Top with the puff pastry and tuck the edges under a little. Place on a larger baking sheet and bake for 30 to 45 minutes. or until the puff pastry is cooked through. Allow to cool for five minutes or so. Loosen the edges with a knife. Invert the tart onto a serving tray.