Carrot Cake Macarons With Cream Cheese Frosting Filling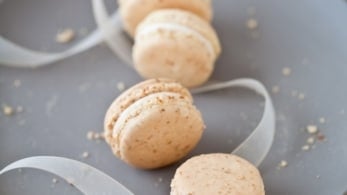 I hope everyone had a wonderful Christmas surrounded by friends and family or just chilling. We loved being able to share the day with a few different groups of people, plopping from one dinner to another and a glass of Champagne to a glass of wine, surrounded by the warmth of a good fire and a few good hugs.
Bill and I don't exchange presents as we'd rather book tickets to a play or the symphony, things we wouldn't just "get up and do" during the year.
From the feedback I received over the last few days, it looks like everyone found their happiness in all the treats Santa brought. I like to vary things up from one year to the next but there are a few items that will always be on the list. Chocolate truffles, sugar cookies and macarons. This year, I went a tad bit mad scientist and made Carrot Cake Macarons.
Carrot Cake is one of those desserts that would make a Frenchie raise an eyebrow (or two) on the first try but one I quickly came to love. We don't usually mix vegetables and sweets as people do here with carrot cake or zucchini bread and I think we are missing out on something! At the same time it's nice to introduce my family to different culinary icons when I return home such as carrot cake, Boston cream pie, whoopie pies, red velvet cake, etc…
Yes! I love carrot cake with cream cheese frosting and the idea of coming up with a macaron having these flavors had been in the back of my head for quite some time. I know there are as many variations for carrot cake as there are bakers to make them, some add pineapple, some add raisins, some add this or that but I needed to just keep the concept of a carrot flavored confection. Kind of like stripping it to the essential to make it clean and simple.
My husband's reaction was as honest and simple as could be "how on earth do you fit a carrot into a macaron?" Ah…Well…Since I was short on time to make several batches if my idea didn't work out, I decided to flavor the shells with carrots and make a simple cream cheese frosting to fill the macarons with. I cut ling strips of carrots that I dehydrated in a low temperature oven. Once they were dried and cooled, I pulverized them in a coffee grinder and added them to the almonds.
It worked like a charm. Perfect hint of carrot and bit of tang from the cream cheese filling! So much so that Bill was a tiny bit pouting I was giving the bulk away as Christmas presents. Guess I know what I'll make again on New Year's Day!

Carrot Cake Macarons With Cream Cheese Filling:
Makes 20-30 filled confections, depending on the size
Note: I know this sounds weird, but pick the most "carrot scented carrots" you can find. Meaning, forget the ones sold in plastic bags, they have very little flavor compared to smaller carrots labeled as "new" with the stems on, farmers market carrots or simply organic carrots. It will help concentrate the flavor in the shells as much as possible.
For another dehydrated creation, check these Powdered Strawberry Macarons.
I updated and cleaned up the macaron tutorial a little and found it a better format so no more need to email me for a copy. You can read and download it here. Special thanks to my friend and talented photographer, Jackie, for letting me use a couple of pictures.
For the shells:
200 gr powdered sugar
110 gr almonds (slivered, blanched, sliced, whatever you like)
2-3 small carrots, sliced thin lengthwise, dehydrated and finely ground(see below)
90 gr egg whites (use egg whites that have been preferably left 3-4 days in the fridge)
25 gr granulated sugar
For the carrots: cut long thin matchsticks or slices from 2-3 small carrots and lay them flat on a parchment paper lined baking sheet. Bake in a 250F oven until they shrivel and dry out. It usually takes about 30 minutes but check at 20 minutes in case your oven runs high. Let them cool and grind them as fine as possible. I find that a coffee grinder works great for that job.
Prepare the macarons:
Place the powdered sugar and almonds in a food processor and give them a good pulse until the nuts are finely ground. Add the ground dehydrated carrots and mix until blended. Sift if desired (helps keep the shells smooth in appearance).
In a stand mixer fitted with the whisk attachment, whip the egg whites to a foam, (think bubble bath foam) gradually add the sugar until you obtain a glossy meringue (think shaving cream). Do not overbeat your meringue or it will be too dry.
Add the nuts and powdered sugar to the meringue, give it a quick fold to break some of the air and then fold the mass carefully until you obtain a batter that falls back on itself after counting to 10. Give quick strokes at first to break the mass and slow down. The whole process should not take more than 50 strokes. Test a small amount on a plate: if the tops flattens on its own you are good to go. If there is a small beak, give the batter a couple of turns.
Fill a pastry bag fitted with a plain tip (Ateco #807 or #809) with the batter and pipe small rounds onto parchment paper or silicone mats lined baking sheets. Let the macarons sit out for 30 minutes to an hour to harden their shells.
When you are ready to bake, preheat the oven to 280F.
Bake the macarons for 15 to 20 minutes, depending on their size. Let cool.
Once baked and if you are not using them right away, store the shells in an airtight container out of the fridge for a couple of days or in the freezer for up to 2 weeks (longer and the sugar starts to seep out which makes them sticky). Fill the macarons and let them mature in the fridge at least 48 hours prior to eating them.
Cream Cheese Frosting Filling:
1 stick (115 grams) unsalted butter, room temperature
8 ounces (227 grams) cream cheese, room temperature
2 cups (230 grams) powdered sugar, sifted
In bowl of electric mixer, beat the cream cheese and butter, on low speed, until very smooth with no lumps. Gradually add the sifted powdered sugar and beat, on low speed, until fully incorporated and smooth. Pipe or spoon about a tablespoon into the center of each macaron shell and top with another shell.