Ginger Fig Streusel Tarts With Honey Lavender Ice Cream

Thank you guys for toasting Barbara with us in my last post. I know it meant a lot to her and it did to me. (And yes, those were my feet!). It's been a tough journey for her and I often told Bill I'd give my last shirt to get on a plane and try to be of some help (laundry, groceries, you know the drill), crack up some stupid joke or just hold someone's hand. He understands. He also adds that he doesn't like when I travel, saying that I always prepare some good dinners for him to eat while I am gone, I rarely leave dessert. Wrong. Cookies, I always make cookies.
This past weekend however, when I went to Veronica's in Virginia to teach what we now call a Pastry Bootcamp (a nice one), leaving four of these Ginger Fig Streusel Tarts with some Lavender Honey Ice Cream. He ate the coffee-chicory macarons. Go figure. He actually did it (unknowingly) right as we had plenty of the tarts to celebrate our 11th anniversary. Still feels like we are within the first 5 years. Very much loving having such a fantastic partner. Very much digging this whole marriage thing. Very much looking forward to the next 11 by his side.
Teaching Veronica was great fun and even if there was a lot of information shared in a short amount of time, she knows that the pastry course comes with a lifetime warranty and free upgrade to the baking 101 hotline! I am very glad to have a couple tarts left still as it makes catching up with laundry a whole lot easier. Not to mention getting caught up with work a whole lot sweeter!! How can one's inbox get so full in 4 days away?! Even the puppies seem to have grown!

The tarts were inspired from the last dessert we had in Asheville a few weeks ago before getting on the plane. The original was an apricot ginger tart served with a scoop of honey lavender ice cream. I changed it around a bit as apricots here are not fully seasonal and a bit on the bland side and a friend had just dropped figs from her tree. I love figs…It's a childhood thing. It's a childhood story actually but I'd need another three paragraphs so I'll wait for that one!
I could wax poetic about figs for hours (no surprise there) but let's get to the essentials. The crust is a simple pate sablee with a little vanilla bean seed for extra flavor. I know vanilla beans are not cheap and I am lucky to get supplied by my mother but I have to tell you that even 1/4 bean makes a huge difference in a recipe. When it comes to figs, I like them grilled, roasted or fresh so I pretty much left them as they were and layered them with some streusel spiked with crystallized ginger, added a drizzle of honey and hop! in the oven they went. The honey ice cream is just the perfect hint of sweetness and bonus flavor to bring the tarts together. As Bill put it: it's Provence in a tart!

Before I leave you with the recipe, I just want to thank my friends Todd and Diane from White On Rice Couple for kicking off their new feature series, Portrait of A Gourmand by starting with me. I am honored. Gourmande I am that's for sure!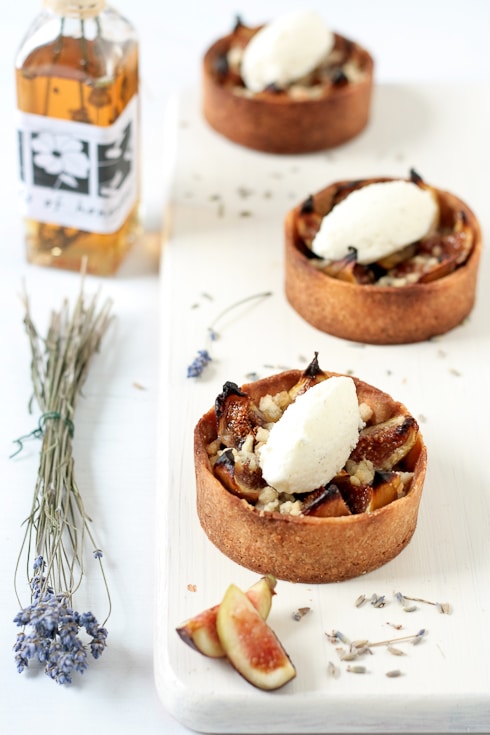 One year ago: Berries and Cream for Bastille Day.
Ginger Fig Streusel Tarts With Lavender Honey Ice Cream:
Makes four 3-inch tarts
For the lavender honey ice cream:
1/2 cup (125ml) lavender honey
4 egg yolks
pinch of salt
1 1/2 cups (375ml) milk
1 1/2 cups (375ml) heavy cream
For the pate sablee:
2 tablespoons (20gr) slivered almonds
1/2 (60gr) cup powdered sugar, unsifted, divided
1/2 stick (56.5gr) unsalted butter, at room temperature
1/4 vanilla bean, seeded
pinch of salt
3/4 cup (90gr) all-purpose flour
1 egg yolk

For the filling:
2 oz (60gr) all purpose flour
2 oz (60gr) sugar
2 oz (60gr) very cold butter, cut into 1/4 inch pieces
2 tablespoons chopped crystallized ginger
12 fresh figs, quartered
4 tablespoons lavender honey (or the one you prefer)
Prepare the ice cream:
In a large bowl, beat the honey and egg yolks until light in color. Heat the milk and cream to a bare boil in a large heavy saucepan. Pour the mixture over the eggs and return the mixture to the saucepan and gently heat (do not boil) until the mixture coats the back of a spoon. Refrigerate for at least 2 hours. Process in your ice cream maker according to the manufacturer's directions
Prepare the pate sablee:
Preheat oven to 350F.
Place almonds and 1 tablespoon powdered sugar in a food processor. Pulse until the nuts are finely ground. In bowl of electric mixer fitted with paddle attachment, cream butter, vanilla bean seeds, ground nuts and salt on medium speed until well-combined. Slowly add remaining powdered sugar and flour and mix well. Add the egg yolk and mix until incorporated. Shape dough into a ball and flatten into a disc. Wrap with plastic wrap and refrigerate for two hours or overnight.
Place the dough in between two sheets of plastic wrap or parchment paper and roll it out to about 1/8-inch thick. Cut out four 5- inch rounds and fit them inside four 3- inch tartlet molds, patting the dough in with your fingertips if it breaks on you as you transfer the rounds. Gather the scraps and set aside.
Prick the dough with a fork and refrigerate 30 minutes.
Preheat the oven to 350F. Place a piece of parchment paper inside the tart shells, fill with beans or pie weights. Bake the shells for 12 to 15 minutes. Let cool on wire racks. Keep the oven running at 350F.
Prepare the filling:
In a large bowl, mix together the flour and sugar. Add the butter and ginger and quickly mix with your fingertips until you get pea sized pieces. Layer 3/4 of the streusel at the bottom of each tart shell. Divide and arrange the quartered figs evenly on top and top with the remaining streusel. Drizzle with the honey and bake an additional 20 minutes or until the streusel is baked and the figs are slightly roasted. Serve with the ice cream.