Farro and Vegetables Stuffed Tomatoes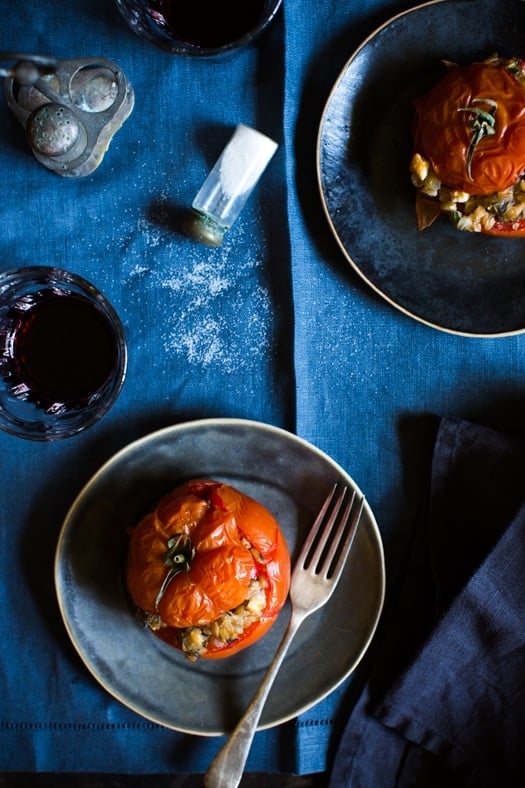 I can't say it's the weather that pushed me to turn the oven on all weekend and bake, roast, braise, etc.. I am not nesting. I am not feeling blue. I just had the urge to crank it full blast in spite of gorgeous skies and a refreshing 85F. Yes. Anything below 95F is refreshing to a Southerner…
I can see hints of Fall peeking here and there. The leaves are slowly changing and the evening bring on a cooler breeze and a sweater. But, we are still in flipflops and tee-shirts during the day. I wore boots once last week and even that was pushing it.
This in-between is actually my favorite part of seasonal transition. I feel I can breathe. The new light cast by the sun is balm to my soul. The cloudless sky, crisp air and lush foliage just get me in the mood for heartier meals and dishes. Even if it's just me and the old pup back at the house.
With the husband gone back to Charleston for a few weeks, I can't sensibly make a large coq au vin, pot roast or lasagna without eating the leftovers for days (unless I have friends over every night)(and I have a thimble sized freezer so I can't portion/freeze/rotate). Instead, I gravitate towards smaller, individual sized portions for most dinners.
My favorite thing to do this time of year and while cooking for one most nights is to make stuffed vegetables. With one simple preparation I can have stuffed onions, tomatoes, zucchini or eggplant comforting me for dinner after a long day on set.


Les Farcis is a cultural institutions in my family. My grandmother was famous for her "petits farcis provencal" filled with ground meat, rice, onions, garlic, lots of basil and thyme. To this day, no one in the family makes them quite like she used to. And no, it's not because of that elusive and often times nostalgic way to remember a grandmother. She had her own way of mixing ingredients in her own proportions in order to create a heavenly balanced dish.
My mom's stuffed vegetables were something else too. Especially the big red peppers. Filled to the rim with a variation on her mom's. I loved stuffed pepper night. They were generously moist, opulent in flavors and big! And I was always intrigued as a child with the idea of putting all of one's meal ingredients (minus dessert) into one big plump vegetable. I thought there was some genius in that.
I just follow in their footsteps by cooking my own variations of stuffed vegetables. When I find them, I use little round zucchinis, known as eight-ball zucchini and fill them with leftover ratatouille and rice or local sausage I find at the farmers market (recipe here). When I am by myself, anything I throw together and stuff a vegetable remains meat free.
This time around, I used farro instead of rice and added a healthy mixed of eggplant, zucchini, onion and fiery hot peppers. A good dose of parsley and time. A little sprinkle of feta right before they went in the oven and I was in business.
The end result was perfect for sightly cooler nights and a simple dinner at home.
Farro And Vegetables Stuffed Tomatoes:
Serves 4.
Ingredients:
8 medium size tomatoes
1 onion, diced
1 eggplant, diced
1 zucchini, diced
3 red hot pepper or one small red bell pepper, seeded and diced
3 garlic cloves, minced
3 tablespoons olive oil
1/2 cup farro
1 tablespoons fresh thyme, chopped
1/3 cup fresh parsley, chopped
1/2 cup feta
Directions:
Cut the tomatoes top off. Scoop out the pulp and reserve for later. Place the tomatoes in a large baking dish.
In a large skillet set over medium heat, heat 2 tablespoons of olive oil. Add the onion and eggplant. Sautee for about 5 minutes. Add the zucchini and cook for another 5 minutes.Add the peppers, garlic and reserved tomato and cook for another 5 minutes.
Meanwhile, place the farro in 2 cups boiling water. Reduce the heat and simmer, uncovered until the water is absorbed.
Preheat the oven to 375F.
When the farro is cooked, add it to the vegetable mixture and stir. Add the thyme and parsley. Remove from the heat and let cool slightly.
Feel the hollowed tomatoes with that mixture, sprinkle with the feta. Drizzle with the remaining olive oil and bake for about 30-40 minutes. Serve warm or room temperature with a simple green salad.