Asheville Trip To Foodtopia – Part II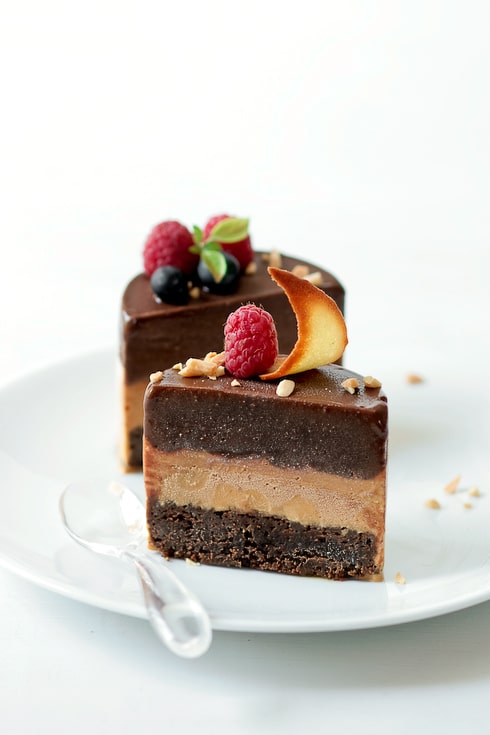 Day two of our trip in Asheville had us move around a bit less but was just as intense, keeping us on our toes until bedtime. Or was it until we all rolled, stumbled, fell, crashed on our beds?! Ha! Yes, we can blame it on all the tasty wines, succulent dishes, intense Iron Chef competition, culminating with an outstanding dinner at Horizons in The Grove Park Inn.
The 4 Diamond restaurant gathered us around one of the best meals I have had in my life, ending in the most perfect sweet note: a chocolate and caramel tasting executed by Pastry Chef Laura Bogard. Before I could even ask our hosts if Laura would be kind enough to share a couple of the recipes, I was graciously handed a print out of all the components of our plate. Once back home in SC, I decided to put my own spin on it and make this Chocolate Torte topped with Caramel Ice Cream and Chocolate Sorbet, inspired by that evening. But let's talk about the day first…
We started with a visit to Sunburst Trout Farm outside of Asheville. I was really looking forward to it for the simple reasons that I used to go trout fishing all the time as a kid and I fully support trout farming when done with sound ecological practices. I was thrilled to meet Sally, her family and her staff after I had read more about them and their operation. They confirmed every thought I had already formed in my head: happy trout, careful workers, quality products.

Before meddling with the trout we were treated to a scrumptious breakfast smorgasbord of trout dishes, carefully prepared by their research and development chef, Charles Hudson. Trout dip, trout omelette, trout gravy and biscuits, hot smoked, cold smoked…you name it, we probably had it. All accompanied by fresh and pickled vegetables from the chef's garden. A feast. We had to draw the line and think about the next round of food aventures and skip lunch.
Food bloggers skipping lunch? Ah yes. We had to keep ourselves sharp and moveable for what was awaiting us next. A full blown, very serious and incredibly fun CSA Mystery Box Iron Chef Competition held at AB-Tech Culinary Arts Center. If I were a student looking for a culinary college, I would, hands down, apply there first. Everything there is made to teach and practice without being stale or stuffy. Me? I was trying to contain that beaming smile of being back on the familiar grounds of a professional kitchen.
I wish I could have combined my two loves of cooking and photographing but I was about to get my hands chopping and my apron dirty. Diane of White On Rice Couple was our full-on photography journalist that day so I will be sure to update you when they post about it. We all had such a blast that I can't wait to see it in pictures!
Each blogger was paired with a local chef to create two courses using the content of CSA boxes provided by The Appalachian Sustainable Agricultural Project, as well as the trout we had filleted that morning and extra ingredients provided by Blue Ridge Food Ventures (love that project – please take the time to click) and our own chefs.
Right photo courtesy of Diane at White On Rice Couple.
Meet Team France! Yes. Could there have been a better pairing than this? I think not! Indeed, I was teaming up with Chef Michel Baudoin, owner and chef of Bouchon . I have to say that the first thing I told Dodie was "Oh sh!t (!) you know that two French chefs competing together is more explosive than them competing against each other, right?!" She mentioned Michel had a similar reaction, eheh. Ah yes, that's us French peeps. Bill says we take out our swords first and talk later. Very right. But in this case, very wrong.

We had a blast! Talking and yapping away in French. Chopping and dicing while coming up with our competition dishes. We were supposed to make only two dishes, but I guess you will not be surprised to hear that we made three. See! It's not only me during Daring Bakers challenges! It's genetic!! We started off with a fennel and zucchini tart, topped off with chorizo crumbles. Our main course was a Sunburst trout fillet stuffed with local goat cheese, baby turnip filled with purple potato puree. (picture here)
Michel is so low key and humble, I just had the greatest time cooking with him and talking about our experiences with food, cultures, restaurants, etc…I previously had dinner at Bouchon a few years ago and I am looking forward to returning to Asheville just for that!
Dessert was my grandmother's vanilla apple compote served with pecan shortbread cookies. My biggest fear was this item. Seriously. Baking without measuring or weighing, mixing everything while eye balling and feeling the dough. I think I had a couple of shots of moonshine brought over by Todd's chef while the cookies were baking! Turns out that everyone raved about that simple, homey dessert and it even earned us an extra five points. We still lost by 1/2 point though while Alison and Chef Annie Pettry took the high honors of the day.

It was an intense competition but with such great spirited and talented chefs that even if we were feeling it in our gambettes (legs), we still had enough of an adrenaline high to carry on with dinner planned at The Grove Park Inn's Horizons restaurant, Horizons.
We started off by a round of cocktails (check out Jaden's post about her tasty Xanadu libation) and appetizers which got their beauty shot courtesy of Todd.

I did take pictures from that dinner but let's recap my physical state at this poing: late breakfast + cooking competition + a few nibbles of the finished dishes + moonshine + wine + cocktails + outstanding dishes + wine pairings + sake tasting = one very fuzzy sets of pics. Love that Bill knows me so well that he immediately asked the next day whether I had behaved. I think I did 🙂
Aren't you lucky I don't have all the words, the right words to describe how outstanding this dinner was?! I mean just look at that menu and sigh. I am! Thank you Jeff and Kevin for the superb setting and organization, you can be proud of the team you have cooking for your guests. Seriously, and I am not saying that because I never saw the check, this was one of the best meals of my life. Everything so fresh, sourced locally as much as possible, and executed with such perfection by Chef Duane Fernandes and his staff that I finished each- and- everyone- of- my- plates- OMG- I still- can't- believe- I did this! And the wines…I want to do it all over again but with just the wines! Ok, maybe not…because there is a seriously tempting dessert tray to talk about.

Chocolate almond torte, chocolate sorbet, chocolate and caramel pudding and caramel ice cream and malt shakes. So happy to see I am not the only one thinking mini milkshakes are cool (see DB challenge)! I admit, while deep with both chocolate and caramel flavors, the pudding is the only item I left on the plate after sampling a few bites (research people, it's all research). I did wish for a groundhog day type situation in which that chocolate torte, chocolate sorbet and caramel ice cream would just keep on appearing before my eyes and plate. This good. I have not even been really in the mood for chocolate lately but after making this at home, it is all I can see!!
Soft, luscious, powerful, smooth, intense. I took the three elements I loved the most about our dessert sampler that night and combined them in this entremet, starting with the chocolate torte as the base and then topped off with the caramel ice cream and chocolate sorbet. I made six. We had 2. That's four more for me if I find a way to sneak around Bill. I hope it convinces you to try all three together or separately. It was hard to keep the caramel ice cream around long enough to have any left to fill the cake rings!
Are you still with me for Day 3 and 4 and a couple more exquisite recipes from the chefs of Asheville? Sure hope so!

Have a wonderful 4th of July!

Chocolate Torte, Caramel Ice Cream and Chocolate Sorbet:
For the chocolate torte:
10 oz (300gr) chocolate
8 oz (230gr) unsalted butter, at room temperature
6 eggs
3/4 cup (150gr) sugar
1/2 tsp vanilla
2 tablespoons (15gr) flour
3/4 cup (70gr)finely ground almonds
1/2 teaspoon espresso
1/4 teaspoon almond extract
For the Caramel Ice Cream:
1 1/2 cups (300gr) sugar
1 teaspoon honey
1/2 cup (125ml) water
1 quart (1L) half and half
or 2 cups whole milk + 2 cups heavy cream
12 egg yolks
1 1/2 teaspoon vanilla
3/4 teaspoon salt

For the chocolate sorbet:
2 1/2 cups (625ml) water, divided
1 cup (200gr) sugar
3/4 cup (65gr) cocoa powder
8 oz (240gr) dark chocolate
1/2 teaspoon vanilla
Prepare the chocolate torte:
Preheat oven to 350F and position a rack in the middle. Line a quarter sheet pan with parchment paper and set aside.
In a large bowl set over a pot of simmering water, melt together the chocolate and butter. Remove from the heat and let cool to room temperature.
In a stand mixer (or with hand held beaters), whisk the eggs and sugar on medium speed until slightly thickened. Add the vanilla. Turn the speed to low and add the chocolate mixture and whip for a minute. Still on low speed, add the rest of the ingredients. Beat one minute until everything is incorporated.
Spread the batter on the prepared sheet pan and bake for 20-30 minutes or unti the center is just set.
Let cool completely.
Prepare the caramel ice cream:
In a heavy saucepan, set over high heat, stir together the sugar, honey, and water and cook to a dark amber caramel. Slowly add 2 cups of half and half and return to a boil, stirring to dissolve all the caramel bits. Slowly add the remaining 2 cups of half and half and return to a boil.
In a large bowl, whisk the egg yokls to break them up and slowly pour the hot caramel mixture over them to temper. Pour the content of the bowl back in the saucepan and cook over medium low heat until it coats the back of a spoon. Remove from the heat, add the vanilla and salt and stir until dissolved.
Let cool completely, refrigerate until cold.
Process in an ice cream machine according to manufacturer's instructions.
Prepare the chocolate sorbet:
In a heavy saucepan set over medium high heat, stir together 1 1/2 cups water, sugar, cocoa, and a pinch of salt. Bring to boil, turn the heat down and simmer for a minute. Remove from the heat. Stir in the remainin 1 cup of water, chocolate and vanilla. Let stand for a minute. Whisk the mixture thoroughly to make sure that everything is incorporated and smooth.
Let cool completely. Refrigerate until cold before processing in your ice cream machine according to manufacturer's instructions.
To assemble:
Line six 3-inch round cake rings with acetate or platic cover sheets and place them on a parchment paper line baking sheet. Cut out six 3-inch rounds in the chocolate torte and place them inside the prepared cake rings. Divide the caramel ice cream and chocolate sorbet evenly in between the cake rings. Freeze until solid.
I topped the cakes with fresh berries and tuiles made out leftover frangipane from the last Daring Bakers Challenge.