Chocolate & Hazelnut Meringue Cake

Thank you guys so much for playing the game the other day and giving me great suggestions for B's birthday cake. He was a bit shocked I did not have any of my own – the truth is I had too many and after staring at them for a few days, none seemed that fun anymore! And, I really like when we can all share, communicate, participate.
As you can guess, B's cake had plenty of chocolate, eggs, sugar and nuts…Which one did I/we pick? EP's Chocolate and Hazelnut Meringue Cake from Martha Stewart ended up stealing the show. Congratulations on winning the "Artisan Breads At Home". You are going to love this book!

How did I pick? Actually I ended involving B. a little in the process as I noticed after 50 or so comments that I was slightly putting in the "maybe" or "no sure" columns flavors, desserts, ideas that he could picked if given the chance. It was his birthday after all. And I have known in the 13 years we have been together that I should never expect anything if only be surprised.
We sat down and I asked him for key words that would help me narrow down the winning suggestion. Here were his specs: chocolate, nuts, crunchy – creamy, gluten free so I would not have to worry about adapting (go ahead, insert "awwww" right here!). I read everyone of your comments and put a star next to the ones that fit his criteria then I went back and had him look them over, one by one and pick his top three.

You guessed it, I didn't want to spoil the element of surprise completely. Yes. It turned out into a day 100% tuned into him and I am happy for it. This year has been nothing but tranquil for us and he deserves every bit of "you you you you you" that I could give him. And I am glad you indulged me in this rather fun and chocolatey quest.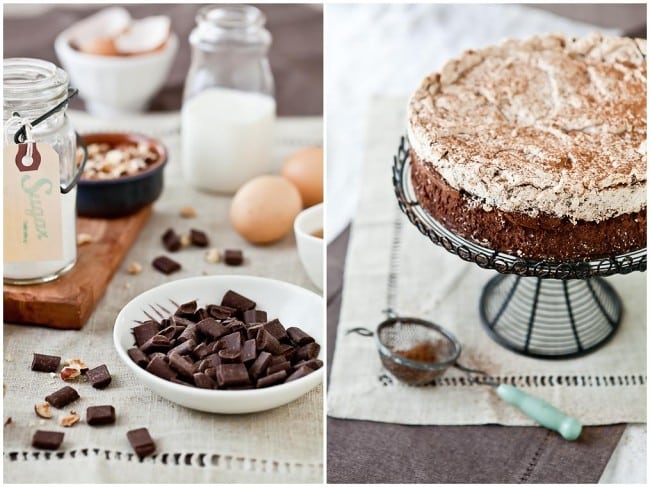 That cake is sublime! flourless, creamy, complex and yet not so rich that you have to stop after one bite – more like control yourself not to want it for dessert at every meal! Granted we invited plenty of friends to share with us so the slices were small but I have to say, sneaking in the kitchen passed midnight and sharing a slice with a cold glass of milk after everyone had gone home was pretty much the "ahhhhhh" moment of the day.

The combination of the deep flavors of the cake (I added espresso to the batter instead of vanilla extract) with the meringue was exactly what he asked for. Because we have been heat indexes hovering around the 115F-120F and high humidity, I cooked the meringue topping longer than what the recipe called for to make sure it would not end up in complete puddle of goo when the time to serve it came about. It worked perfectly and yielded the right amount of crunch and softness after standing for a few hours. Like macarons, this cake only tastes better after 24 hours.
Speaking about cake and chocolate, how about doing a little French Word A Week on chocolate cake while we are at it? So, here it is: click on Gateau Au Chocolat to hear its pronunciation.
Thanks everyone for playing along! Have a great weekend everyone!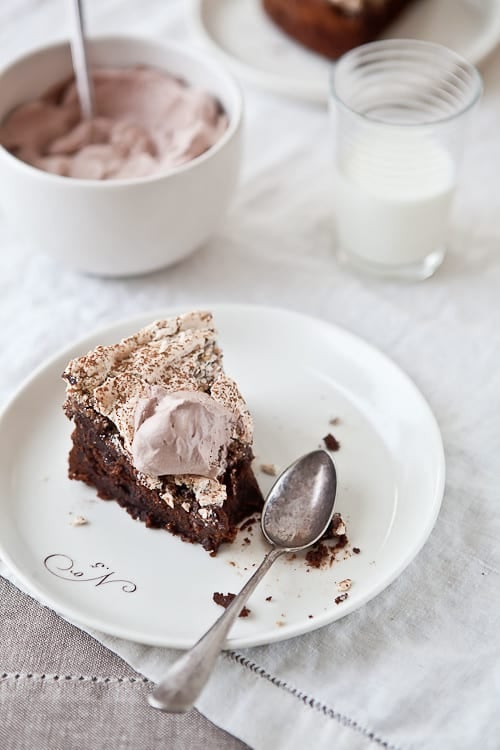 Chocolate and Hazelnut Meringue Cake, adapted from Martha Stewart.
Makes one 9-inch cake
Notes:
– Now is not the time to use the cheap-o chocolate. Get the best quality bittersweet chocolate you can find as it is the star of the recipe. (Guittard, Callebaut, Valrhona, El Rey, Scharffen Berger, etc…)
– To toast the hazelnuts, preheat oven to 350F and spread the nuts in a single layer on a baking sheet. Bake 10 to 15 minutes until golden brown.
– To skin the nuts without driving yourself crazy, place them in a mesh bag (like a recycled orange or lemon bag) and rub the nuts between your hand over the sink. The skins will fall and only the "naked" nuts will remain in your bag.
– The cake at room temperature is excellent but served really cold, it becomes even fudgier and the meringue gives slightly under your tooth like a soft pavlova. Brilliant!
For the cake:
10 tablespoons unsalted butter, plus more for pan
3/4 cup firmly packed light-brown sugar
6 large whole eggs, separated
12 ounces bittersweet chocolate, melted and cooled
1 1/2 tablespoons espresso (or vanilla)
1 1/2 tablespoons rum (optional)(not with us!)
1/4 teaspoon salt
For the meringue:
4 ounces bittersweet chocolate, roughly chopped (1 cup)
1 cup hazelnuts (about 4 ounces), toasted and skinned (see notes)and roughly chopped
1 tablespoon cornstarch
4 large egg whites
3/4 cup sugar
Prepare the cake:
Preheat oven to 350 degrees. Butter a 9-by-3-inch springform pan. Line bottom with parchment paper. Butter parchment and set aside.
In the bowl of an electric mixer fitted with the paddle attachment, whip the butter and brown sugar until pale and smooth at medium speed, about 3 minutes. Add egg yolks, one at a time, beating well after each addition and scraping the bottom and sides of your bowl if necessary. Add the melted chocolate, espresso (or vanilla), rum, if using, and salt. Beat until combined. Transfer to a clean bowl and wash your mixing bowl thoroughly.
In a clean mixer bowl fitted the whisk attachment, beat the 6 egg whites on high speed until soft peaks form, about 2 minutes. Fold one-third of the egg whites into chocolate mixture. Fold in remaining egg whites and pour batter into prepared pan, and bake 25 minutes.
Prepare the meringue:
Combine the chopped chocolate, nuts and cornstarch in a small bowl, and set aside. Place remaining 4 egg whites in a clean mixer bowl fitted with the whisk attachment, beat on high speed until frothy. With the mixer running, slowly add the sugar and continue beating until stiff peaks form, about 8 minutes. Fold in hazelnut mixture.
Assemble and Finish:
Remove cake from oven. Using a large offset spatula, spread meringue mixture on top of cake using as little strokes as possible not to deflate the meringue, and return to oven. Bake until meringue is lightly browned and crisp, 25 to 30 minutes. Transfer pan to a wire rack; let stand 10 minutes. Run a knife around the edge of the cake to loosen, and release sides of pan. Let cool, about 30 minutes, before slicing and serving.
————————————————————————————
Some inquiring minds asked so here is a short prop list.
– Plates: the ever fabulous Asya from Gleena.
– glasses and little bottles (they are bud vases actually): Wal-Mart.
– paper straws from Bake It Pretty.
– silverware, glass jar and linens: vintage from a little shop in town.
– candles: gift from my friend Jen from Use Real Butter (I think she got them at Peppercorn in downtown Boulder).
– wire cake stand and green handled strainer from etsy.