Bananas Foster Tartelettes & A Giveaway

I like to think I am fairly organized. I mean, there is logic to whatever battle is taking place on my desk. Or in my head. Like most of us, I get pretty psyched about being a step ahead and I was darn happy for having posts in drafts right before I left for BlogHer food in San Francisco. David says he has 40 stories or so in drafts at all times. I giggle when I have one ahead of the game. I am however excited when "the" one is these Bananas Foster Tartelettes. Things got busy then and things got busier this week but these were too good to wait any longer to post.
Whenever I travel, I try to leave a few easy things for B. to reheat for dinner knowing too well he'd end up eating at his parents or be invited here and there. He tends to skip meals when there is no one to call him to the table. I know he can boil water for pasta. I've seen it. I even happen to know he can make awesome steamed clams.
This time was no different as I labeled containers of food and even took him on a guided tour of the fridge and pantry. It's just not his thing. I was tempted to post-it the entire house but refrained. However, as previously mentioned, his eyes got stuck on all the desserts left on top shelf from my zealous attempt at getting prepared. This is his thing.

After describing what the tarts were made of, he exclaimed "oh! Kind of like bananas foster without the fire flambéing action!" Precisely. We tend to have a surplus of bananas in the house, and after making banana donuts last month, I still had plenty to use up, hence the tarts (and a few loaves of banana nut bread).
The tarts start with a crispy shortbread base and are filled with a hazelnut and almond frangipane before being topped with fresh banana slices and a (generous) drizzle of salted butter caramel sauce. I am all over banana and nuts and I am all over salted butter anything, so the combination was pretty much a no brainer. However, it all came together out of the necessity to use all the tidbits ingredients in the fridge, pantry and freezer.
I had leftover shortbread dough in the freezer from a previous tart making day as well as a jar of salted butter caramel sauce, a handful each almonds and hazelnuts in the pantry, a knob of butter and a tiny bit of cream in the fridge. And of course a good many banana giving me the sweet eye.
As I have said before, I hate waste. Having worked in a restaurant kitchen for many year, I pretty much nailed down the recycling issue. If you don't recycle, re-use or force yourself to use items bought on a whim, you are likely to drive your place to the pits. I have the same mentality when it comes to the kitchen. Being on a tight budget, I can't allow us to waste, even less impulse buy certain items. Everything these days is budgeted, accounted for and used to the max. More than ever before I am aware of what I have. Time, the ability to cook, develop recipes, a wonderful mother- in -law who unexpectedly drops by with supplies, etc…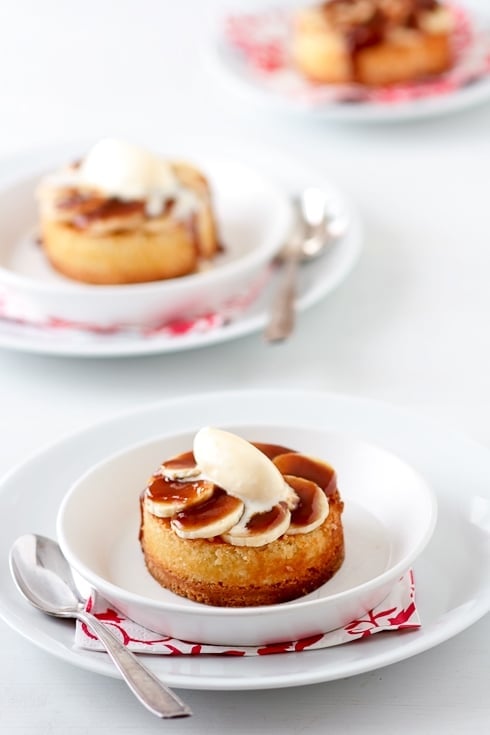 Some of us are not that lucky. I do my best but some can't. In that spirit, I really like what Macy is doing in their campaign Come Together to fight hunger to raise awareness and money to feed 10 million of people suffering from hunger, and they will match donation dollar for dollar.
When Macy's got in touch to spread the word last week, I immediately agreed. There are 3 different ways you can get involved in this great campaign:
1) You can host dinner parties and ask that instead of bringing traditional host gifts, guests make a donation to Feeding America.
2) You can donate $1 directly at any Macy's register, one dollar provides dinner for seven.
3) You can shop at any Macy's and get special savings in-store on October 17 (today). A portion of the $5 in-store ticket sales will benefit Feeding America.
Macy's also provided me with two $25 gift certificates to give to my readers. All you have to do is leave a comment (multiple entry will automatically be deleted) before Tuesday october 20th midnight eastern time, for a chance to win. My better half will select the winners at random from the comments left on this post. Even if Macy's does not ship internationally nor has stores outside the US, everyone can enter. You can always use the gift certificate to do your Christmas shopping for friends or family here and continue to spread some good spirit.
Good luck!

Bananas Foster Tartelettes:
Serves 8
Sable Dough:
1 stick (113 gr) butter, at room temperature
3/4 cup (95 gr) powdered sugar (unsifted)
1 large egg
1 1 /2 cups (190gr) all purpose flour
2 tablespoons (20 gr) cornstarch
pinch of salt
For the almond-hazelnut frangipane filling:
1 stick (115 gr) butter, softened
½ cup (100 gr) granulated sugar
½ cup (50 gr) ground almonds
½ cup (50gr) ground hazelnuts
seeds from half a vanilla bean or 2 teaspoons vanilla paste or extract
2 eggs
1/4 cup (60gr) heavy cream
Remaining ingredients:
3-4 bananas, thinly sliced
Salted butter Caramel sauce
Vanilla Ice Cream
Prepare the shortbread rounds:
In a stand mixer fitted with the paddle attachment, whip the butter and sugar together until light and fluffy on medium speed, 2-3 minutes. Add the egg and mix until combined. Add the flour, cornstarch and salt and mix briefly to incorporate. Dump the whole mixture onto a lightly floured board and gather the dough into a smooth ball. Do not work the dough while in the mixer or it will toughen up. Flatten the dough into a disk, wrap it in plastic wrap and refrigerate for an hour.
You will need half the amount of dough to make the tartelettes. The other half can be kept in the fridge for up to 5 days or frozen, well wrapped for up to 3 months.
Preheat the oven to 350F and position a rack in the middle. Line a baking sheet with parchment paper. Set aside.
When the dough is nice and cold, roll it out on a lightly floured board or in between sheets of plastic wrap to about ¼ -inch thick. Cut out eight 3-inch rounds with a pastry ring or cookie cutter. Place them on the prepared baking sheet and bake for 8-10 minutes. Let cool.
Prepare the filling:
Place the butter, sugar, ground nuts, vanilla bean seeds and the eggs in a large bowl and whisk until smooth (can also be done in a food processor). Add the cream but stir in it instead of whisking to prevent emulsifying it or it will rise while baking. Refrigerate for 30 minutes. Place 8 baked rounds of dough in 8 pastry rings of the same dimension, divide the cream evenly among the rings and bake 20 minutes at 350F. Let cool. Once cooled, remove the tarts from the rings and arrange the banana slices decoratively on top, drizzle the caramel sauce on top. Serve with vanilla ice cream if desired.