Apricot Almond Tart – Tarte Abricots Amandes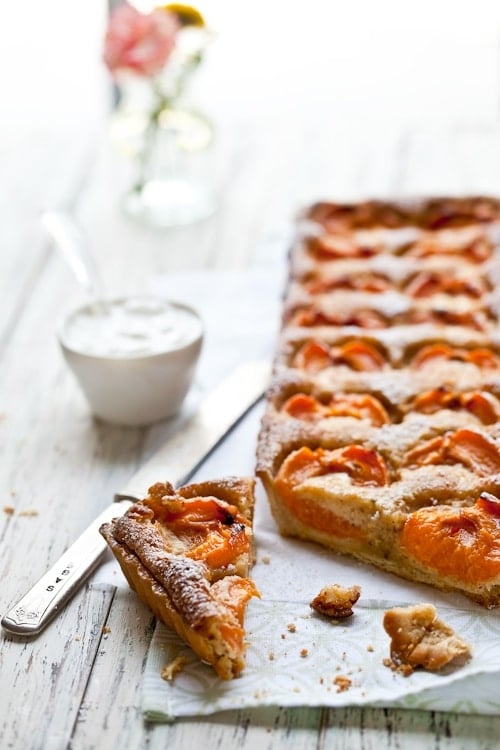 I have started this post about five or six times and erased them all. I have no idea how emotional I am going to get writing this but here goes. There would not be an Apricot and Almond Tart in my life without my grandmother, Mamie Paulette. There would not be a lot of things in the way I work, live, eat and breathe without my grandmother (beside the obvious being born thing). She did not teach me how to cook or bake but she certainly gave me the basics of what restaurant kitchens would finess years later.
I have talked about her and my grandfather many times before. My grandparents were married 71 years before my grandmother passed away and would have celebrated their 76th anniversary this year. They are truly the glue to our whole family. As my grandfather reaches 100 years old this year, I feel the glue getting more fragile than ever. It's just good old (and stupid) family dynamics but remembering my grandparents through writing and posts is my way of keeping things together in my mind.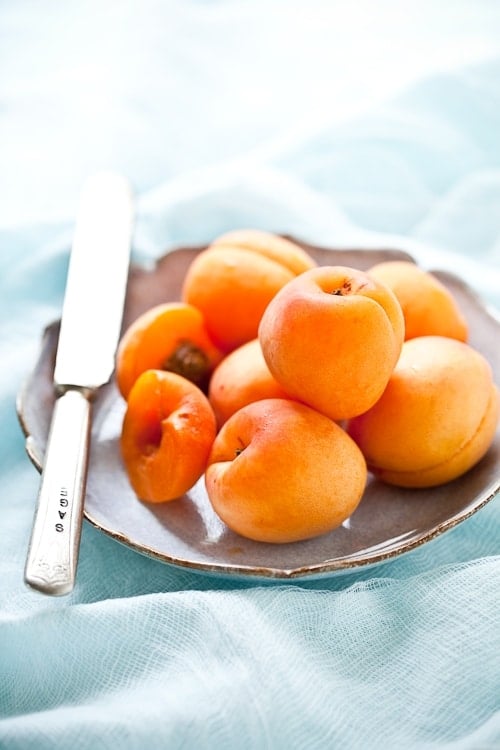 Nearly every Sunday, you can bet that there was family visiting, an unplanned lunch and table setting growing by the minute, followed by an afternoon watching the French tennis open, a soccer game or a Formula 1 race. Mamie Paulette loved to get people together and just visit, chill, laugh and have a good time. I inherited that trait from her by doing the same thing here with our friends here. And just like my grandmother I don't really care about how crazy the day can be or how much it can rain as long as there is a ray of sunshine.
I know she would have loved it here.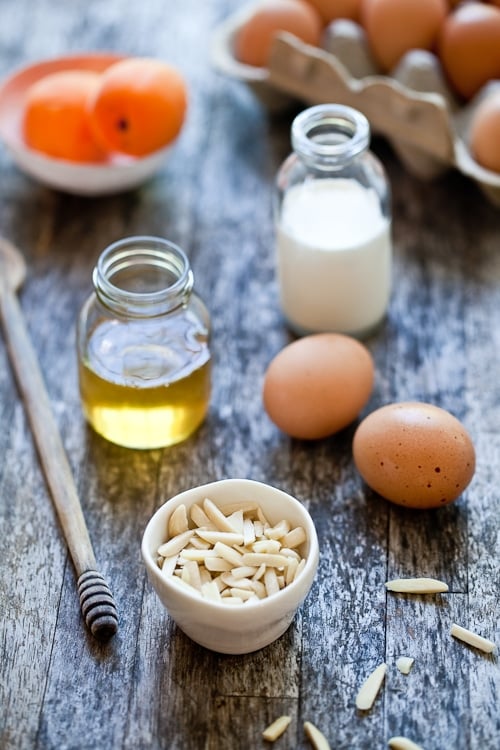 When friends of ours living on an island nearby stopped by the house with a couple of handfuls of perfectly ripe and juicy apricots, I knew exactly what would become of their fate. The first apricot almond tart of the season! One we could all share together around a tall glass of iced tea, complaining talking about our families.
There is nothing complicated or fancy about this tart. A simple crust filled with an almond cream and topped with deliciously ripe apricots. A drizzle of honey, some time in the oven, a couple of friends and you'll want to make the hours slow down for a long while. What I love about it is that any stone fruit will work perfectly well with it and you will still get the same tingle down your toes as you bite into it. Plums, peaches, mirabelles, nectarines, etc…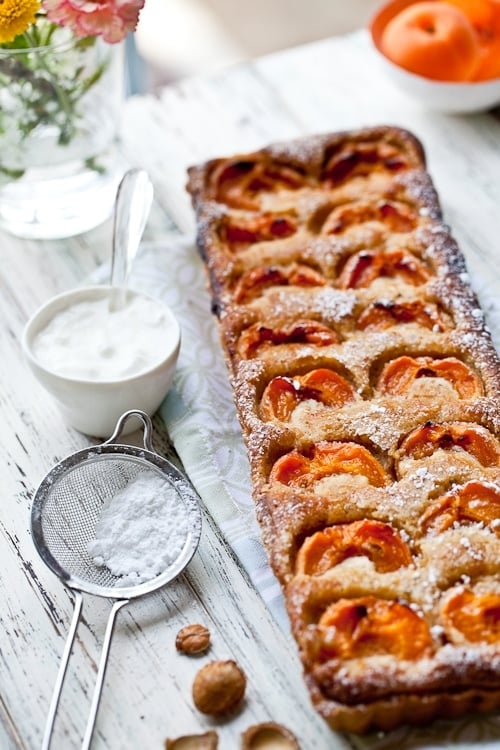 Come to think of it, any fruit will work with this tart! More reasons to make it throughout the year and gather friends and family on a sunny afternoon.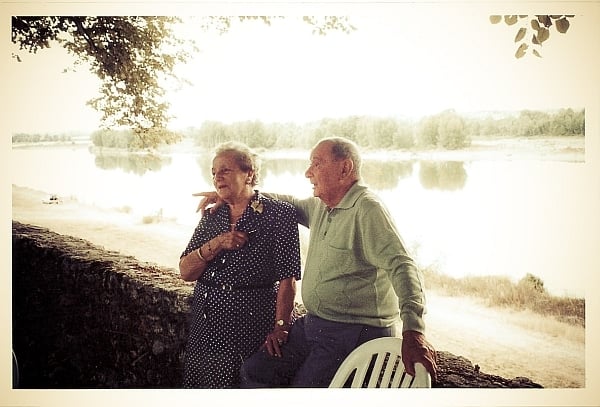 Apricot and Almond Tart:
Serves 6 to 8
Notes: if you are not baking gluten free, replace the rice, millet, sorghum flours and cornstarch with 1.5 cups of all purpose flour and omit the xanthan gum.
For the crust:
5 tablespoons (70gr) unsalted butter, at room temperature
3 egg yolks
pinch salt
1/2 cup (80gr) superfine sweet white rice flour
1/2 cup (60gr) millet flour
1/4 cup (30gr) sorghum flour
1/4 cup (40gr) corn starch
1/2 teaspoon xanthan gum
2 tablespoons to 1/4 cup cold water (optional if the dough seems too dry)
For the filling:
1 stick (115 gr) butter, softened
1/3 cup (115gr) honey
1 cup (100 gr) ground almonds (blanched, slivered, whole, your call)
2 eggs
1/4 cup (60gr) heavy cream
8-10 apricots, halved and pitted
Prepare the crust:
In a mixer, whip the butter on medium speed until light and airy. Add the egg yolks, one at a time and beating well after each addition. Mix until incorporated. Add the salt, and all the different flours, and the xantham gum and mix briefly. Add some water, one tablespoon at a time if the dough feels too dry. Dump the whole mixture onto a lightly floured (use more rice flour) board and gather the dough into a smooth ball. Flatten the dough into a disk, wrap it in plastic wrap and refrigerate for an hour.
Preheat oven to 350F and position a rack in the center.
When the dough is nice and cold, roll it out on a lightly floured board or in between two sheets of plastic to fit your prefered pie pan. If the dough tears while you roll or/and transfer into the pan, just patch it with your fingertips. Line the dough with a piece of parchment paper, fill with pie weights or dy beans and par bake for 10-15 minutes until almost completely baked. Remove the weights and parchment paper. At this point you can refrigerate the baked crust for up to 3 days before using.
Prepare the almond filling:
Place the butter, honey, ground almonds, and the eggs in a large bowl and whisk until smooth (can also be done in a food processor). Add the cream but stir in it instead of whisking not to emulsify it or it will rise while baking.
Arrange the apricots halves at the bottom of the pie crust and pour the cream over them. Bake 25-30 minutes at 350F. Drizzle with a bit of extra honey if desired when still warm.
————————————————————————————
Tarte Abricots Amandes:
Pour la pate:
70gr beurre mou, non sale
3 jaunes d'oeuf
pincee de sel
80gr farine de riz
60gr farine de millet
30gr farine de sorghum
40gr de maizena
(ou de 210gr de farine blanche)
1/2 cc de gomme de xantham
Pour la creme aux amandes:
115gr beurre non sale, a temperature ambiante
115gr de miel
100gr d'amandes en poudre
60gr de creme entiere liquide
8 a 10 abricots, coupes en deux et denoyauttes.
Preparer la pate:
Dans le bol d'un mixer, battez le beurre pendant 1 minute. Ajoutez les jaunes d'oeufs un a un, tout en melangeant bien apres chaque jaune. Ajoutez le sel et les farines sans gluten, le sel et la gomme de xantham. Melangez brievement et verzes le contenu sur un plan de travail. Ramassez en boule et metter au refrigerateur pendant une heure.
Prechauffez le four a 180C et positionnez une plaque au milieu.
Etalez la pate sur un plan de travail legerement farine (farine sans gluten de preference), ou entre deux feuilles de papier sulfurise. Foncez en un plat a tarte, mettre une feuille de papier sulfurise dans le fond, et des pois/riz. Faire pre-cuire 10-15 minutes. Sortez la tarte du four et laissez refroidir.
Preparer la creme:
Dans un grand bol, melanger le beurre, le miel et les amandes en poudre. Ajouter les oeufs et melanger bien. Ajouter la creme et ne pas melanger longtemps ou la garniture gonflerait trop pendant la cuisson.
Positionner les abricots dans le fond de la tarte et verser la creme aux amandes. Cuire 2530 minutes at 180C.