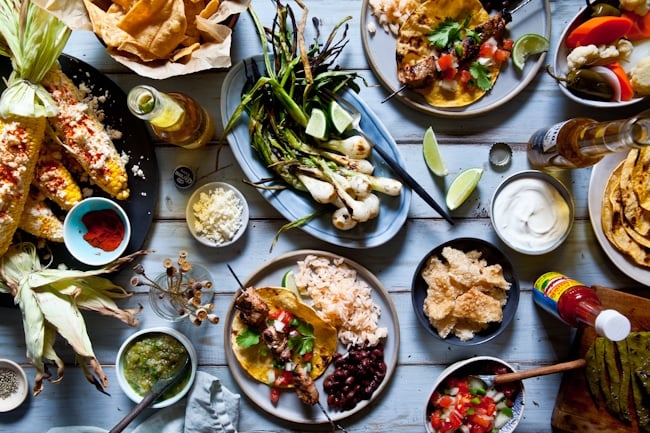 I rarely think about doing holiday posts, well maybe except for Christmas or New Year and it wasn't until last week that I was editing these pictures that I realized I was going to post close or on Cinco de Mayo. However, holiday aside, this is a feast with friends I would do over in a heartbeat!
Nathan and I got together for another Sunday Play Day in the kitchen and behind the camera. Our idea was to cook and shoot a big feast, a meal that we would both serve to friends or cook with them. I can't recall how we got to the Mexican theme however but sure is pretty fitting now!
Mojo marinated pork skewers in soft corn taco shells, salsa verde, pico de gallo, grilled baby onions, spicy pickled veggies, elote, rice and beans, grilled nopales were on the menu!
What I love about this meal is that each part comes together rather quickly even with its multicomponent aspect. Some elements can be bough ahead of time instead of trying to make them yourselves. For example, the soft tacos that we ended up grilling, as well as the chicharrones, were purchased at a local Mexican market, along with the tortilla chips and spicy pickled vegetables.
We got caught up in the festive mood of our shoot and added a Watermelon Margarita cocktail at the last minute. It was actually really nice to have an afternoon of nibbling and sipping cocktails while shooting and creating images with the light, colors and composition that we wanted. I think all of our play days so far have included a cocktail and we don't plan on changing that!!
Cinco de Mayo or not, this Mexican orientated spread will make an an appearance many times over on my table this summer. Round up the meal with the flourless chocolate cake I posted recently and you are sure to make people belly happy!!