Pomegranate Hibiscus Tea & Honey Ginger Yogurt Verrines – A Virtual Hug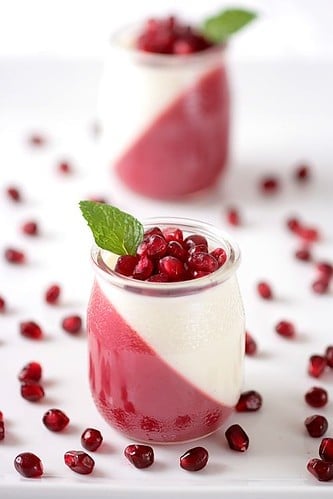 I play well with food. We get along nicely.
I can twirl it around, bake it, cut it, stretch it, play it up, play it down.
We spend many hours together everyday. Swishing sounds of the whisk play with the silence of my thoughts.
We do get along well. Sometimes though I wish I weren't alone in the kitchen.
Peeling fruit, brewing tea. Impatiently waiting for that drop of honey to fall from the spoon. Sometimes I wish I had Barbara with me in the kitchen.
I know she would sit on the vintage stool by the counter. For about 5 minutes before heading in there with me.
I know she would pour us a glass of wine while helping me pick the buttercream from my cheek
Like she virtually wiped the tears from my heart last year when I lost someone I had never met but already loved.
She would remind me to dance even if only in my head.
In fact I believe she'd turn the radio louder and we'd dance right in the middle of spun sugar and flour clouds.
Then we would fall loudly on the sofa and laugh…and hug.
Barbara needs and deserves all the hugs she can get right now as she is undergoing yet another round of chemo and being the Lady that she is, she remains quiet and private about it. However Bron and Ilva started thinking that it was about time we got vocal about this wonderful woman and tell her how much we care, love and want to be there, right next to her fighthing that nasty disease. A secret email for a special person and you know me….when there is some cancer butt kicking…I am there!
I don't have to touch to know. I don't have to see to understand. Barbara is around. She has worked her magic in so many of us. Time to say "thank you" and "we love you"…..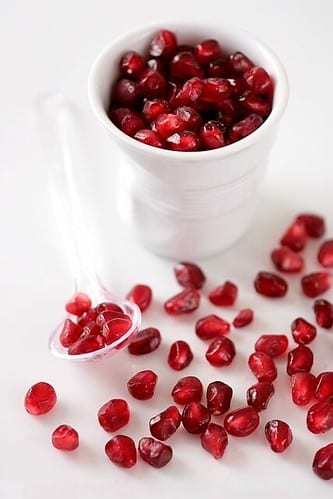 You can imagine that if I am calling her attention here while she is on chemo, it would be difficult to stomach seeing buttercream ladden cakes (nothing wrong with that usually) or sticky sweet creations (nothing wrong with that usually either). Keeping that in mind I decided to concentrate "good for you" flavors in a glass, also called verrine and have a little fun with the presentation. Since recreating Pierre Herme's Sensation Satine last year, I admit that I have a fondness of geometrically challenged mousses or jelly set in glass. Seriously, doesn't that look like fun?
I know that Barbara loves pink and has a fondness for travels and exotic locales so I wanted to make her travel a bit without much effort right now. I made some hibiscus tea that B. had brought back from Egypt and mixed it with some pomegranate juice, turned the mixture into a jelly and once set I topped it off with some Greek yogurt flavored with some honey and ginger. The yogurt mixture is turned into a jelly also for the sole purpose of consistency continuity. I tried it just spooned on top of the jelly and also as made here and it worked much better as a jelly for spooning and eating with the tea part but feel free to experiment to your own liking.
Did you see those macarons sneaking up next to that dessert? Couldn't help it! The pomegranate seeds look like little jewel gems to me and I couldn't help pairing them with macaron (eye) candy so I when I was making some to take as a hostess gift, I also colored some of the batter and filled them with buttercream and added a seed in the middle and a seed on top. Macarons are indeed perfect little hugs of sweetness.
Love you Barbara!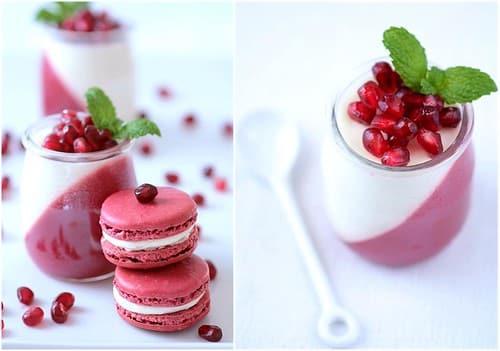 Pomegranate Hibiscus Tea and Honey Ginger Yogurt Verrines:
Makes 6 servings
For the tea jelly:
1 1/2 cups brewed hibiscus tea
1/2 cup pomegranate juice
2 tablespoons sugar
1 tablespoon powdered gelatin
1/4 cup cold water
1 tablespoon lemon zest
Pour the water into a small container, sprinkle the gelatin over it and set aside. In small saucepan set over medium high, heat together the tea and juice, and the sugar until the sugar is dissolved. Add the lemon zest and remove from the stove Add the gelatin and stir until it is completely melted. Let cool to room temperature. Divide evenly among glasses and position them at an angle in an empty egg carton. Let set a couple of hours in the fridge.
Honey Ginger Yogurt Gelee:
1 1/2 tsp gelatin
2 Tb water
2 cups Greek yogurt
1/4 cup honey
2 teaspoons freshly grated ginger
Pour the water into a small container, sprinkle the gelatin over it and set aside. In a small bowl, heat half the yogurt in the microwave for one minute. Microwave the gelatin for 12 seconds. Quickly mix the two together, add the rest of the yogurt, ginger and the honey. No need to let it cool, layer it on top of the tea layer and position it at the opposite angle in the egg carton. Refrigerate for a couple of hours.