Pine Nut Tartelettes – A Taste Of Two South
Being a Southerner in one continent is often nothing like being a Southerner in another and I am sure many other expats can relate to this. I never thought that things I'd find here in SC would be the same as back home but I never imagined what a wonderful bounty was awaiting me. I know I often reminisce about good times and childhood moments I had in Haute-Provence but I found that they are very similar to the ones B. experienced as a child and young adult. A lot of outdoor times, campfires with his cousins, we had barbecue pits dug right in the ground, they had oyster roasts, we would sleep on the lawn watching meteor showers and they would build a tree house and divert phone lines (yeah…that's a story for the phone company never to find out!).
When I moved here, I starred amused at yellow mustard potato salad and fried chicken but fell in love with gumbo, okra, yellow squash, cornbread, spoonbread, and pecan pies…I quickly understood that very few people other than B's mom would make them the "right" way. You know what I am talking about, the way that makes your memories tickle so bad you instantly close your eyes and go "mmm,mmm,mmm…" Instead of trying to duplicate the impossible taste associated with memories, I decided early on in our relationship to bring my South to his and create new flavors, new tastes, new memories. It's not uncommon for yellow squash to find its way into my ratatouille, my "petit sale aux lentilles" (cured pork slowly cooked with lentils) to spot a couple of pieces of ham hocks, or have lima beans replace broad white beans when I make a lamb roast.
I also carry this "your South meets my South" attitude in a lot of the desserts I make. Most of the time it is because I miss using something and B. bugs me to make one of his favorites and I end up incorporating the two together. This is what happened with these pine nut tarts. I was browsing the aisles at the store and I spotted B. looking at the pastry display, particularly focused on tarts filled with pine nuts, freshly pulled out of the oven. We started talking about doughs and fillings wit the baker and she mentioned being totally in love with these "new" tartlets molds and offered to let me use a set for a while (we know each other so it was not like "eh stranger! Come use my equipment!"). The tarts made me think of pecan pies gone Italian or Provencal. B. wanted to buy one but at $3.99 a pop….I gave him the look…you know if you cook or bake a lot, the one that reads "I can make it cheaper, better, nicer…so keep moving".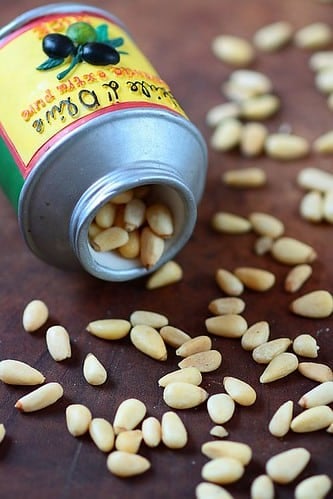 B. loves pecans, I love pine nuts. He loves pecan pies, I like honey and nut pies. He wanted "the same [he] saw at the store" and I wanted peace and quiet after a long day spent separating old crazy dog and young crazy dog….I apparently failed because the old one lost a tooth while they were trying to prove their virility….Oops! But the tarts turned out exactly like I wanted, the perfect mix of both our cultures and upbringing. The pine nut tartelettes are filled with a similar filling as you would use in pecan pies, replacing the corn syrup with acacia honey, and adding half a vanilla bean, seeded just to give the whole thing a boost. Feel free to use any other honey you like, acacia and lavender happen to be among my favorites. Funny thing is that while making these, I came up with yet another variation but I have to keep it a secret for a little while longer, ehehehe… but if you volunteered to test some recipes for the book, you might find it in your email box pretty soon (makes me nervous already!!)
I am sending these to one of my favorite Italians, Susan at Sticky, Gooey, Creamy, Chewy for her Blog Anniversary Bash!
I know, I know…the recipe….
Pine Nut Tartelettes
Makes 6, 4-inch tartelettes.
For the tart shells:
1 1/2 cups (185 -190g) flour
1/2 cup (65g) powdered sugar
1 stick (113-115g) butter, cut in small pieces
1 egg yolk
In a food processor, combine the flour and sugar, add the butter and pulse a few times. Add the egg yolk and pulse a couple more times until the dough barely comes together. Dump it into a lightly floured work surface and knead until it just comes together. Wrap in plastic and refrigerate at least 30 minutes, preferably an hour. Roll between sheets of plastic wrap and cut out circles larger than your tart shells, fit the dough into the molds and cut out the excess. Set them on a sheet pan, line them with parchment paper rounds and fill them with pie weights or dried beans. Bake at 350F for about 10-15 minutes. Let cool before adding the filling.
For the pine nut and honey filling:
150g (1 cup) pine nuts
2 eggs
75g (5 Tb) butter, melted and slightly cooled
100g (1/2 cup) packed light brown sugar
100g (1/3 cup) acacia honey
1/2 vanilla bean, split open in the middle and seeds scooped out with a pairing knife
or 2 tsp pure vanilla extract or vanilla bean paste
In large bowl, whisk the eggs with the brown sugar, honey and vanilla seeds. Add the melted butter and whisk until incorporated. Divide the pine nuts among the tart shells. Slowly pour the filling over the nuts, trying not to move them around too much. Bake at 350 for about 20 minutes or until golden brown.