Peaches 'N Cream Rose Tartlets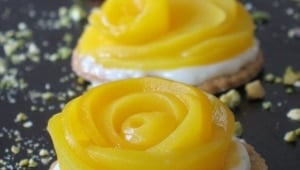 Late last night Old Chef called me and "wondered" if I could make 50 apricot tartlets "on the fly" (last minute/quickly) for a function thursday night. I put the verb wonder in between quotes because this man never just "wonders". When you pick up the phone, he is on the other end trying to make sense of his crazy ideas before you even can say "hello".
Nothing crazy or out of the ordinary with his request this time, and as usual he was leaving me with most of the execution choice, flavor, plating, etc… However….I had told him how I showed Lisa the rose fruit trick last weekend and he mentionned I could make them pretty like that for the function. Oy! Ok…I am extremely patient (Lis?) and the thought of 50 pretty apricot roses did not phase me much. What bothered me was finding decent apricot that I could poach and slice to make them. I had to supplement my batch with jarred ones, got home and got cranking.
In the middle of my stirring the pastry cream (my question at the time was "which alcohol should I flavor it with this time"…see! I wish I had more days like that), Old Chef calls. Change of plans. We are now at 100 tartlets and no more apricot but they want peaches. Oy again! Talk about trying to be cost effective….back to the store, back to see Charlie and his homemade jarred fruits and now the fun an resume. I was still pondering that alcohol issue, in case you were wondering…and in the end I opted for spiced rum because nothing else floated my boat and I was trying to be a little cost effective with what I had.
The tartlets are easy to put togehter and if you do not have the patience to play around witth making the roses, just place them on the pastry cream, in a spiral pattern.
I downscaled the recipe for home use as I doubt that no matter how pretty or good they turn out that you want to be stuck with 100!!
Peaches 'N Cream Tartlets:
Makes 8
Tart Dough: (pate brisee)
1 1/4 cups all-purpose flour
1 1/2 Tbs sugar
1/2 cup chilled (1 stick) unsalted butter, cut in pieces
2 Tbs ice water
1 egg yolk, lightly beaten
Place flour and sugar in the bowl of a food processor, and process for a few seconds. Add butter, and process until the mixture resembles coarse crumbs. Add the ice water then the egg yolk, processing just until the dough holds together. Do not process for more than 30 seconds. Turn the dough out onto a work surface. Place on a sheet of plastic wrap. Flatten, and form into a disc. Wrap, and refrigerate at least 1 hour before using.
Roll the dough out thin and with a 3 inch cookie cutter, cut as may rounds as needed. Lay them on a parchement lined baking sheet. Sprinkle with 1 TB. sugar and bake at 350F until golden brown and cooked through.
Pastry Cream:
1 1/4 cups (300 ml) milk
1/2 vanilla bean, split lengthwise and scraped (throw the seeds in the pot with the milk)
3 large egg yolks
1/4 cup (50 grams) granulate sugar
1/4 cup (40 gr)cornstarch
3/4 tablespoon (10 ml) spiced rum (or other liquor of choice), optional
In a medium bowl, whisk the sugar and egg yolks together, add the cornstarch mixing until you get a smooth paste. Set aside.
Meanwhile in a saucepan combine the milk and vanilla bean on medium heat until boiling. Remove from heat and add slowly to egg mixture, whisking constantly to prevent curdling, (pour through a strainer if this happens) Remove vanilla bean. Place the egg mixture back into a medium saucepan and cook over medium heat until boiling, whisking constantly. When it boils, whisk mixture constantly for another 30 – 60 seconds until it becomes very thick and it is hard to stir.
Remove from heat and immediately whisk in the liqueur (if using). Pour into a clean bowl and immediately cover the surface with plastic wrap to prevent a skin from forming. Let cool. If not using right away refrigerate until needed, up to 3 days. Beat before using to get rid of any lumps that may have formed
For the Peach Roses:
Use ripe fruits, canned fruits or poached fruits.
To make the roses, cut thin slices of fruit. For the bud, choose a small piece and roll it between your fingers. Let rest on flat surface and start adding slightly bigger fruit slices around it, overlapping a little. Before you know it, you will have a pretty fruit flower, and remember that practice makes perfect.