Opera Macarons, Thoughtful Gifts And An Award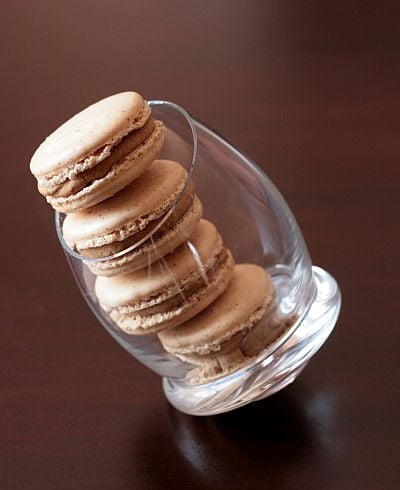 Be prepared this is the loaded post of the weekend! Take your time reading it but there were many people I wanted to thank on this site and this is long overdue. I know I still have to answer a couple of "meme" I have been tagged for and I am saving those for next week. In the meantime, let's start at the beginning…
A couple of weeks ago, one of my favorite bloggers and fellow Daring Baker Deborah from Taste and Tell sent me an email reading that she wanted to try her hand at making macarons but she had never had one so she would not know what to look for in the texture, taste, etc… She offered to pay me to send her a box and I immediately shook my head "No, no, don't pay me, instead let's do a trade! I'll send you some macarons and you'll send me a favorite cookie or something". She agreed and although a few health and family have delayed my sending them they are finally one their way to her house. Cross your fingers that they get there un-crushed! Wednesday afternoon the mail man dropped a box full of Meyer Lemon Cookies and jar of Deborah's Peach and Vanilla jam. Thank you Deborah!
I had the idea of these macarons while making an Opera Cake for a birthday party last month. I know I am no genius and they have been done before but they were really fun to put together. I love Opera Cake so much I could have it breakfast, lunch and dinner. The basis of the cake are as follow: almond genoise layered with coffee buttercream and chocolate ganache. I love hazelnuts much more than almonds so I did 50/50 each in the macarons shells, I used an Italian meringue coffee buttercream and for the chocolate ganache layer I just piped it right in the middle of the macaron. You have to trust me when I tell you they were unbelievably satisfying and we liked them so much that I made another batch right away. We all have a different approach to macarons and I tend to start with a crispy shell: I know they will soften after a couple of days and I like the contrast between the crunch of the shell and the buttery creamy insides. But hey! That's just me!!
Opera Macarons:
For the shells:
3 egg whites (110 gr) (I like to use 2-3 day old egg whites)
40 gr. granulated sugar
200 gr. powdered sugar
55 gr. ground almonds
55 gr. skinned and ground hazelnuts
In a stand mixer fitted with the whisk attachment, whip the egg whites to a foam, gradually add the sugar until you obtain a glossy meringue. Do not overbeat your meringue or it will be too dry and your macarons won't work. Combine the ground almonds, ground hazelnuts and powdered sugar in a food processor and give them a quick pulse. It will break the powdered sugar lumps and combine your nuts with it evenly. Add them to the meringue and fold the mass carefully until you obtain a batter that flows like magma or a thick ribbon. Test a small amount on a plate: if the tops flattens on its own you are good to go. If there is a small beak, give the batter a couple of turns. Fill a pastry bag fitted with a plain tip with the batter and pipe small round onto parchment paper baking sheets. Preheat the oven to 315F. Let the macarons sit out for an hour to harden their shell a bit and bake for 8-10 minutes, depending on their size. Let cool completely.
Chocolate Ganache:
3/4 cup heavy cream
1 cup bittersweet chocolate
In a heavy saucepan set over medium heat, bring the heavy cream to a boil. Remove from the stove and add the chocolate to it. Let stand 2 minutes and then stir until fully combined. Let cool until firm enough to put in a small piping bag.
Coffee Buttercream: (it will make more than you need but freeze the leftovers for up to 3 months)
1 cup sugar
1/3 cup water
2 large eggs
3 sticks (1 1/2 cups) unsalted butter, softened
3 tablespoons instant espresso powder dissolved in 1 tablespoon hot water
In a small heavy saucepan set over medium heat, dissolve the sugar in the water. While stirring bring the mixture to a boil, and continue to cook until it registers 240°F. on a candy thermometer. In the bowl of a stand mixer with the whisk attachment or with a hand held beater beat the eggs until they are frothy. Add the sugar syrup in a thin stream, beating, and beat the mixture until it is cool. Change to the paddle attachment and add in the butter, 1 tablespoon at a time, the espresso mixture, and beat the buttercream until it is combined well. Leave at room temperature so it will be easier to spread.
To Assemble:
Put the coffee buttercream in a piping bag and pipe a circle around the edges of a macaron shells. Pipe a dollop of ganache in the middle and top with another shell.

Allright, now moving on to the second part of this post….

The cute as can be felt slice of chocolate cake is none other than a creation from Hannah of Bittersweet. That was her Christmas gift to me…how sweet is that?!! I set it on another Christmas gift: a gorgeous display of crystal baking items by Swarovski that my mother had put together and framed for me. I am spoiled, I know that! How Hannah finds the time to do all the things she does is beyond me…she is like the energizer bunny!
Talking about bunny…it's Eater soon and I thought it was about time I tell you about another talented artist. One day a lovely lady, Mia sent me an email thanking me for my recipe and my blog (if you know me you know I was blushing red right then), and adding that she wanted to send me a little something "just to show her appreciation". Mia paints life on eggs and beautiful jewelry. Literally. Life. Stunning. The duck egg on the left is a traditional design of an Ukrainian woman, in her embroidered clothing , wearing a crown of flowers with ribbons and holding a loaf of Easter bread. The one on the right has a design of a bird holding a branch of leaves. Birds show the fulfillment of wishes, leaves are for a fresh start, red is for passion, the nets separate good from evil, flowers are for love and happiness, diamonds are for wisdom and knowledge, there is also evergreen for good health and dots which show the blessings which come from sorrow. How on earth did she read inside my soul is beyond me?
Thank you ladies and thank you to you all readers out there fill me with joy and excitement. I try to visit as many blogs as I can and to answer to all the emails as promptly as I can but I have never felt more proud to be part of such an awesome community. My head does not get big and my ego does not soar in cases like that but my throat gets tight and I feel uncomfortable. I just bake and write because it is in my blood and to receive these compliments is always a little…how can I say? mind blowing? So imagine my heart getting full with gratitude and passion for the work I do when I received this award from Aimee, Jen, Susan, Linda and Gretchen Noelle.

First off ladies: right back at you! I love reading your blogs, you make me laugh, you crack me up, you kick my ass and make me wish I were rich enough to fly all of you to a huge slumber baking party somewhere on a tropical island….oh boy, looks like the painkillers are kicking in again!!
Now I have to pass this on and although there are tons of you who deserve and I am sure will receive this award soon, I wanted to focus on the male bloggers (but not entirely)out there and to reveal a few other crushes (gosh if you read this blog, it is starting to sound like we need a PG rating or something)…..so…..Please accept this "Excellent" award:
– Frenchie Zen Chef of Chefs Gone Wild: my fellow expat has the excellent touch to put "sexy" in everything he makes, writes with great spunk and has the knack to take mouth watering pictures .
– Mark from No Special Effects: pure talent, creativity and gorgeous photographs, not to mention that his blogs reads like a novel and he is the most excellent commenters!
– Graeme from Blood Sugar: what can I say? I love his blog: the excellent photography, his excellent wit, charm and wonderful recipes. I'd love to be his roomie, that's all I can add!
Now for the ladies:
– Shawda from Confections Of A Foodie Bride: what can I say that her pictures don't already do? Excellent photography, recipes and sense of humor as well as community. I am crushing too what can I say?!!
-Carol from Paris Breakfasts: you make my day lady! I always read you while in my pjs sipping my coffee. You make me feel at home and I lust after your art. You are excellent indeed.
– Lisa from La Mia Cucina: I know what you are going to say "you guys are close friends"…but it's more than that. Lisa not only holds my hand in time of crisis but she is the most excellent talented writer I know. Not to mention a kickass cooks….I never want to leave when she she fixes me food (but she might say the opposite since I eat like a horse)…fantabulous dishes!!
Sorry if it was such a long post but all these topics were long overdue and I kept wondering how to fit them in….Have a great weekend all!