Maple Cardamon Mousse And Strawberry Tartelettes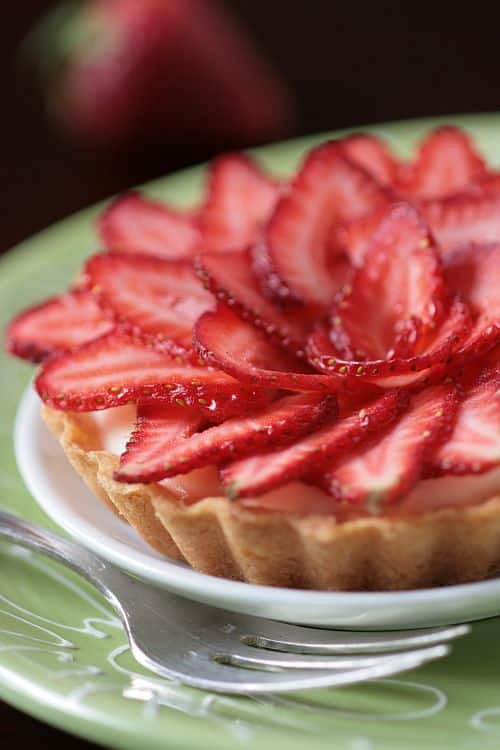 I realised the other day that I have been turning the oven on late in the evening lately. The heat is not conducive to "wanting" to bake, nor is the rain that makes me crave soft and cold flavors. Airy mousses and creamy puddings, clouds of meringue and pools of creme anglaise…ice creams, let's not forget ice creams, one of my weaknesses. So when Old Chef asked me if I could come up with a couple of items for a private dinner for a client on Thursday, I cringed…Well, just a little, because I like him, I like the clients and let's face it, you don't need to twist my arm when it comes to baking! One of the requests they had was to have berries….lots of berries….beside a cold berry soup that I will tell you more about next week, I thought I would combine my ongoing love affair for mousses with fresh strawberries in individual tartlets.
Back in May, I told you about our friend M. who had just been diagnosed with cancer. She underwent surgery a couple of weeks ago and is now back home, tired but already restless. She is not out of the danger zone yet, but there is progress. She called me yesterday all upset because she was tired of roaming around the house, tired of resting and tired of being told to sit down when she wanted to go for a walk. "Want to slice strawberries for me then?" I asked her. "Pick me up in 20 minutes!" was her response. I knew that an afternoon of baking and chatting would cheer her spirits up, not to mention that I am starting to get worried about this trend I developed to talk to the custard while I stir it!!
I set her up a stool by the counter and while she hulled and sliced the berries, I prepared the tart dough. When I turn the oven on, she gave me that look of "oh no! It's already hot and humid…please!". I promised her it would not take more than 20 minutes to bake them and then we can cool down again. I did not mention that I would have to turn it on for another couple of hours after her departure because she would have given me that "crazy girl!" look and checked my pulse! It's not only that it is hot outside, it also ungodly humid so opening up the windows is out of the question. She wondered if I had burnt a fuse when I said, 20 minutes…but that's it really. Once the shells are baked, they are filled with a delicious mousse and topped with sliced strawberries.
We made enough for eight tartelettes as test products since I'll have to make twice that amount on Thursday so they would be fresh, while chatting about her grand kids, the operation, the road ahead, the journey already accomplished. We each kept a couple and I went next door to my favorite neighbors to drop the remaining 4 (see Dad, I can count!), and then I got a big surprise from C's eight year-old twins. Remember they got a puppy a couple of weeks ago, Sully? Well, their attention span has already moved on to faster and bigger things so they decided that since I love the puppy and he seems to like me back, I should be his new "mom". So, tonight we brought the newly renamed Bailey home where a brand new crate and a new friend awaited him. I'd say four tartelettes for a puppy is a pretty good deal!
The idea of the mousse came when I was flipping through "The Sweet Life" by Kate Zuckerman, remembering how rich, creamy and delicate her caramel mousse was last time I made it. Her Maple and Star Anise is along the same process and although I love maple syrup, I am not a big star anise fan…so in went one of my favorites, cardamom. I also halved the recipe and used hand held beaters as such a small quantity of mousse is easy to ruin in a deep stand mixer bowl. I was so tempted to make the full batch though….it is so good that I could literally sit by myself and the bowl and be content, my thighs not that much however. You're warned! The small amount of mousse in each tart is perfect to offer a smooth and spiced contrast to the strawberries without being too sweet or overly rich.
Maple Cardamom Mousse and Strawberry Tartelettes:
Makes 6-8 depending on your tart shells, or on 10 inch round tart
For the tart shells:
1 stick butter, cut in small pieces
1 1/2 cups flour
1/2 cup powdered sugar
1 egg yolk
In a food processor, combine the flour and butter and pulse until you get a mixture that has the texture of cornmeal. Add the egg yolk and pulse until the mixture comes together in a ball. Wrap in plastic and refrigerate while you prepare the filling. Roll between sheets of plastic wrap and cut out circles larger than your tart shells, fit the dough into the molds and cut out the excess. Prick with a fork, cover with a sheet of parchment paper and fill with pie weights or dried beans. Bake at 350 for about 15-20 minutes, or until baked through.
For the mousse:
3 egg yolks
1/2 tablespoon powdered gelatin
1/2 cup grade B maple syrup
4 crushed cardamom pods
1 cup heavy cream
Whisk the egg yolks to break them up in a deep large bowl with hand held beaters (my KA has a deeper bowl than the standard model so I don't know if that would work in a smaller capacity bowl).
Sprinkle the gelatin over 2 Tb of cold water in a small cup and let it bloom.
In a heavy saucepan, combine the maple syrup and cardamom. Bring the syrup to a boil over medium-high heat and let it reach 240 degrees F. Remove the pan from the stove and strain the cardamom seeds carefully into a cup with a spout (easier to pour) .
Dissolve the gelatin in the microwave for 10 seconds, or in a bowl set over a pan of simmering water.
While still whipping the yolks, slowly pour in the hot maple syrup, being careful to temper them and not cook them. Pour the gelatin over the egg/syrup, whip together until cooled to room temperature and has tripled in volume
In another bowl, whip the cream to soft peaks or if you are using a stand mixer, pour the mousse into a large bowl and clean the mixer bowl thoroughly, or use another mixer bowl if you have one. Gently fold the whipped cream into the mousse trying to deflate the whole thing as little as possible.
Divide about 1/4 to 1/3 of a cup (depending on how deep your tart shells are) of the mousse among the tart shells and let set in the fridge.
To finish the tarts, slice about 2 pints of strawberries and arrange on top of the mousse filled tarts. Serve chilled but not cold.

And because yummy things are better shared among friends, I am sending these to Susan from Food Blogga who is hosting Sugar High Friday Berries this month, event created by Jennifer of The Domestic Goddess.