Mango Mango – Taste Of Yellow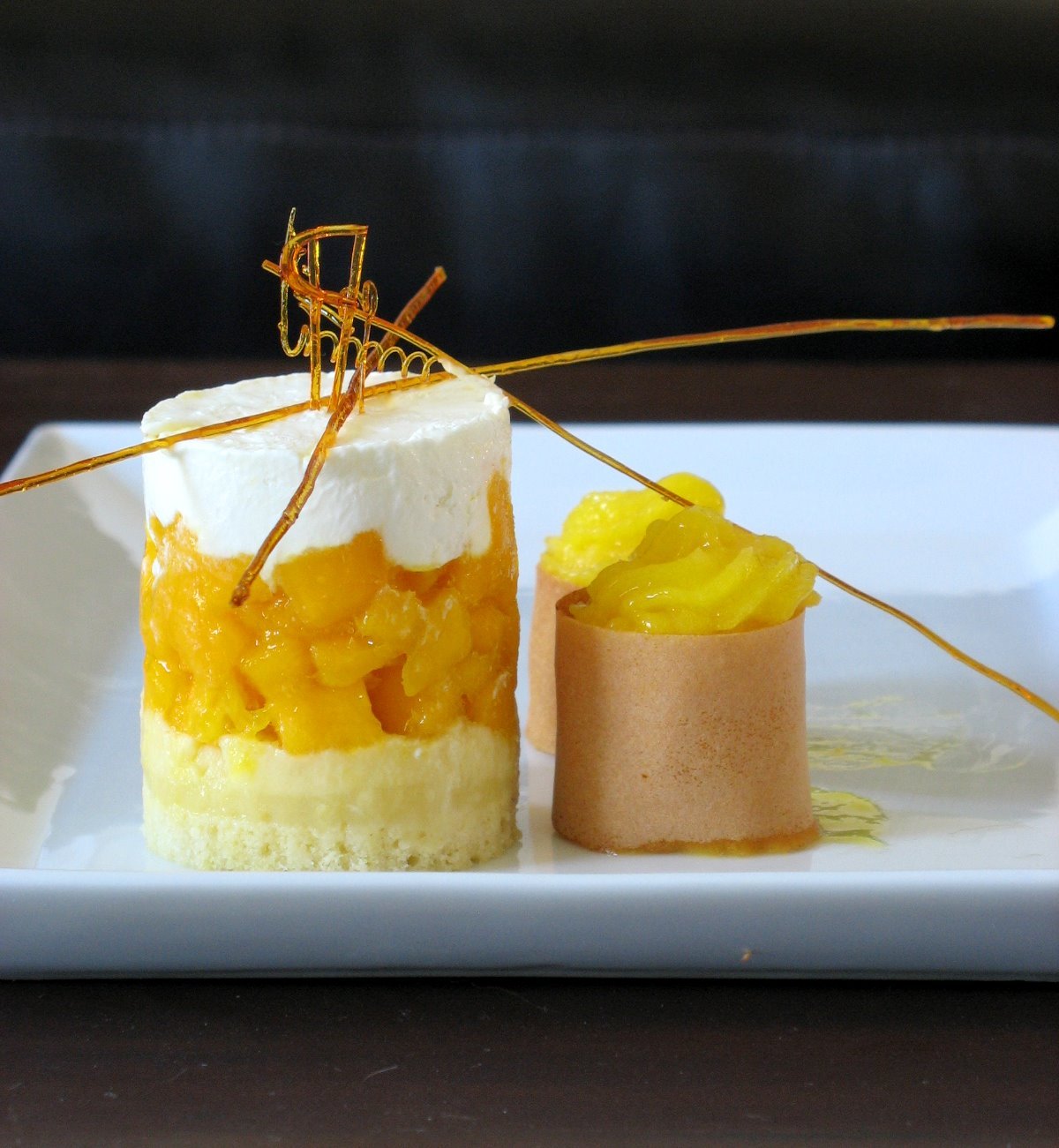 If you are not a food blogger you probably do not understand why so many of us are creating and posting yellow foods…. We are all in for a good cause.
Barbara of Winos and Foodies is the driving force behind so many yellow dishes popping on your screen. Currently fighting cancer, she still finds the energy to create an event, A Taste of Yellow, to raise cancer awereness. Her idea has been recognized as an official event supporting LiveStrong Day and the Lance Armstrong Foundation on May 16th. So, whether you blog about food, cancer knows no boundaries and I urge you to make a yellow dish and post about it before May 7th, and visit Barbara's page to learn more about it.
I have already mentioned how cancer affected my life. My brother died of oesophagus cancer at 38 years old, and recently my grandmother passed away from complications of breast cancer. One life cut too short, the other one well filled and ready for the next journey. Pain, anger and sadness are part of my daily routine but I feel comfort and strength in reading or meeting people fighting or surviving cancer. Whoever said the pain dimishes with time was wrong, way wrong, that's why I jumped on the occasion to participate. I hope and pray that no one has to go through the pain of saying goodbye to a sibbling, child or relative who suffered through cancer and did not make it. Our family has grown stronger and closer being tested in their faith, love and friendship and not in our futile attempts at cheating death.
I was staring at all the yellow foods at the store when I found my hands grazing a crate of beautifully ripe and fragrant mangoes. A couple lemons and four mangoes later I was back in the kitchen putting my yellow dessert together.
For this, I drew my inspiration from Richard Leach's Sweet Seasons, once again, adapting his "Lemon-Mango Coupe" to be easily made in a home kitchen.
The components can be made over several days and the whole thing put together the day you plan on serving it. From bottom to top:
-base of Ultimate Lemon Pound Cake
– lemon custard cream
– diced mangoes
– sour cream topping
– mango sorbet in spring roll wrapper tubes
All Mango – All Yellow:
Serves 8
Ultimate lemon pound cake : 8 slices needed. Recipe here.
Cut the slices using 2.5 inch metal rings (8 slices-8 rings). Set the rounds on a sheet pan. Set aside.
Lemon Custard:
1 cup (236 ml) lemon juice
1/2 cup (118 ml) sugar
4 eggs
2 egg yolks
1/2 cup (118 ml) creme fraiche or sour cream
zest of 1 lemon
Preheat oven to 300 degrees.Combine lemon juice, sugar, whole eggs and eeg yolks in a bowl and whisk until smooth. Add the creme fraiche and lemon zest. Incorporate well.
Line the inside of an 8 inch round cake pan with plastic wrap. Do not worry, it will not melt. Fill the pan with the custard and place it on deep sheet pan or roasting pan. Fill the larger pan with water and bake the custard in this water bath for 30 minutes or until set. Allow to cool and refrigerate.
Cut the custard using the 8 rings previously used for the cake slices. The custard should remain in the rings, place them on the sheet tray on top of the cake rounds. I did this tricky move by using a spatula, sliding it under the tubes, lifting them carefully with my hand and quickly setting them on the cake rounds.
Mango filling:
2 fresh mangoes, peeled and diced
1/2 cup sugar, divided
1 tsp freshly grated ginger
2 cups cream fraiche.
Lightly sprinkle the mango with 1/4 cup sugar and toss gently. Fill the rings with the mango to withing 1/2 inch of the tops.
Combine the creme fraiche with the remaining 1/4 cup of sugar. Carefully spoon it into the rings and smooth the tops. Place in the refrigerator.
Mango Sorbet:
4 cups diced mangoes
1 1/2 cups water
2 cups granulated sugar
juice of 1/2 lemon
Combine all the ingredients ina saucepan and brigng to a simmer. Cook for 5 to 10 minutes, remove from the heat and puree until smmoth. Pass through a sieve. Cool completely and process in an ice cream machine according to the manufacturer's instructions. Keepp frozen until ready to use.
Spring Rolls Rings:
4 large spring roll wrappers
1/4 cup clarified butter
1 egg white, slightly beaten
Heat oven to 350. Cut the wrappers into strips 3 inches wide and 5 inches long. Butter the strips, with a pastry brush, leaving 1 inch unbuttered. Using 16 metal tubes 1 inch in diameter, roll the wrappers around the tubes. Brush the butter free space with the egg white and overlap a amll ostion of the wrapper, sealing it.Bake for a couple of minutes or until brown. Watch closely.
Slide them off the tubes and let cool completely.
To assemble: place some mango sorbet into a pastry bag and pipe it into the spring roll tubes. Place 2 on a plate, side by side. Unmold the mango dessert next to them. Decorate as you wish.